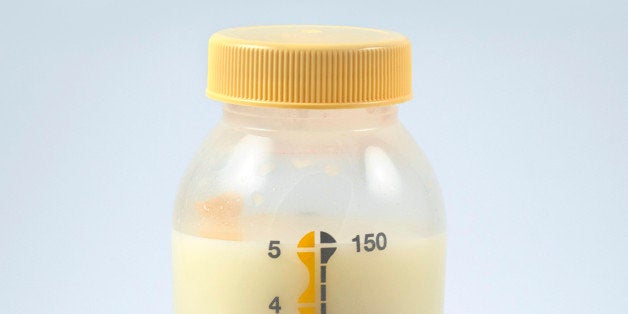 Of late, there's been a lot of breast-bashing in the media. Do we push breastfeeding to support women and children or to market breast pumps and nursing clothes? Is mother's milk really healthier or are claims overblown? Is "breast is best" a white middle and upper class construct aimed at elevating mothers simply because they can afford to stay home and nurse? How does pumping in the bathroom at work while a child is at daycare impact mothering overall? Where should you nurse and how much breast should you expose? Breastfeeding is a hot topic, as controversial as it is natural.
But breast milk banks exist outside the fray. The banks exemplify a purely positive effort mother to mother that highlights our capacity to "share the health," according to the Mother's Milk Bank Northeast's logo.
Historically, when mothers couldn't provide breast milk for their babies, either because of illness or low milk production, they turned to wet nurses to give babies what they needed. Before the invention of formula, babies could die if they didn't get breast milk. In the early 1900s, as wet nursing became inconvenient and refrigeration and pasteurization were more available, milk banks were established.
Today, we are fortunate that mothers can choose between formula and breast milk, but many mothers, particularly of children who are held in the neonatal infant care unit (NICU) after birth, want to provide breast milk even if they can't make it themselves. The psychological comfort breast milk brings to sick mothers, sick children, or families where a mother or a child has died (leaving a mourning mother with milk to donate in their memory), can't be easily measured but it is real.
Yet, until now, banked breast milk wasn't collected at a drop off point in Manhattan, and this comes as a surprise since we ordinarily think of New York City as a trendsetter for the world. Which is why we're thankful that on March 5, the Mother's Milk Bank Northeast, a non-profit breast milk collection agency that operates under the guidelines of the Human Milk Banking Association of North America, will open its doors for the first time in Manhattan at Explore+Discover, an infant toddler center in Gramercy Park. Explore+Discover will be a drop off location for moms across the city, offering a comfortable environment where babies and moms stroll in and out all day long. A place where milk makes sense and moms are always welcome.
Mothers who want to donate can register with the bank, get screened for health issues just as you would for donating blood, and provide milk to hospitalized babies, mothers who can't produce or pump milk, or children whose mothers have passed away.
The benefits of a breast milk bank go beyond just the family on the receiving end. As anyone who has overproduced milk knows, it can be really painful. And when doctors advise simply to step into the shower and empty the excess milk down the drain, you know you are in unreasonable territory. It often doesn't work and we are wasting a nutritional product that could either be a) helpful to someone in need b) comforting to another mother or c) a gift of gold, offering a nutritional boost to a baby in a fragile state during the first days of life. Even if breast milk has been vastly overrated, it should be widely available as a choice for mothers who can't give what nature intended.
There is more and more demand for pasteurized donor human milk from non-profit milk banks like the Mother's Milk Bank Northeast. MMBNE has been screening donors, pasteurizing milk, and dispensing to over 60 hospitals in 10 states plus the District of Columbia, and to families throughout the Northeastern United States, since 2011. In New York State alone, MMBNE provides milk to 16 hospitals, including six in New York City--NYU Langone Medical Center, New York Presbyterian Hospital/Morgan Stanley Children's Hospital, Maimonides Infants and Children's Hospital, and three NYC Health + Hospitals locations--Bellevue, Queens, and Kings County. There are also depots in Brooklyn, Albany and six other sites across New York State. The new depot will make it easier than ever for mothers who live or work in Manhattan to provide the lifesaving gift of donor milk.
If you'd like to donate you can review guidelines at www.milkbankne.org/donate, then contact a Donor Intake Coordinator for screening at 212-993-1566 x3 or donate@milkbankne.org. Approved donors can then drop off milk at the new Explore & Discover depot by e-mailing Kasey O'Brien at kasey@explorediscover.net to schedule a drop-off.
The ribbon cutting for Mother's Milk Bank Northeast will take place at Explore+Discover, 444 Second Avenue and 26th Street on March 5th from 12 to 1:30 and is open to the general public. Families, prospective donors, healthcare providers, and community members are welcome to attend the family-friendly grand opening, which will include light refreshments.
This piece was originally published by Renee Bock on Well Rounded NY. Renee Bock is a dedicated early childhood educator, who is currently the Chief Academic Officer at Explore+Discover, a social learning center in Manhattan that is committed to setting the standard for infant and toddler care and education. Renee has more than a decade of experience in the field and holds a Master's in Early Childhood Education from Bank Street College in New York. She has three sons, Ariel (15), Raffi (14), and Shaya (12). She can be reached at rbock@explorediscover.net.
Please share your opinion below! For more original content, check out Well Rounded NY.
Related