Do you realize? You as the business owner are the face of your business. That's why having a professional headshot is so essential. Every fall, I have the tradition of having a photo shoot to update my visual brand. Taking a photo with your phone's camera just doesn't cut it. Read on to get tips for your visual brand.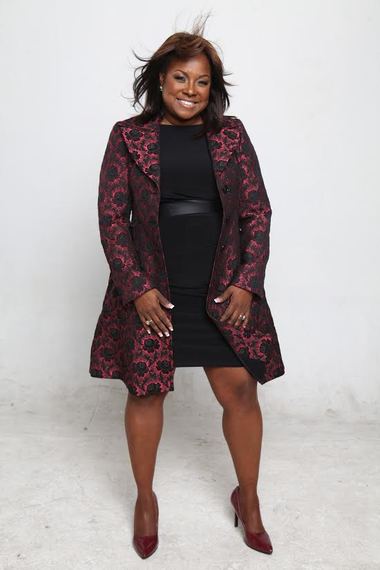 You Need the Right Support Team
When it comes to creating great photos, I always hire a stylist to work with me to plan the photo shoot and pick the looks. This year, I hired Skai Blue Media stylist Javier Alonzo to serve as the Art Director/Stylist. He reached out to Saks Fifth Avenue Philadelphia to borrow a few things for the shoot. We also pulled a few looks from my closet, and used my personal jewelry and shoes for the session. I am a big Ralph Lauren and Karl Lagerfeld fan, so there was plenty to choose from. My hair and makeup were done by makeup artist Briahna Yancey of FaceArtistry. Jasen Hudson Photography handled the toughest role during the shoot. He took over 1000 photos in color and black & white.
Creating new publicity photos was especially important to me this year. I recently lost over 25 pounds and two dress sizes, which is a big difference. The most important reason to update your brand photos is to make sure people recognize you when they meet you in person.
Make it Easy for the Media
In addition to trying to get that perfect headshot, we also took full body shots and family pictures that we'll use for media interviews. Often times when magazines do feature articles, they request at least 4 photos other than a headshot. They know I'm a mom, so often I am asked for a picture with my son. Having my son present makes the photo shoot a lot of fun. It becomes a family affair and it's a great excuse to get our annual Christmas card photos at the same time.
I decided to give a sneak peek of my three favorite photos. When Jasen turned on the wind machine, I did channel my inner Tyra Banks. There's something about having wind in your face that will make you feel like a supermodel!
Making Your Headshots The Best Possible
If it's time to update your headshots, you might not need as elaborate a photo shoot as I had, but consider these steps:
Hire a professional photographer and makeup artist. A photo from your iPhone will not do.

If you need to tweak your style, hire a professional stylist to go shopping with you to pick out a few outfits that would be flattering in a headshot.

Select at least two looks to be photographed, (pick a colorful jacket or tie and avoid black or white).

Plan on spending at least $500-$1000 for what you need.

Be sure to get .jpeg and high resolution .tiff files so you can use them online and in print.
It's important to have a visual brand that presents you in the best light, with an up-to-date look. Invest in a new headshot today; it could do wonders for your business.
Melinda F. Emerson, SmallBizLady is America's #1 small business expert. She is an author, speaker and small business coach whose areas of expertise include small business start-up, business development and social media marketing. She writes a weekly column for the New York Times, publishes a resource blog, www.succeedasyourownboss.com, which is syndicated through The Huffington Post. She also hosts a weekly talk show on Twitter called #SmallBizChat for small business owners. As a brand, she reaches 1.5 million entrepreneurs a week on the internet. As CEO of Quintessence Multimedia, Melinda develops audio, video and written content to fulfill her mission to end small business failure. Forbes Magazine named Melinda Emerson one of the #1 Woman for Entrepreneurs to follow on Twitter. Melinda has been featured on MSNBC, Fox News, NBC Nightly News and in Fortune, The Washington Post, USA Today, Wall Street Journal and Black Enterprise. She is the bestselling author of "Become Your Own Boss in 12 months; A Month-by-Month Guide to a Business That Works," and the ebook How to Become a Social Media Ninja; 101 Ways to Dominate Your Competition Online.
Support HuffPost
The Stakes Have Never Been Higher
Related
Popular in the Community