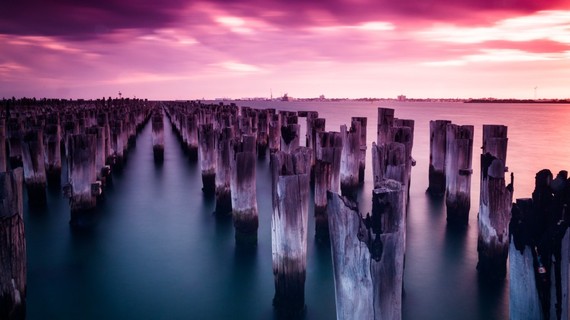 When I was about to graduate from art school in the U.S., I had a conversation with one of my instructors about art, creativity, job and life in general. He was asking me if I had any plans for the future and what I was going to do upon returning to my home country, Ukraine. I didn't know the precise answer to the question, as I didn't have exact plans for the future. In the middle of the conversation the instructor mentioned that "regardless of the plans, it's just good to stay creative with your life, no matter what life path you would choose and what kind of job you would do". And that was one of the major things I've learned in grad school -- get creative with your life, take risks, be open to new possibilities, turn your failures into advantages and get the most from what your life has to offer. Since then I've been using the word "creative" in a much broader. Making art is just part of being creative -- the most important thing is to make one's life a great work of art.
Opening a HR or design agency, setting up a small business or opening an online shop, creating a new entertainment park for children or adults requires a lot of creativity, no less than painting a mural, creating a new sculpture or working on a series of photos. The essential thing here is to choose something that you personally like a lot and get creative with it.
One should also be aware of the fact that together with creativity comes a lot of hard work. Only the people who are devoted to what they do, spend a lot of time polishing the skills, can embrace the routine work, will succeed. Getting creative is not only about having fun doing something, but actually putting a lot of efforts. Even a great artist wouldn't be able to create a masterpiece if s/he just waited for a Muse to come, without mastering the technique and constantly working on making the work better and better.
One of the things that can interfere with the creative process is procrastination. Procrastination is an enemy to everyone who tries to do something important in life. It's not laziness, but rather a lack of self-concentration and constant distractions from the work. It's especially on the front burner today when we can be so easily distracted by checking on social media networks and looking purposelessly at photos of different people or just surfing the Internet and reading something useless. There are quite a lot of articles written on the ways of fighting procrastination. But I believe the most important thing is to find out the root of the problem.
My own experience shows that it's not the lack of motivation or the unwillingness to do something hard that cause our distractions -- it's the difficulty of making the first step, be it the writing of the first sentence of an essay or a book, putting the first brushstroke on a canvas, or setting up some small business or online shop. To make this first step becomes much easier when you possess enough knowledge in this or that area. So, if you want to set up some small online business, start with reading the reviews based on real people's opinions, so that you can make a plan and decide which tools will be the most useful for your business. If you want to paint a mural, start with exploring the neighborhood, reading about its history -- and only after that, you can start making some sketches. No matter what you do, try to research the topic carefully -- it will help you push away the procrastination and make the first important step to your dream realization.
Creativity can fill our life with joy and give it the sense of completeness. Everyone can get creative with their everyday activities while remembering that hard work goes hand-in-hand with creativity.
Popular in the Community