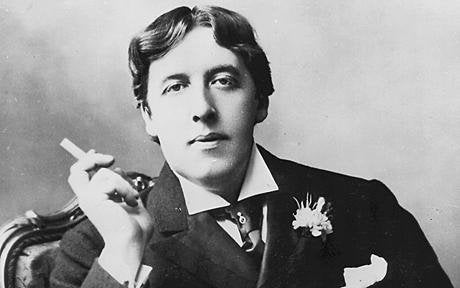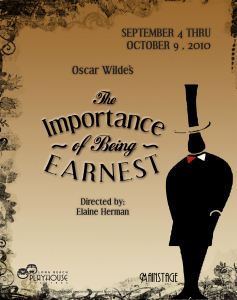 As the Long Beach Playhouse navigates yet another transitional period, it should thank God for the experience, stability and continuity with which Elaine Herman anchors the venue. And her skill: her Mainstage Theatre production of Oscar Wilde's The Importance of Being Earnest is brisk and articulate, fresh and spontaneous. Under her flawless translation of Wilde's scintillating farce that skewers Victorian England's idle rich, the show has the walkaway impression of a Faberge egg, painstakingly crafted, beautifully executed and, best of all, seemingly effortless.
It's a raucous production that almost bursts at the seams with the aesthetically postured trivial pursuits of Algernon Moncrieff (Paul Griffiths) and John Worthington (Matt Landig) and yet seems as relevant as topical, if not as ludicrous, as the Jamie and Frank McCourt divorce case playing out in the Los Angeles divorce court. It's period perfect but feels contemporary and vibrant and it's because of Herman's ability to coordinate the visuals with the dialogue and recruit a cast that is not just nimble-footed but nimble-tongued as well so that, though they may trip over their various imbroglios, they don't stumble over their dialogue.
The late 19th century Victorian England set (Herman) and costumes (Donna Fritsche) enhance the era's now-curious contemporary conventions while it preserved the timelessness of the He/She melodrama. Fristsche's dresses are appropriately stylish (and the petticoats are appropriately starchy) while her suits remind you why men who dress like that require the assistance of a butler.
The ensemble performance was spot-on, individually great, collectively even better, like diamonds in Queen Victoria's tiara. No stray accents, no errant diction unbalanced the production. The pacing followed lockstep with the dialogue. It was, in fact, made possible by the dialogue: outrageous-but-true, now-classic quotes scuttle across the room like champagne bubbles. Each utterance, each gesture, each exclamation was polished to a fine shine, as if Herman wanted to ensure that the best china was brought out for us her guests.
Does style trump narrative or is style the narrative of the play? It's the latter. The production asks "What's in a name?" and then responds "A ton!" It's not so much two cases of mistaken identity as the comic consequences caused by two fake ones. Algernon and John court two women, Cecily Cardew (Daina Bowler) and Gwendolen Fairfax (Elizabeth Ginnett). Each young man's courtship, though, faces several challenges, one of which they have brought upon themselves: they've created fake personas, the better to elude unwanted social obligations. Each character must also negotiate formidable gatekeepers: Algernon must contend with John, who is Cecily's guardian, while John must deal with Lady Bracknell, Gwendolen's mother. They do, eventually, but not before prattling on about such modern matters as marriage, fashion, manners, morals, and style.
If there's a theme, it's that the rich are not like you and I. Apparently the only discernible purpose of their privileged Oxbridge education was to provide the two young men with a vocabulary and wit that is as peacock-foppish as the costumes and the setting that turned the Mainstage shoebox into both a posh apartment and a luscious garden.
This play's dialogue, this production in particular's delivery, makes it easy to grasp the derivation of both "audience" and "audio" from a Latin word that means "to hear". And hear we do, loud and clear. You'd be hard pressed to find a better Earnest, and it's entirely due to one Elaine Herman.
Performances are 8pm, Fri. & Sat, 2pm, Sun. The show runs until Oct. 9. Tickets are $12-22. The Playhouse is located at 5021 E. Anaheim St. For more info call 494-1014 or visit www.lbplayhouse.org.

Calling all HuffPost superfans!
Sign up for membership to become a founding member and help shape HuffPost's next chapter