I write a post every year about children's theater because I really believe in children's theater. I hear a lot about the cost of theater, the cost of taking a family to Matilda.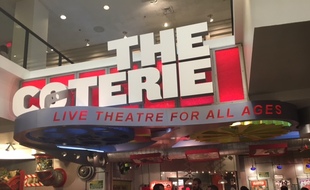 I get it. But what is lost in the shuffle is there is a ton of affordable theater in New York and elsewhere. There is likely an inexpensive show to take your child to -- and it is important that you do. Engendering a love of theater at a young age helps children grow up loving the theater and the arts in general.
Last summer I wrote about Atlantic for Kids, which is a great program in NYC. Theatreworks USA! tours productions throughout the country and the tickets aren't expensive at all. The company also offers free summer theater off-Broadway. This year the show is Junie's Essential Survival Guide to School written by Marcy Heisler and music by Zina Goldrich. It is recommended for ages 5-11, but it is fun even for people over the age of 11 that happen to be along. The songs are catchy. It has a really clever set. There is only one more week to catch it.
All over the country there are resident theaters focused on doing work for children. A lot of them host world premieres. Boston Children's Theatre presents works year round -- I think the most expensive ticket is less than $30. The company presents one world premiere children's musical a year; usually nothing too adventurous, but good solid choices for the elementary school child in your life.
I've never personally been to the Children's Theatre Company in Minneapolis, Minnesota, but I always follow what the company does. Years ago the company premiered the musical version of A Year With Frog and Toad, which went all the way to Broadway. Recently it had the premiere of Diary of a Wimpy Kid, which is aiming for the Great White Way. The theater doesn't do only what we would traditionally consider children's theater -- Artistic Director Peter C. Brosius aims to have some unusual entries. For instance, the company commissioned a piece by Taylor Mac which centers on an intellectual aesthete who is trapped inside a mud pit.
A few months back I learned that The Coterie theater in Kansas City has a lab for new musicals. It has been in existence since 2004 and they do world premieres. Occasionally these world premieres are junior versions of established titles. This year though they premiered a live version of the Dreamworks movie Madagascar with a book by Kevin Del Aguila (who also did the Diary of a Wimpy Kid libretto). I was recently there and to see the reactions of kids was amazing. I took a 20-month old. People thought I was nuts, but I knew the child loved music. I thought he could sit through the show. So why not? When we entered they were playing an animal-inspired medley of pop songs and he was totally dancing to "Karma Chameleon." When the show started he was amazed. The musical itself was entertaining. Obviously it's not Broadway caliber sets, costumes and talent, but it was a very respectable production. (Shout out to Donovan Woods, the actor playing the zebra Marty, for a really strong performance.) And, most importantly, all the kids loved it. A lot of them were dancing and singing along. The child I brought tried to sing along, but he is less than two, so in his case he sang his "ABC"s, which thankfully didn't disturb anyone else. We're talking a sold-out house cheering so loudly for the theater. This show will in theory play all over the country and have similar impact on others. The Coterie does theater for all different age groups of children -- Madagascar was a musical for all ages but the theater's next show is a play about the civil rights movement for ages 12 and over. Tickets are $11-12 for kids and $15-17 for adults, but you can get a package of 10 tickets for $100. That is only slightly higher than the average cost of a movie ticket in America. For that money your kids are getting so much more than they would from a movie. You're giving them a life experience away from the screen.
There is a lot involved with taking children to the theater. If you have multiple children, not every show might be right for all of them. You might not have a child that you think can sit through it. I have a six-year-old nephew that I haven't taken because I worry that he would disturb everyone else and/or be miserable. But if you know a kid who can handle it, taking them now can really teach them to love the performing arts. There is very little as joyous.

If you want to contact me, you can find me on Twitter @CaraJoyDavid. I also welcome emails at carajoy@gmail.com. Please do not send me a Facebook message if we are not friends on Facebook. I will not see it.
Related
Popular in the Community