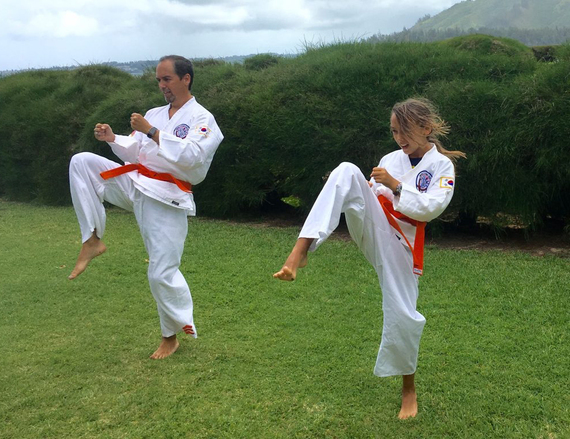 Equal treatment for any group depends on people outside the disenfranchised group to be advocates. There are white advocates in the civil rights movement, heterosexual advocates in the gay rights movement, and male advocates in the women's rights movement.
Congress passed the law that opened doors for girls and women in school and sports, and the government was charged with enforcing it. But the secret weapons in the fight for fairness was dads.

The generation of girls born in the 1970's and beyond grew up with fathers who firmly believed their girls should have the same experiences as their boys. When teams were dropped, when fields were in disrepair, when the coaching wasn't very good, dads went to bat for their daughters. They protested to principals and school superintendents and sometimes filed the lawsuits that ultimately got girls spots on teams.
When an issue shifts from an abstract idea to something that impacts someone very close to you, like your daughter, your new perspective changes everything. Instead of the abstract idea of "gender equality in sports" you are fighting for the right for your daughter to participate in sports with the same opportunity your son is given (coaching, equipment, fields, etc.). This is a very different level of interest, involvement, and motivation.
Having an issue hit close to home (like impacting a member of your immediate family) isn't the only way perspectives change. Geena Davis has a great catch phrase for her Institute on Gender in Media:
If they can see it, they can be it.
Girls need to see what is possible. Often people hold limiting beliefs, not because they are malicious, but because they have only been exposed to the world through a limited interpretation that doesn't necessarily reflect how diverse our world really is. Geena Davis says about her institute and the Bentonville Film Festival, "we're not trying to change the world, we just want entertainment media to reflect the world we live in, which last time I checked is 51% women and very diverse." Today, storytelling through the film industry is predominately told through the male perspective; with women representing only 7% of Directors, 13% of writers, and 20% of producers.
On September 20, 1973 Billing Jean King beat Bobbie Riggs in a tennis match that was dubbed The Battle of the Sexes. Perspectives changed after that match in fact,
Billie Jean King says that men in their forties and fifties still come up to her today to say that they watched her play Bobbie Riggs and that the match changed their lives, especially their attitudes about their daughters. 'They are the first generation to insist that their daughters and sons have equal opportunities,' she said.

- Let Me Play by Karen Rosenthal
The gender equity topic in sports is back in the headlines with the United States Women's National Soccer Team USWNT and their pursuit of pay equity with the men's national team. Ironically, one of the key reasons the US women are a dominant force in the world of soccer is Title IX. When Title IX passed in 1972, many educational institutions were forced to add girls sports teams in order to equal the opportunities between the genders. Soccer was a popular choice because it's a sport that doesn't require a lot of equipment, facilities, or expense. In our fight for gender equality in sports, we created more opportunities for girls to play soccer which created a larger talent pool for our US National Team. Yet, the governing body of US soccer pays the women's team differently than the US men's national team. Obviously, we still have more work to do.
We need to continue to increase opportunities for girls in sports and we need to increase the number of women storytellers in film. The Women Sports Film Festival provides a venue for women filmmakers to tell the stories of amazing female athletes. If you don't see it, your perspective on what's possible remains limited. Can a woman from Bangladesh climb the seven highest mountains in the world? Wasfia Nazreen did just that and her story is changing the perspective of what's possible for Bangladeshi girls. Can you be a mother and an aerial ski jumper? Yes, Lydia Lassila the Australian Olympic gold medalist redefines courage in the film that chronicles her story; The Will to Fly. Can women excel in a male-dominated sport like boxing? Yes. If you haven't heard of Claressa "T-Rex" Shields from Flint, Michigan, the winner of the first Olympic women's boxing gold medal (2012), she is returning to Rio this summer to defend her title. The film T-Rex: Her Fight for Gold will be the opening night film at the Women Sports Film Festival, July 28, 2016, at The New Parkway Theater, Oakland, CA.
Equal treatment is a process, so we keep chipping away at patterns and behaviors that don't represent the world we live in. For Father's Day weekend, if you have a great father - daughter sports photo, please post it to the Women Sports Film Festival Facebook page.
REAL LIFE. REAL NEWS. REAL VOICES.
Help us tell more of the stories that matter from voices that too often remain unheard.