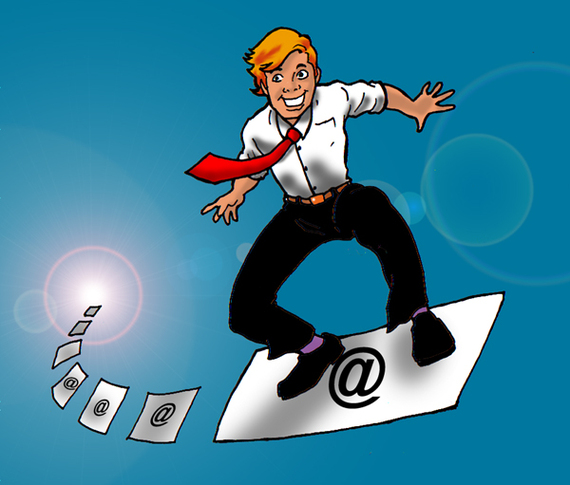 If you're venturing into the realm of Internet Marketing and don't have an opt-in email list strategy, then you're no better than wandering around in the dark.
The importance of an email list cannot be understated regarding your success as selling products and services. Here, we'll look at just what an email list is, how to build one, and what one can expect from it.
First of all, let's look at what Internet Marketing is. It's a field of marketing that uses the tools and resources of the internet to sell goods and services.
These can range from direct from the producer or affiliate sales.
The big companies like Amazon cover both and hundreds of thousands of people make a living selling Amazon products and services under their affiliate program.
Other large companies with a significant online footprint also have affiliate programs, and as you sign up for each one, you'll need to promote them to your public, or you won't earn revenue.
Online footprint also have affiliate programs, and as you sign up for each one, you'll need to promote them to your public, or you won't earn revenue. And as you sign up for each one, you'll need to promote them to your or you won't earn revenue.
Your email list is your lifeblood in an operation like this. It's comprised of all the people who've chosen to be part of your promotional campaign.
You've earned their trust through promotion and the presentation of goods and services that they either couldn't get elsewhere or got at a considerable discount.
Many people don't have the time nor know-how to shop online and having someone present them with specials, or well-targeted niche items that are hard to find is a major convenience.
They then become dependent on your notifications and in turn, purchase from you and refer you to friends and family.
The email list usually starts from one's website or blog or both. Never, ever collect emails other than asking the surfer directly with the proper buttons and links to push so that they choose to be opted in.
This way you don't get penalized for spamming. You want people to choose willfully to be on your email list and join in on the fun.
So therein is the first level of an email list. You have a website and/or blog set up touting your services, skills, expertise, opinions.
For example, you might have a website/blog set up about taking care of pets.
Well, you create updated fresh content that is useful to the surfer, and you lead them to your email list.
You sell products and services related to pets and those surfers that are interested will follow your sales link and purchase.
You offer to alert them to other deals only members of your email list can get and soon you've built up a good number of people who've opted-in.
Let's say you've gotten 1,000 people subscribing to your daily or weekly email list. Each new email goes out to all 1,000 members full of special deals, discounts, or whatever fancies them.
Out of that 1,000, about 200 buy that day's product or that week's product.
That's a good amount of change for just sending out an email.
You encourage the participants to submit feedback to the deal they got, and you now have an active email list of happy buyers who now know they can count on you to police the web for those great deals from reputable companies and vendors.
You must build a helpful and friendly rapport with your email list. Send out freebies when you can.
They'll be looking forward to every email as they know there will be some goodie to be had, and you'll gain even more trust and admiration.
With a solid base of emails, you can sell just about anything that comes your way that your audience will be interested in.
You can experiment to see if your email list audience would like new types of products and services.
You would watch the stats on this to better tailor your promotional campaigns. Remember, you're servicing the public, and you must do your homework.
Never offer a product or service you haven't checked out thoroughly for quality and assurance. Even if a big name celebrity is part of the promotion, it means double duty in verifying quality.
You want to avoid the get-rich-quick schemes and 'overnight successes' and focus on the real and equitable.
You'll generate such a solid reputation for honesty and care that you'll build up revenue faster than you can believe.
You must also grow your email list by getting more surfers to opt-in. You do this by expanding and getting organic traffic instead of standard run-of-the-mill search engine traffic.
Nowadays this is done easier via social media. Having that Facebook and Twitter account sure comes in handy in building an email list.
You just keep posting and gathering up those opt-in emails. Don't fall for email scams where you can buy lists.
You're just asking for trouble as it's more than likely the people on those emails didn't opt-in and were probably fake email addresses at that.
Now that you know why an email list is so important, you need the tools and techniques to handle one.
There are several email responder programs out there and what they do is help you coordinate the emails, add bells and whistles to your content, and keep things running smoothly.
Most top email responders cost a good penny to operate, and there are a few free ones that have limitations but can be upgraded to pro versions.
Don't get cheap here. Get the best responder and keep your fingers crossed.
Your email responder will allow you the convenience of contacting your subscribers fast and efficiently.
Applying your email list is easy. Think of it as a Christmas tree. The tree is your email list foundation, and anything you put on your list are decorations the subscribers will be able to see.
For example, let's say you use a video to promote a new product or service.
You add the URL to the email list with a brief article about how important it is. For example, let's say you're selling guitar supplies.
Your video will either be produced by a manufacturer with your particular affiliate code embedded or a self-produced video with such data embedded in the video and description.
You pump up the hype about how great the service or product is and add it to your email list and use your email responder to get the word out.
There are all kinds of combinations you can put together, and with new social media options, you can use all of them in tandem with one another.
If you create reports or text tutorials, these also should be included in your email list solicitations.
Also, other marketers sell tutorials that they allow you to resell with your affiliate code.
For example, you create a 10-page report on how to fix your roof with a particular product.
You sell that report to your email list and ask for reviews you can re-post to your list or social media.
The products and services you promote could span the world, and your subscribers will be happy when you show them things they're unaware of or cannot get anywhere else.
Exclusive products and services will always net you a bounty, and you can create your own in this fashion.
Once you've gotten your email list established and working, it calls for the utmost in ethical conduct and technical discipline.
To breach any trust is hazardous as your livelihood, reputation, and cannot be allowed.
If you hire others to work for you, you must instill in them the same high standards.
If at any time you make an error, you must address your email list with an apology and remedy. Let's take a look at an example.
Let's say you find a great new product in your niche from another internet marketer.
You've seen other marketers praise this product to no end, and the producers have a long reputation for quality and integrity.
As with all things, there is a risk, but the indicators minimize it. You sign up under the marketer to sell their product, and you promote it to your email list.
Later you come to find your email box full of complaints that he product or service is substandard or is a rip-off.
You need to cease promoting it and issue an apology as well as guide your subscribers on how to get restitution.
You'll also need to take a proactive stance to punish the marketers responsible so that others who would engage in such underhanded tactics would think twice before doing so.
After your apology to your subscribers and offering any remedy, appease them with some freebies like free tutorials. Discounts on future items and so on.
You cannot afford to offend your email subscribers.
So now you're off and running, and you've got a vibrant, active, and responsive email list of subscribers.
They're growing into quite a family of friends that depend on you and you they.
This is the community you've grown together, and you need to monitor and shepherd them appropriately.
As you go along, other advances in email list maintenance will come along. For example, the mobile market is expanding at extraordinary levels.
People use their mobile devices to shop and communicate and play more than desktops. Knowing this, your email list and websites and blogs must be mobile friendly.
Google has beautiful free webmaster tools and services for this. Make sure you stay on top of what Google is doing because at any time you may find one of your sites listed higher in Google rankings due to favorable conditions and traffic flowing in at alarming volumes.
This is what marketers call "hitting the mother lode". A sudden boost of statistics involving traffic, subscribers, and revenue.
If you're not prepared, you can quickly become overwhelmed. Email lists are notorious for this if well maintained and associated with excellent website and social media campaigns.
So now you've had a good look at the real value of what an email list is and can do.
Don't take it for granted and follow professional guidelines. Be patient and be prepared.
Always respond with manners and friendly rapport and keep abreast of the latest technological advances and you'll be a-okay.
Related