"You cannot live this life anymore without the ability to read." - Walter Dean Myers
He grew up in Harlem in the late 1930s, a foster child who taught himself to read by the age of 5 and started writing stories and poems shortly thereafter. Despite dropping out of high school, Walter Dean Myers became a critically acclaimed author of books for young adults.
His award-winning body of work includes Sunrise Over Fallujah, Fallen Angels, Monster, Somewhere in the Darkness, Harlem, and Scorpions. Myers has received two Newbery Honor Awards and five Coretta Scott King Awards.
The position was created in 2008 to raise national awareness of the importance of young people's literature as it relates to lifelong literacy, education, and the development and betterment of the lives of young people.
I was honored to recently have the chance to chat with Myers about the position, his own background, and his dreams for our nation's children. What follows is an edited version of our conversation.
Earl: First of all, congratulations on your appointment as our nation's third National Ambassador for Young People's Literature. Tell me a little about the position. What are some of your goals for your term?
Walter: I've been interested in literacy and reading all of my life. When I was asked to accept this position, I wondered if I could be useful. That's what I wanted to be -- I wanted to be useful. I didn't want to just sign books and smile at people. There have been two areas identified as being vital to reading -- and that's for very young children between the ages of one month and five years and for teenagers. I've been trying to find ways of approaching both groups.
I am very much interested in getting parents to read to children, and trying to get people mentoring children. If I can do both I'll be happy. Basically what I want to do is get this whole discussion in the open. I want to inform parents and children about what they need to be doing with reading and show them the differences that I've seen over my life.
I don't want to approach reading from the viewpoint of that it's a pleasant adjunct to your life. I want to approach it from the idea that you have to read or you're going to suffer. There's a difference to be made -- and you can make it if you read with your child.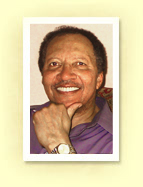 Courtesy of walterdeanmyers.net

Earl: Growing up, you've said your childhood was not easy. But, you learned to read by the age of 5 -- and read whatever you could get your hands on around the house. What did reading give to you as a child?
Walter: I was raised in a foster home and my mom was not a wonderful reader -- she could read with her finger tracing the words. She would read with me maybe three days a week. I looked forward to that time -- it was just mom and me. I wasn't conscious of learning anything - I was just sharing the time with her.
And eventually by the time I was four I was picking up words because she was reading primarily True Romance magazines. By the time I was five, I could sit there and read to her. And it was not something that I was formally learning or she was formally teaching me. It was just the time that we spent and shared together.
Earl: Your books cover subjects -- drugs, drive-by shootings, gang warfare, and other "gritty" topics not traditionally found in children's literature. Why do you feel it's important to write about these topics? What do you hope young readers take from your books?
Walter: I was researching a book and I interviewed adult male prisoners, about 100 of them. I was talking to them and I was talking to a defense counselor. I said to him that it must be very hard to get the resources to do this. He said that wasn't his job -- that his main job was to humanize his clients, to make them seem like human beings in the eyes of a jury. I thought about what he said and how important that was. I realized what I needed to do was to humanize the poor children, humanize the children who live in what people are calling gritty neighborhoods.
The first way to humanize them is to include them in books. So I wanted to include these young people. I want to say to them, 'This is the life you came from, but you are just as good a human being as everybody else.
When I was coming up, I didn't have this. I was raised in Harlem. I never found a book that took place in Harlem. I never had a church like mine in a book. I never had people like the people I knew.
People who could not find their lives in books and celebrated felt bad about themselves. I needed to write to include the lives of these young people.
Earl: Reach Out and Read is working to change parental behaviors -- to engage parents and encourage them to become their child's first and most important teacher by reading aloud from birth. What messages do you have for parents about the importance of reading aloud? Do you have any great tips for reading to children to share?
Walter: I've been looking at a number of programs that supposedly are encouraging people to read to their children. What I'm seeing is that many of the parents think you have to be a really good reader to teach your child. And that's not true.
The second thing I'm seeing is that many organizations don't believe that young parents will read to their children. I was told by one newspaper -- your ideas are very good but do you really expect people to sit down with their children and read? And I'm saying -- yeah, I do. I do.
I just so believe that young parents or grandparents will sit down with these kids if we explain to them why they're doing it, how reading stimulates the minds of these young people.
When I was a kid, when you would come to my house, my mom would call me over and say 'Read for Uncle Joe' or 'Read for Aunt Mae.' And I was proud to do that. I think that this is something you can give a child -- if you can't buy a child those Air Jordan sneakers or if you can't buy the child that video game, you can give them the gift of reading.
Earl: In our busy modern world, it is easy for parents and children to get distracted by technology and the latest video games. How do you think we get the message to families to get them to turn off the TV, put down the video games, and get them to read?
Walter: What I would like to do is to come up with a "great books" list of maybe 100 books which are age appropriate for kids ages 11 through 14, and find a way of giving the books to kids and parents. I want to give them some kind of credit for it without a direct grade -- because for so many kids reading is just an opportunity to fail.
I also tell them about my own life and how things have changed over the years. When my boys were young, I would read marriage announcements to them, announcements saying that some girl who was going to get married -- she's a college graduate and she's going to marry a boy who's a college graduate. I'm saying [education] is going to affect every part of your life. You cannot live this life anymore without the ability to read.
To listen to the complete interview, please click here.
Calling all HuffPost superfans!
Sign up for membership to become a founding member and help shape HuffPost's next chapter