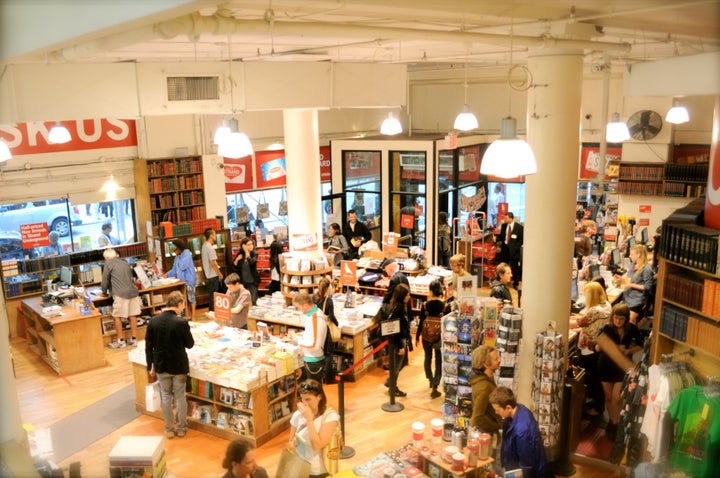 When I say, "local bookstore," odds are good the first thing that comes to mind is not a book you've bought, but a person, a sense of place, even just a vague cozy feeling.
My "first" had dark, slanted wooden shelves that disappeared into the clouds. (Hey, I was four.) I wanted to climb them and find the giant's golden harp, but contented myself with choosing one book from the children's section--a standing deal with Dad: "Don't embarrass me while we shop, and you can have any book from which you can read the first page."
I considered it a good trade-off.
So bookstores always seemed wonderful places, but it wasn't until my husband and I opened one in rural Virginia that we began to understand the practical realities of their magic.
When people come into our 39,000-volume-strong shop, their breathing changes. Their expressions soften, steps slow, eyes stop darting. Hands unclench from cell phones as they mutter, "Call you later."
And then they just stand there, letting their eyes drift over the shelves while that indefinable bookshop magic does its work.
That doesn't happen with online selling. (When was the last time you relaxed in front of a computer?) Online sites pepper us with pop-up ads. Booksellers listen. We read your face. We see the tears in your eyes when you ask for a large print book because your mother's sight is failing. Booksellers make you a cup of tea in the café. We know that the sweetest, saddest, scariest stories in our stores aren't in the books, but in the customers. We value those stories.
Who values local bookshops? Well, you do, if you're reading this--for which all bookslingers everywhere thank you. And hopefully you know about #IndieThursday, when those who've bought from an independent seller in the past week tweet the titles of their purchases and the shop where they bought them.
Many people (like you) appreciate that their local bookstore will sell books hand-to-hand, because they believe in what they have to say; book lovers understand their local shop's role in painting the world with bright colors rather than shades of grey. Bibliophiles are smart: we know, when Amazon offers $10 off a book's list price, what false savings lie within that tenner. There's short-term and long-term; there's economy, and then there's community. You pay your money and you make your choice.
Not everyone has enough money to take the high road; only you know what you can afford, and what you can afford to lose. Because, God bless us every one, independent bookstores help us find the others like us. Booksellers hear customers' voices in the shop, and hook them up with the voices they will value on the printed page. It's so much more than a sale. It's an affirmation.
Support HuffPost
The Stakes Have Never Been Higher
Related
Popular in the Community