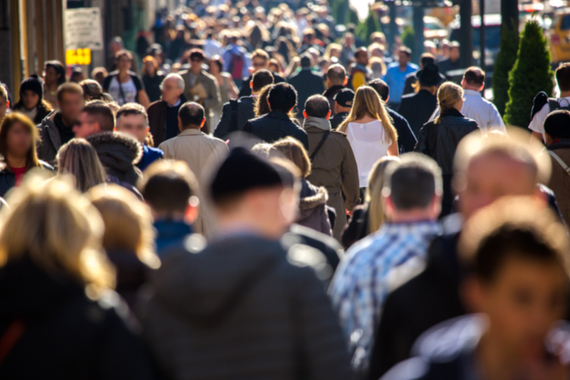 Big brands have been executing creative campaigns through crowdsourcing for years. For example, General Mills has used what it calls its "Worldwide Innovation Network" (G-WIN) in order to incorporate consumer feedback for everything from ingredients to packaging, with the end goal of creating innovative products.
Individuals and smaller businesses have been using popular crowdfunding sites like Kickstarter and Indiegogo. Now, new mobile apps have opened the floodgates to a new paradigm of crowdsourcing. Due to the collaborative and user-driven nature of a crowd-based model, mobile platforms are ideal for managing and connecting users.
Why Mobile Platforms Are Perfect For Crowdsourcing
The ubiquity of smart phones and the relative ease with which apps can be created and shared makes mobile a natural platform for crowdsourcing. When the end goal is ultimately pooling together small, individual contributions into something greater, a mobile device - with the potential for location-tracking - is the obvious choice through which to facilitate those small contributions.
Text, images and video can be shared instantly and on-the-go. The increasing ease-of-use of QR codes and augmented reality are even providing businesses with creative new sources with which to gather crowdsourced data, in which real-life, mundane objects can be tied into web-based networks. All of this amounts to a network of users providing content instantly and accurately, which a number of apps are taking advantage of, creating platforms capable of services not feasible through laptops or desktop computers.
Some of the most successful crowdsourcing apps are related to travel and transportation--AirBnB (short term rental accommodations), Waze (traffic navigation), and Unbabel (translation). These all essentially offer ways for users to share their own insider info, knowledge, and even their homes via social media networks, each offering an easy-to-use platform on which to do it.
Waze, for example, lets users know things like upcoming hazards or even police cars, and asks users if these objects are still present in order to keep data updated to location and in real-time. While sometimes criticized for distracting advertisements or notifications, Waze is able to calculate quick routes and arrival times more precisely than other navigation apps due to both the high amount of input from users and accuracy-gathering features.
On the other hand, crowdsourcing can be more complex than it seems on the surface, especially when services leave the digital realm and enter the real world. For instance, ride-sharing companies like Uber, Hailo, and Lyft have all faced complications related to both legal issues and quality control. These sites essentially source taxiing to those opting into providing their own vehicle, saving the company itself a significant cost.
This model has been successful due to its easier and ultimately more casual method of getting anyone with a need for short-distance travel from point A to point B. However, business laws regarding taxi companies and questionable individuals contributing to this crowdsourced workforce have led to some problems that currently have not been fully addressed.
That said, it appears that the concept of ride sharing or crowdsourcing transportation is here to stay. Crowdsourcing apps are still in their infancy, and unfortunately will have their share of growing pains. However, whether at the hands of Uber or Lyft or a new, up-and-coming company utilizing this same model, ride-sharing is popular and only getting more so, and likely to succeed as a new paradigm.
Crowdsourcing Apps In 2015 And Beyond
Crowdsourcing has been accepted as normal activity, rather than just something for the cutting edge or early adopters. An increasing number of companies, nonprofits, and individuals have been integrating crowdsourcing platforms into daily life and business models alike.
Therefore, growth in crowdsourcing is something that can only expected to improve in years to come, and in more niche industries, as a more common tactic for small business as well as larger brands. This stems from the idea of "unbundling" or single use apps, referring to the idea that people don't want one hub for everything, but individual apps that do one thing and do it well.
Mobile crowdsourcing is a trend that shows no sign of waning soon; furthermore, it makes your audience even more engaged with your brand or app simply by participating. After all, if you've contributed content to an app, you're not just making a purchase or playing a game; rather, you are part of the process and its overall success.
This is what makes crowdsourcing so effective, it requires people to not only invest in and trust a brand but more importantly, people become invested in their fellow users and their services, content, or ideas. At the end of the day, people want to do business with people, not big businesses.
Related
Popular in the Community