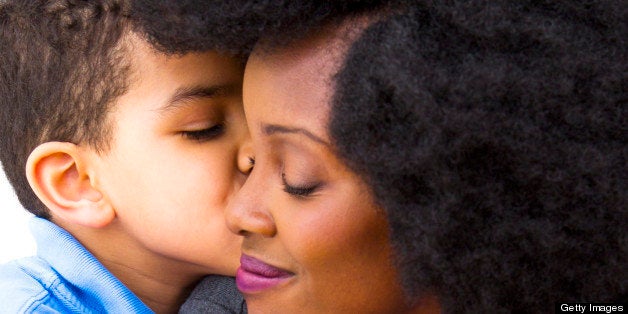 This is the fourth Mother's Day I've celebrated as a parent. The first year, I'd been carrying my daughter for six months, and my aunt and uncle bought me a bear holding a pillow that commemorated the holiday. Later that night, alone in my apartment, I sat the stuffed animal on the arc of my belly and began to understand, in some small, inadequate way, how my life was about to change and my heart was about to bisect like the body of an earthworm. I would watch it walk off and play and chatter: a part of me, apart from me. It was a lonely realization, a lonely day.
The second year, her first on the outside, she and I were taken to dinner. The third year, I received a bouquet of fruit from her father by delivery and was able to spend the day with my own mother and grandmother. Gradually, my mothering community has grown. I do not feel as underprepared. I do not feel as lonely. When you're becoming a mother, it is important to be nurtured. It isn't work that's only done for a day. It isn't work that can be accomplished by one person.
Mothers must also be mothered.
This year, I am thinking of those who have no one. No relatives, no co-parent, perhaps even no biological children. I am thinking of the single mothers whose sons and daughters are too young to make them macaroni jewelry, who will spend today like every other: diapering, scolding, cooking, budgeting, sweating. I am thinking of the husbands and wives whose children have predeceased them, who will spend this day largely in silence because words, with their glottal and fricative sounds, do little to echo their grief. My thoughts are with the daughters whose mothers are no longer here, who will pull cherished photo albums from beneath their beds today, running their fingers over cellophane-protected snapshots and grappling with complicated feelings. I am thinking of the childless families who help us raise our children.
I haven't long been a mother, but what I learned about Mother's Day in the 29 years I spent being a daughter and granddaughter is that it isn't just a holiday meant for receiving honor.
It's a unique opportunity to offer others much-needed care.
When a mother has what she needs -- support, appreciation, cooperation, love -- the second Sunday in May is pleasant and lovely and we are grateful for it. But it's simply a ceremonial extension of the graces we are granted every day. The moment means more to those who, for whatever reasons, are grieving or longing or under-acknowledged.
It is a day to extend company to the the lonely, to enfold them in our revelry. It is an opportunity to attempt to lessen someone's heartache or hardship, to understand that while we are waiting in those interminable restaurant queues, arms laden with bouquets, balloons, or cards, other mothers who love their children as much and sacrifice as much of themselves as we do, cannot afford to be here.
We, with our glut of advantage and adulation, can share it.
Last year, I founded Beyond Baby Mamas, an online support and advocacy community for single mothers of color. I started it because I wanted to spark dialogue with women whose circumstances were similar to mine. But what I quickly learned is that single motherhood -- and minority single motherhood, in particular -- encompasses a diversity of experiences greater than any I could've imagined. Mothers' desires and needs and challenges are too varied to be addressed in a day. And some mothers -- especially those for whom today is lonely or mournful or desperate -- are not having their needs addressed at all. They cannot dismiss Mother's Day as "just another day." It's a particularly painful one for them, buried as they feel by an avalanche of need and expectation.
This year, Beyond Baby Mamas hosted a Mother's Day contest and asked single mothers of color to enter by writing us and explaining why they could benefit from a free dinner at a restaurant of their choice. The stories we received were resonant and heartbreaking. And more, they confirmed the need for the work we're doing.
They confirmed that mothers -- biological, fictive, adoptive, foster, and social -- and their children, by birth or by other assignation -- must all have their moments of appreciation and love, if this day is to be as meaningful as Hallmark has taught us it should be.
It isn't too late to add someone to your own celebration: a child who's lost a mother, a mother who's lost a child, a single expectant mother, a woman who's as much a social parent to your child as you are, and anyone else who may be struggling with holiday.
Sometimes, the act of mothering on your "day off" can make all the difference in the world.
Popular in the Community