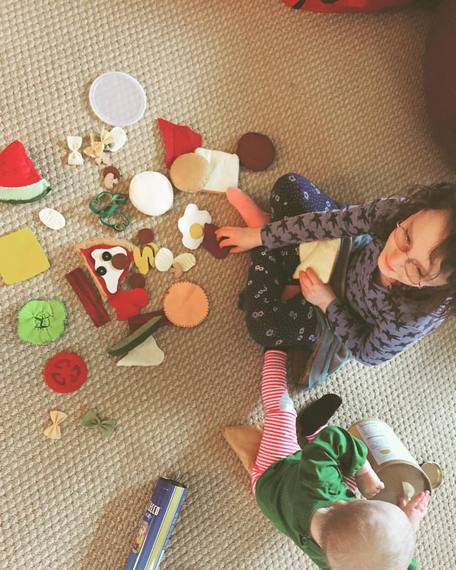 Prioritizing pretend play in childhood -- and beyond:
It's a cold Saturday, my husband's at work, and my two children and I are holed up in the house.
We break out the play food that the girls' aunt made for them. I'm blown away by these handcrafted, wool-felted pieces -- pepper rings, pepperoni, a burger, jelly, bread, buns, pizza sauce, two kinds of cheese, bologna, pizza crusts, watermelon, a dill pickle, bow-tie pasta, a fried egg, lettuce, tomato, mustard, ketchup, and many more items surround us as we sit cross-legged together on the living room floor.
The baby especially likes playing with the tinier foods -- the little black olives and mushroom slices for the pizza are her favorites. She says "nom, nom, nom" as she holds them close to her lips, and pretends to chew.
My oldest daughter loves watching cooking shows. She carries spatulas, pots and bowls from the kitchen into the living room and mixes and creates, along with her favorite TV chefs.
She now expertly crafts watermelon sandwiches and double-decker pizza slices. She giggles and looks out of the corner of her eye for my reaction when she places her current obsession -- yellow mustard -- onto the play pizza as well.
Then we pick up, and we have a real-life snack. Snow appears through the window in spurts. I'm hoping that my husband will be home soon, so I'm hesitant to leave, even though the girls are clearly needing a change of scenery.
Instead, I get a wild idea to break out the dress-up clothes that I bought for my oldest daughter probably two years ago -- before the baby was even here with us.
One morning, when my daughter was in school, I dashed from a yoga class to JC Penney. I'd never been in the store before, so I quickly hunted for the little-girls Disney section; my daughter's school pick-up time fastly approaching.
I bought four dresses and three pairs of shoes. Glitter was all over my yoga pants as I piled this giant, puffy bag into the passenger seat of my Jetta and excitedly drove over to get her.
This Saturday, I found them at the top of her closet with the tags still on. She never got into playing princess dress-up. I stealthily look through this bag of clothing, trying to peek at the sizes and not get her interested in something that likely will no longer fit. I silently praise my earlier intelligent purchase -- all of these dresses were too big at the time, but now they are exactly her size, or just small enough to still squeeze into.
I take the dresses out into the other room, and my girls' faces light up. My oldest reaches out in awe for the Rapunzel dress. She immediately starts taking off her outfit so she can step into this sparkly choice. Her ecstatic expression makes my heart pound. The baby, however, is incredibly upset that nothing is in her size. She begins to cry.
I dash back into the bedroom, and then into the kitchen, and then I finally find her Halloween pumpkin costume haphazardly thrown onto the dining room buffet, from the last time she had wanted to randomly wear it. She wipes fat tears from her tiny cheeks, and grins hugely, reaching for the orange costume.
My husband didn't arrive home from work for another few hours. In that span of time, we had changed into almost all of the dresses, and the girls had, at one point, added hats. I couldn't find the shoes.
By the time he walked in the back door, it was as hushed and as quiet as possible, because the baby had gone down for a nap, and my oldest was watching Tangled in her Rapunzel dress. (She would turn away from the television to say, "Thank you, Mommy," every now and then.)
He walks into the house and ooo's and aaaah's with complete sincerity at our daughter in her dress-up clothes. He goes to the one place that I hadn't looked, and brings out three pairs of sequin-covered shoes to an exuberant, beaming child.
She alternately wears two pairs that miraculously still fit.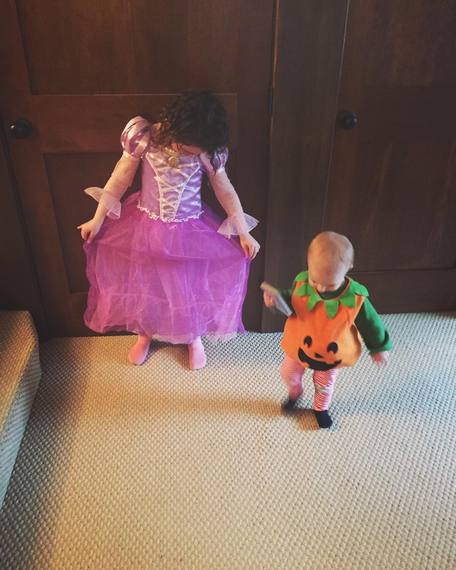 At the end of this day, not much was different from most others.
There were moments when I felt my temper rising, and I walked into another room to take a few breaths. There were poopy diapers, goldfish crackers on the carpet and smoothie mustaches. There were two little people showing me how ginormous their personalities already are through creativity, imagination and semi-contained attempts to show dominance.
Serving watermelon sandwiches and bow-tie pasta with black olives, in a green Princess Merida dress, might not get me nominated for any best-mother awards, but I felt like our cozy, artistic day was an indescribable success.
At school, they will learn to perfect letter writing, and how to read and count. They will get their feelings hurt, and they will ask if classmates can come over to play. They will be taught, above almost all else, that life is filled with different kinds of people and experiences.
At home, we work on learning, too -- but later, as I sit down with my husband once the girls have gone to bed, I tell him that imagination is something I want to encourage my girls to never lose.
My husband is a scientist -- that's his day job. I'm a writer. Creative ingenuity is paramount in many careers, and we discuss this over dark chocolate squares and wine, while football lights up the TV behind us instead of Brave.
I feel like a great mom because I spent my weekend afternoon playing with my children--I marvel at how invigorated and alive I am for simply immersing myself into the minds of two tiny kids.