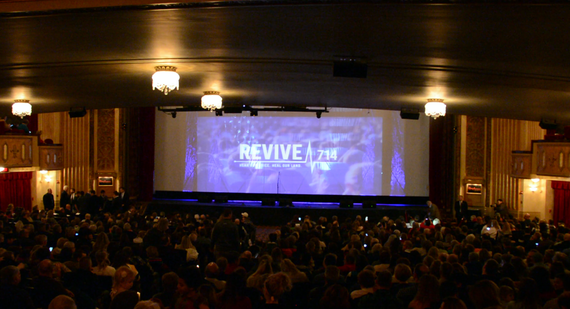 DES MOINES, Iowa - With the Iowa caucuses around the corner many candidates are criss-crossing across the state focusing their efforts heavily on religious voters, but many voters have questioned the role religion should play in politics.
Some voters are very passionate about their religious views being reflected in politics. In fact, according to a new report from Pew Research, two-thirds of Republicans believe it is important to have a president who shares their religious beliefs.
"I don't believe I can separate my religious views from my focus on the political perspective of this country," said Larry Sterk, a supporter of Dr. Ben Carson who lives in Sheldon, Iowa which is 225 miles northwest of Des Moines.
Paula Hamann, another Carson supporter who graduated from Oklahoma Baptist University and now lives in Des Moines, stressed how religion influences the candidate she supports.
"It has a lot to do with it," Hamann said. "There's a lot of things you want to consider when you vote, you consider everything but that is part of my values."
Justin Bahr, 22, a supporter of U.S. Senator Marco Rubio and student at Iowa State University, expressed that a candidate's faith keeps them humble once they get in office.
"I think that your faith grounds you and makes you a humble person," Bahr said. "Sometimes they go to Washington and they're haughty and pompous and they get big egos but when they've got faith it grounds them and reminds them who they are."
Religion is such an important factor in politics that almost all U.S presidents have proclaimed to be Christian, except two. Thomas Jefferson and Abraham Lincoln believed in God, but never formally joined a church.
However, not all voters believe religion is the most important factor in their decision to support a candidate. Pew Research also found 68 percent of people think religion is losing its influence on American life.
"I would vote for a Muslim, an atheist a Christian, anyone," said Winston Rosinger, 21, another Rubio supporter from Estherville, Iowa. "I don't think it should be used in politics I think it should just be their ideas."
Marena Bartz, 22, a student at Iowa State University, a registered Republican and an attendee at a Rubio rally, doesn't believe she has to share the same religion as her preferred candidate.
"I don't rule out a candidate or choose a candidate because of their religion, it's not usually a determining factor in my vote choice," she said.
According to a Gallup Poll, from 2015, 58 percent of people said they would elect a president who is Atheist.
Although religion is not the selling point for all voters, some presidential candidates have emphasized religion in their campaigns.
Last March at Liberty University in Lynchburg, Virginia, U.S Sen. Ted Cruz (R-Texas) launched his campaign, making his strategy clear: appeal to conservative religious voters. Since then, Cruz has developed a rapport among conservative Christians, specifically evangelicals.
On the other hand, Carson, a newcomer in politics, has used his religious faith to court supporters. His heart-to-heart style has helped voters connect with him spiritually rather than politically.
Donald Trump, a New York real estate developer, recently has been trying to gain approval from Christian conservatives. After mistakenly pronouncing 2 Corinthians as "two Corinthians" at Liberty University, he's been attempting to remediate his mistake through church gatherings and town halls.
Other presidential hopefuls haven't been as active in the game, including Rubio, New Jersey Governor Chris Christie and former Florida Governor Jeb Bush, among others.
Democratic candidates have actively steered away from embarking on a religious campaign.
With one week until the Iowa caucuses, one could expect many of the Republican candidates to continue to cater to voters by placing religious emphases on their platforms.
Calling all HuffPost superfans!
Sign up for membership to become a founding member and help shape HuffPost's next chapter