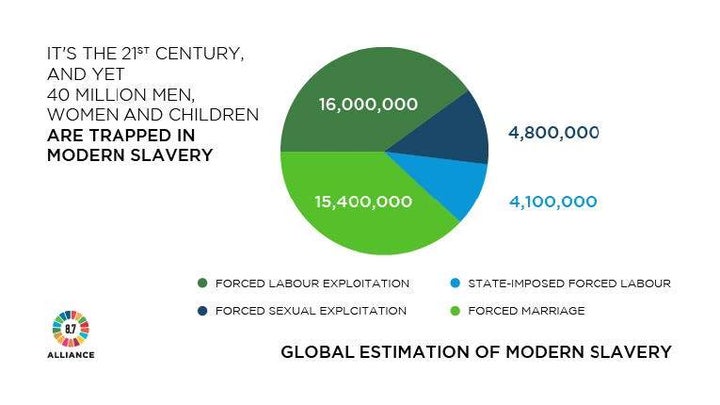 Measuring modern slavery is hard. The data is hidden and difficult to get at. And despite big progress in recent years, there is still much dispute over what is being measured and how it should be measured.
That's why the new Global Estimates of Modern Slavery, published in September, are such important milestones for the anti-slavery movement. These estimates, prepared jointly by the International Labour Organization and the Walk Free Foundation, with input from the International Organization for Migration, found that some 40 million people around the world are in a situation of modern slavery, with over 70% of them being women or girls. They clearly define, and measure, different forms of this exploitation, including forced labour, forced sexual exploitation and forced marriage.
This effort has been broadly welcomed by anti-slavery organisations, and others committed to the anti-slavery cause, who understand the importance of better measurement. As Bill Gates noted "we can't address what we can't measure. To end modern slavery we need the best available data."
From my perspective as the chief executive of an organization that is dedicated to ending modern slavery - and deeply committed to improving the knowledge base – the new estimates are a huge step forward. In a field that still remains far too fragmented and uncoordinated, this effort is an important demonstration of what productive collaboration looks like. It should be an example to others in the space.
The two organisations that produced this estimate previously had widely different definitions and estimates of what was being measured, which is why they are to be applauded for coming together and agreeing to a single methodology. The ILO's most recent estimate for forced labour was 21m (in 2012), whilst Walk Free's 2016 estimate for modern slavery was 46m. The big gap between what each organization was measuring and reporting was hugely problematic for all of us in the anti-slavery space. It created conceptual confusion about what should be measured. It undermined confidence in the numbers that did exist. And it impeded efforts to advocate to governments and international organisations and others.
Of course, despite all this progress, the data remains weak, and there is still disagreement between credible actors about what should be measured and how. But we shouldn't let the perfect be the enemy of the good – particularly when the perfect in this space is still far beyond the reach of our current capabilities. Each round of measurement improves our understanding of this abuse, and improves our ability to combat it. We can all celebrate that.
Nick Grono is CEO of the Freedom Fund, the world's first private philanthropic initiative dedicated to ending modern slavery by investing in local organisations working on the frontlines against this crime.
Support HuffPost
The Stakes Have Never Been Higher
Related
Popular in the Community