My 8 year old son has been out sick the last two days. Today, he seemed fine. I told him that he'd be going back to school tomorrow, and instantly his symptoms reappeared. "I'm hot. My forehead is warm. My hands are cold," and then the fake cough started up.
I pulled him aside, then got down to his level, "Is there some other reason you don't want to go to school tomorrow?"
I could tell the question made him uneasy. He averted my gaze and shrugged his shoulders in. "I just don't want to go." He squeaked out.
"Is everything going okay there? Do you like your teacher?"
"Are the other kids nice?"
Bingo. He stalled response, and I could see the flicker of thought suddenly appear in his eyes. He was debating saying anything. I reached out and grabbed his little hand.
"Well, they are nice in class... most of the time, but not most of the time at recess. They say mean things." He blurted out, as soon as he said it, his eyes darted up and he locked gaze. I could tell this was serious.
"They say mean things to you?"
"Yeah. Well, I mean sometimes they say it to other kids, and then I just hear them talking about me."
I gripped his hand tighter and he looked back down at the floor.
"What kind of stuff do they say?"
"You don't know, or you don't want to talk about it?"
"Okay. Well, who says the mean things?"
"I don't know." I could tell he was starting to clam up. He started shifting uncomfortably.
"Okay. You know, I'm not saying it to get anyone in trouble. I just want to know how I can help."
"When they are mean, do you tell a teacher?" I ask, and he glanced up and locked gaze again. His little blue eyes expressed urgency.
"I do when we're in class but it's at recess."
"Is there a playground supervisor you can tell?"
"Does it help when you tell them?"
He didn't say a word, his shoulders sunk lower.

"Okay."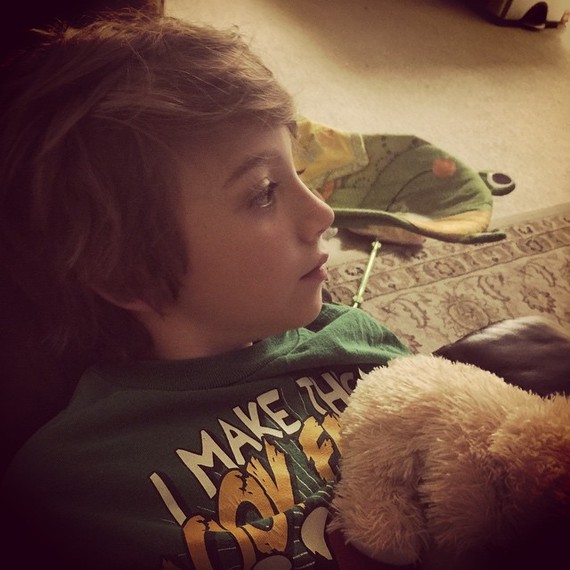 After a long pause, his little voice whispers, "Mom?"
"Can I tell you what some of the grown-ups do at my school?" My mind started going a million different directions. What the hell is going on at this school? Are adults hurting my child?
All of the sudden he perked up, his tone shifted and he started talking faster, "Well, parents, other moms and dads sometimes come to the school. To help out. And they stay on the playground with them."
"You mean, the parents that come volunteer for the playground?"
The realization of what he was saying stung. I have been pretty absent from school this year. Point taken, little guy.
"Would you like me to come to your school and help on the playground sometime?"
He dove into me with his entire body and started crying. I scooped him up and he folded into my lap like he did when he was a baby, eight years ago. We sat on the edge of the bed, saying nothing, tears down both of our faces and rocked.