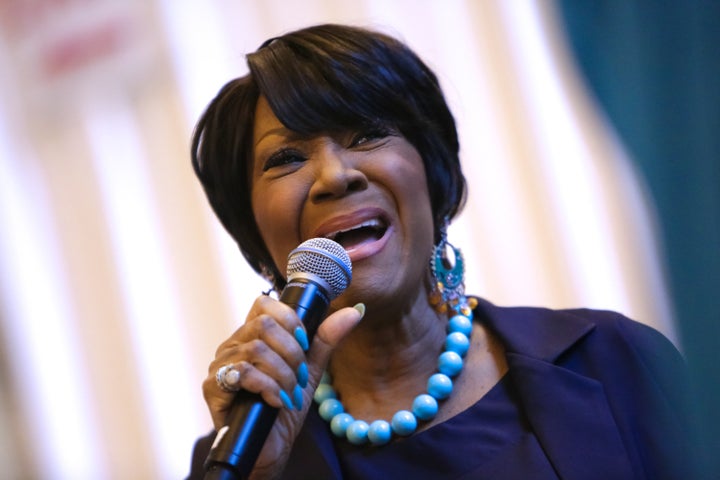 Patti LaBelle is used to performing in front of big crowds. The Grammy-winning singer has been doing that since getting her musical start in the 1960s. But now LaBelle is using her voice in a new way: to speak out about lung cancer. 
"My two sisters died in their early 40s of lung cancer," LaBelle told The Huffington Post about her siblings Vivian and Jackie. "There was no cure for it and within a year of being diagnosed they both died ... I would come back from touring and I would see them going through changes and diminishing. I couldn't do anything about it then because I didn't know much about what was going on."
LaBelle's choir director, whom she says "gave me my voice," also died of lung cancer.
"Now, as 71-year-old lady, I decided to put my voice into action," LaBelle said. 
She's partnering with Lung Force, a national movement led by the American Lung Association to unite women against lung cancer, the No. 1 cancer killer of women. According to the American Lung Association, an estimated 72,000 American women will lose their lives to lung cancer in 2016 alone -- more than a quarter of all female cancer deaths.
LaBelle hopes she can do something about that -- by helping to raise awareness, as well as funds, for cancer research. 
While chatting with LaBelle during National Women's Lung Health Week, HuffPost also also caught up with the singer about new music, Prince and more:
How she stays healthy: "I try to eat great foods and I do cook for myself a lot. And I do exercise as much as I can, and I realize that my body is a temple and I have to treat it like that."
On her 1974 landmark hit "Lady Marmalade": "It was a song that we had gotten from Bob Crewe 40 years ago. When we heard the song we knew it was a hit so we took it to the late Allen Toussaint in New Orleans, and that was the first song we recorded for that project. And it was all over -- everywhere."
On her upcoming music: "I have a new album, that's been done, that should come out before the year is out. It's sort of a jazz album with songs by Nina Simone and older artists from back in the day."
On recording music with late singer Prince: "I went to his studio and he treated me like a queen. He drove me around and he just took care of me, like a son. Just a really nice person -- such a great talent. And we're gonna miss him."
On her success: "I owe my success to God! I don't take anything for granted. I know there are so many women who can sing much better than I can but I've never taken it for granted. And my feet are planted on the ground. I thank the people who have gotten to know me and who buy my music -- I appreciate that so much. But I know that I can be replaced."
REAL LIFE. REAL NEWS. REAL VOICES.
Help us tell more of the stories that matter from voices that too often remain unheard.
BEFORE YOU GO