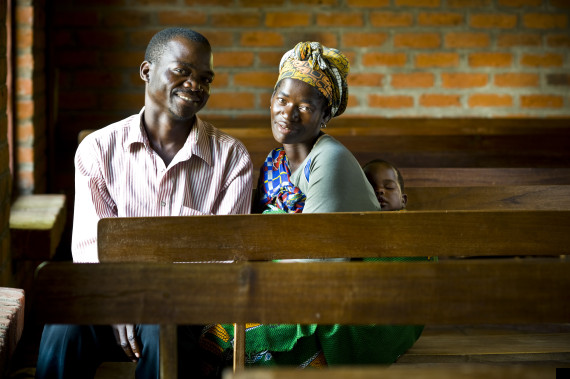 A Malawian mother and father bring their infant to a postnatal check-up appointment at a health facility outside of Lilongwe.
Throughout sub-Saharan Africa, there is considerable evidence that a male partner's involvement in a woman's pregnancy and HIV treatment can help her stay in treatment and have a healthy, HIV-free baby. I first learned the importance of male involvement in the prevention of mother-to-child transmission (PMTCT) of HIV from a woman named Mary Banda during my yearlong Global Health Corps fellowship at mothers2mothers (m2m) in Malawi.
Mothers2mothers is a nonprofit organization that trains, employs and empowers mothers living with HIV as Mentor Mothers to be part of health care teams at understaffed health centers. As a Mentor Mother, Mary provides essential health education and peer support to pregnant women and new mothers, helping them to access life-saving medical care to protect their babies from HIV infection. Mentor Mothers' strong ties to their communities and personal experiences with HIV make them effective role models to other mothers.
When Mary began working for m2m in 2008, men were not yet recognized as key players in PMTCT care. In fact, Mary says her husband was absent from her antenatal clinic (ANC) appointments for her three pregnancies prior to joining m2m. However, upon her request, he did accompany her on a visit for HIV testing. Mary's six years working with m2m have demonstrated how important it is "that the male partner is present, especially during the initial testing. It is easier to test both partners together so that if one person is positive, they can share their status with their partner right away." Mary also notes that if a woman is tested alone and is HIV positive, she is less likely to share her status with her partner for fear of angering her husband, or worse, divorce.
Benefits of male involvement in PMTCT include increased communication between partners about HIV and its risks, and increased contraceptive use.[1] Men who are supportive make it easier for their partners to seek treatment, stay in care and adhere to medical regimens. Additionally, men's involvement positively impacts infant feeding practices and decreases infant mortality. A Tanzanian study on the impact of partner participation found that 64 percent of women whose partners accompanied them to ANC appointments adhered to infant breastfeeding guidelines to reduce the risk of transmission as compared to 28 percent whose partners did not participate.[2]
In conducting interviews with PMTCT implementing partners throughout Malawi, I learned that lack of male involvement is a key barrier to uptake and retention in care. When male partners are involved in PMTCT education and counseling, they listen carefully, understand the instructions and are therefore able to support their partners' efforts to protect their babies from HIV infection, even going as far as suggesting condom use. Mary and the six other Mentor Mothers at Likuni Hospital encourage their clients to bring their male partners to ANC during one-on-one support sessions and in educational talks they give at the hospital.
When I asked why some men choose not to participate in their partners' pregnancy care, Mary said that "ANC has historically and culturally been a woman's responsibility. Even though we are located close to a city, people still hold on to the old cultural values." Another reason for lack of male participation is that responsibilities such as work or farming take precedence over visiting the facility.
Village chiefs can also play a role in encouraging men to become involved in their partners' care. This strategy often works around Likuni, but Mary said that while men may travel to the hospital for the appointment, many of them end up not going inside because they do not want to pay the 50 kwacha (roughly one cent) fee to park and lock up their bicycles.
In November 2014, m2m hosted a national workshop with representatives from partner organizations, the Ministry of Health and the National AIDS Commission to discuss next steps and actions for the PMTCT agenda in Malawi. Participants echoed what Mary told me about the importance of couples' testing for HIV and agreed that a comprehensive strategy should be developed to engage men as individuals and as partners. In order to eliminate pediatric AIDS, effective strategies that include men must be identified and put into action. And more importantly, Malawian men must realize that efforts to protect children from HIV infection keep families healthy, both in their own homes and in Malawi as a whole. And succeeding in this endeavor cannot be the responsibility of women alone, but requires their participation as well.
[1] Sternbrg, P. "Evaluating men's involvement as a strategy in sexual and reproductive health promotion." Health Promotion International. 2004.
[2] Msuya, SE., et al. "Low male partner participation in antenatal HIV counselling and testing in northern Tanzania: implications for preventive programs." AIDS Care. 2008.
Related