 It was almost impossible for me to watch The Impossible. The movie, about a family vacationing in Thailand when the Asian tsunami struck, hit too close to home for this psychologist first responder who was in Sri Lanka to help after the real disaster and after many other such tragic events. Although a fictionalized account of a true story, this movie was painful to view, as I kept comparing it to reality.

In the film, two parents and their three children survive the tsunami and are reunited at the hospital where the injured mother had been taken. A little boy they saved from the rubble is also miraculously reunited with his father in the same hospital. A happy ending indeed, and one to rejoice over. I can certainly be thrilled for this real life outcome for the Spanish family on whom the film is based. Yet my mind could not help but drift to the hundreds of thousands who died there and to the families who were never reunited.
Apparently, the film is appealing to audiences abroad, given a worldwide gross of more than $85 million, as reported by boxoffice.com. The L.A. Times cites big success in Brazil, France and Mexico. The results are less impressive to date in the U.S., where the gross is $3.6 million, but more is anticipated with the wider release.

Rarely do I talk to strangers after a film, but I felt so alone, desolate and distressed after seeing this movie that I had to turn to share my feelings and find out others' opinions -- both to calm my emotions and also to satisfy my reporter's curiosity. I turned to three men getting up from the seats behind me and asked what they thought.

"Americans want a happy ending," said one.

"But I'm American," I said, "And I went to Sri Lanka right after the tsunami to help, and I was upset watching this because it didn't show what really happened to so many."

Guessing from his accent that he came from south India, near Sri Lanka, I pressed, "Doesn't it upset you, coming from near the devastated area?"

His two American friends agreed with me. "Too many people died there," one said. "It was annoying, considering what really happened."

"But it's just a movie," he added.

Of course he's right -- it is just a movie -- but I still must pursue my own reactions, compare them to others' and come up with ways to cope.

When you're viewing a tragic story so close to reality, here's my advice for appreciating, yet also coping with, a movie about it:

1) Identify what bothers you. The timing of this film's release made it even more painful for me, coinciding with the 9th anniversary of the real event in Asia in December 2004, on the heels of Super Storm Sandy in my hometown, and presaging the anniversary of the earthquake in Haiti coming up next week, and of the tsunami/earthquake in Japan looming in early March, and with my having seen first-hand the full spectrum of physical devastation, screaming pain, lost lives and families forever separated. If you've been through the real thing, one happy ending is surely inspiring but also difficult to digest.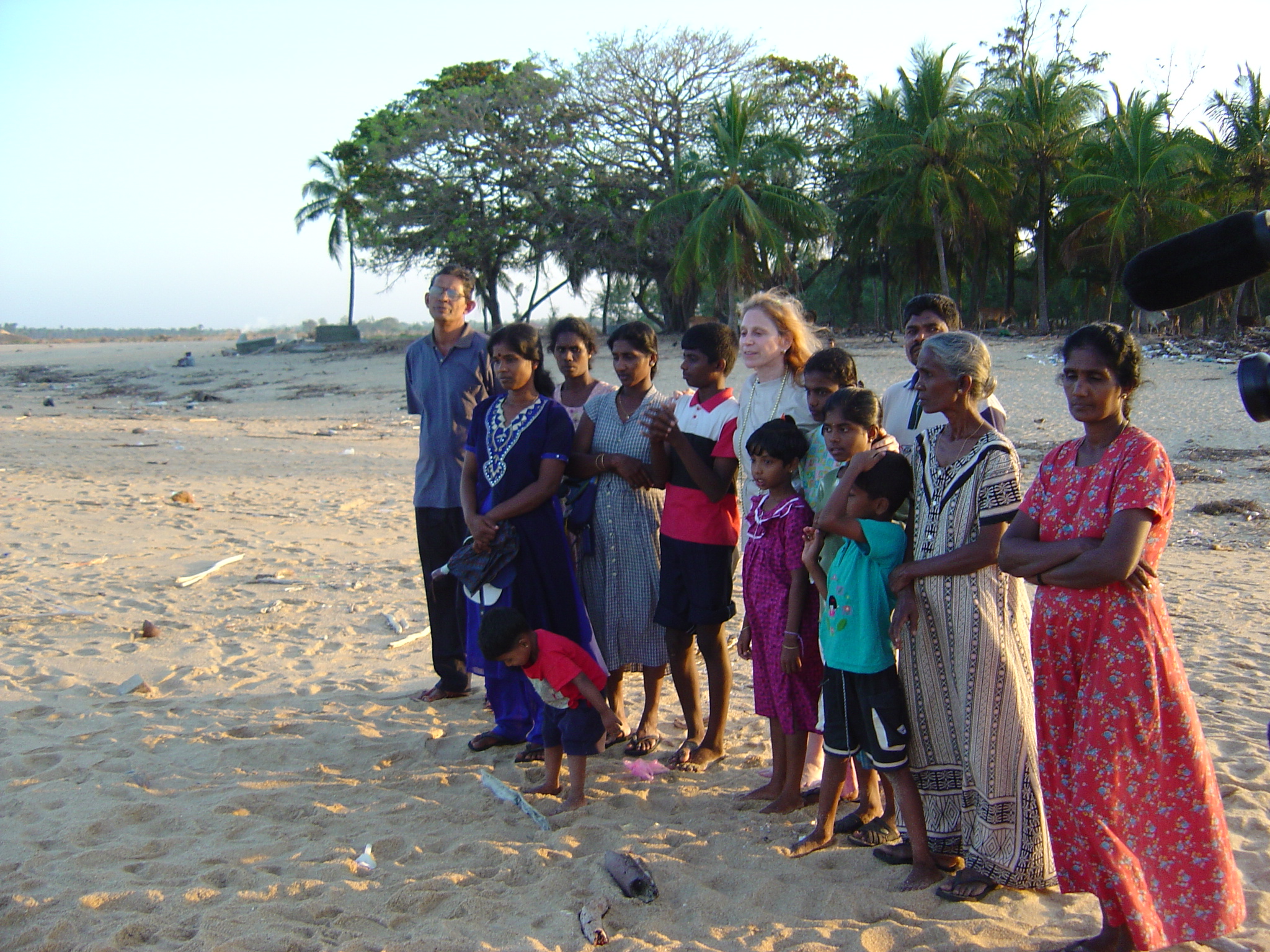 Dr. Judy with tsunami survivors at the water's edge in Sri Lanka

2) Suspend disbelief. The wounded mother in the film arrives at the hospital, is given a painkiller shot, and taken into surgery. Her perilously-injured leg heals. Later, as she is being wheeled on a gurney to a jet headed home, an insurance agent in a suit magically appears at her side with eager reassurance: "Don't worry, everything is being taken care of."

While it's comforting to see miraculous recoveries and reunions like those shown in the movie, my mind drifted to memories of hundreds of people lying screaming on lawns outside a Haitian hospital after the earthquake, and babies with amputated limbs lining hospital aisles, crying for medication no longer in supply. I also remembered huddling with survivors in Sri Lanka as they told me about children being swept from their arms and walking along the debris-strewn beach with a man who had lost 17 members of his family. With just a brief scene showing rows of shrouded bodies and some wounds that looked to me like movie make up, the film fortunately spares us from too many horrific images and pervasive death that really happened.

3) Enjoy learning what's real. Men are all too often depicted as macho in dealing with disaster, yet in this movie, male survivors huddled together to share their pain. One spoke of his mangled leg while despairing of ever finding his family, while the protagonist father expressed sadness over finding his wife's note that "we are on the beach."

Men -- as well as women -- get comfort after a disaster by sharing with others. I saw this after the tsunami when I led a group of men comforting each other and crying over the loss of loved ones. Although it contradicts others' advice that people post-disaster should "contain" their emotions, and caution that retelling their story can retraumatize them, I have seen first hand how sharing and support helps people heal.

4) Kindness prevails in disaster, but not always. In the film, one man refuses to give the main character father his cell phone to call home, saying, "My battery is almost dead." Fortunately, another man offers his, despite admitting that he, too, has little juice left. Much as we like to think all people are kind and helpful to one another in times of crisis, in reality this is true only to some extent.

5) Get over being annoyed at certain film techniques. During this film, I had to keep reminding myself not to be distracted by the characters remaining in their tattered clothing with their bloodied wounds showing even when boarding the jet for home, not to question where the fresh tangerine came from that the boy suddenly offers his suffering mom, and to dismiss thoughts of the special effects in the movie Alien when the mother and the woman in the hospital bed next to her both vomit up mud and twigs.

While scenes in the film of twisted trees and tangled remnants of life (e.g., muddy wedding photos, broken toys, and wrecked vehicles) are certainly consistent with what I have witnessed after disasters, I had to resist distress over dramatizations, like the mother's arm thrusting out of the depths towards a sparkling sky.

6) Finally, concentrate on the film's most powerful messages. In this movie, one minute the mother is peacefully reading in paradise; the next moment she is clinging onto a tree for life. One minute her young sons are snorkeling to view brightly-colored fish, frolicking with dad in the pool, and being called to see pristine aqua waters; the next moment, they are submerged and tossed by violent waters into darkness.

Take from the movie lessons you can apply to your own life: Paradise can quickly turn to hell. Circumstances can change in an instant. Life, and those you hold dear, are precious.
For more on mental health, click here.
For more by Judy Kuriansky, Ph.D., click here.