By Lorena Rios and Alejandro Hernández

Lorena works in the area of Inclusive Cities for the Multilateral Investment Fund. She has degrees in commercial engineering and business administration, and is a social entrepreneur in Asuncion, Paraguay.
The lower-middle-income country of Paraguay happens to be one of the most profitable markets in the world for banks, according to a study by McKinsey & Company. But 71% of Paraguayans have no bank account, and 42% do not use formal financial products. Of the country's 16 banks and 12 financial institutions that are regulated by the Superintendent of Banks, only one--plus one nonprofit organization--are directly working on rural microfinance programs for poor areas of the country. And they are producing some impressive results with a microcredit approach called village banking.
The concept of village banks was created by Muhammad Yunus of Bangladesh, the founder of Grameen Bank, who won the Nobel Peace Prize for pioneering the concepts of microcredit and microfinance in the 1970s.
Village banks are savings and loan organizations of 10-30 members. These groups, whose members are usually women, come together to self-manage a system of microlending, savings, and mutual support. The members administer the system and guarantee loans among themselves. Village banks normally receive funding from a microfinance institution, which they distribute among their members based on need and ability to pay. The members are individually liable to the village bank for their loans, and collectively liable to the financial institution.
The benefits go beyond access to money. Over the time, the groups who borrow money learn how to work together, increase the amount of money they can borrow, learn how to run their businesses, and perhaps even more importantly, increase their social capital so that they can solve non-financial problems in their communities.
The story is the same in Paraguay, where women earn an average of 30% less than men, and women working in agriculture earn more than 50% less for the same work:
The nonprofit organization Fundación Paraguaya has offered a village banking product for low-income women known as Bancomunal since 2002. The product provides loans for working capital, investment, and home improvement to groups that average 18 women, and loan amounts varying from25 to600, with a repayment schedule that is adjusted to their amount of cash flow. The loan is accompanied by a wide range of educational, business, and community development services for the client, her family, and her community.
The regulated financial institution Financiera El Comercio has offered the village banking product JAJAPO since 2008, likewise designed specifically for low-income women in rural villages who have no other access to finance. JAJAPO means "Let´s do it" in Guarani, the native language. A JAJAPO loan typically is extended to a mutual support group of around 10 to 30 members (mostly women), with the aim of boosting the growth of their small enterprises, encouraging savings, and strengthening the community. The money is accompanied by benefits including workshops on how to create a business plan, manage a budget and cash, plus training in leadership, empowerment, and self-esteem.
These two village banking efforts have produced some impressive results to date, considering that there were no financial products available for their rural clients when Fundación Paraguaya began its initiative in 2002.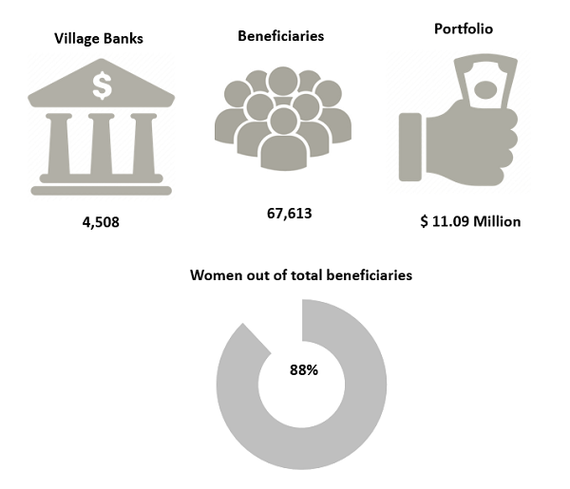 The impact of village banking on increasing financial inclusion and reducing poverty in rural areas in Paraguay--and other developing countries--has not yet met an equivalent in traditional banking.
However, a newer innovation is another promising way to provide low-cost financial access to many vulnerable people. It is estimated that 2 billion people worldwide who don't have a bank account today will be storing money and making payments with their mobile phones by the year 2030, according to the Bill and Melinda Gates Foundation. And by then, mobile-money providers will be offering the full range of financial services, from interest-bearing savings accounts, to credit and insurance.
Digital finance is a particularly favorable development for Paraguay. A full 28% of the country's population uses mobile financial services through telecom companies, and there are approximately 7 million cell phones in circulation (the same as the number of Paraguayans).
Alejandro Hernández designs and monitors projects in the areas of Climate-Smart Agriculture and Inclusive Cities for the Multilateral Investment Fund. He has a master's degree in international cooperation and development policies from the University of Málaga.
From the Multilateral Investment Fund Trends blog
REAL LIFE. REAL NEWS. REAL VOICES.
Help us tell more of the stories that matter from voices that too often remain unheard.