There is nothing like seeing a well-improvised show. It is like being God, watching the world move, knowing that at any moment the whole thing could implode on itself and be destroyed. However, instead of certain tragedy, by some miracle it grows legs of its own and takes off running in a magnificent affirmation of nature's will to survive. It's like a daring, dazzling, death-defying acrobatic feat. It is like watching a painter paint, a symphony, poetry in motion. It is as live as live gets. In short, there's nothing like it.
And in one week in June, iO West proved themselves to be the premiere place to watch improv, in all its ebullient glory. The 10th Annual Los Angeles Improv Comedy Festival succeeded on several levels. First of all, for any student of improv, it became the land of milk and honey. Simply watching all the shows they had to offer was a valuable apprenticeship in itself. Beyond that, there was a cavalcade of tantalizing workshops to attend. And the beautiful thing about improv is you don't necessarily have to understand anything about it to sit back and enjoy the wonder. And if great improv wasn't enough, they had celebrities!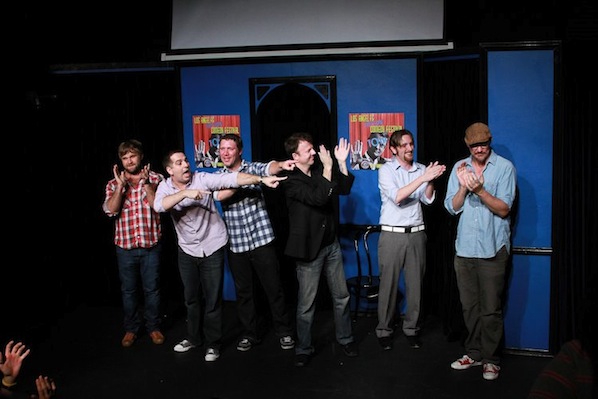 Dave Park, Neil Garguilo, Brian James O'Connell, Justin Ware, Sean Cowhig and Matthew Lillard Copyright: iO West

They kicked off the Festival with a parade of well-known improvisers and comedians. Among the performers were Laurie Kilmartin, Nicole Sullivan, Mo Collins, Stephanie Weir, Josh Myers, Bill Burr, Broken Lizard, Matthew Lillard, Mary Birdsong, Kate Flannery, Paul F. Tompkins, Gary Anthony Williams, Bobcat Goldthwait, Kate Walsh, Angela Kinsey, Dan Harmon, Neil Flynn, David Koechner, Jack McBrayer, Dan Castellaneta and Eric Stonestreet (to name a few). Taking advantage of social media, the audience was encouraged to check in on their mobile device, and tweet competitions were held for free tickets to shows. Ultimately, the festival was a weeklong spectacular that appealed to both hardcore improv nerds and the general public alike.
Early in the week, two rock solid Armandos (an improv form that combines storytelling and improvised scenes) were performed back to back. Broken Lizard told wonderfully hilarious and interesting anecdotes while being supported by an iO West all star team of improvisers. Veteran improv mentors mixed it up with some of the best improvisers iO has to offer to create a consistently refreshing and polished performance. Then Dr. God took the stage and introduced their guest, Matthew Lillard. Down to earth would be an understatement in describing the SLC Punk. Lillard was unapologetically unpretentious while sharing personal stories. He was countered perfectly by the five-player powerhouse that is known as Dr. God. Football has the '67 Packers, basketball the '92 Bulls and improv has Dr. God. Definitely one of the tightest teams in improv today, if Dr. God continues performing, there is no limit to their potential. And in a festival filled with marquee names, they put up a god dammed impressive, standout show.
Beyond putting up great shows, iO West has an awesome bar. It is one of the coolest bars in LA. If you've had a drink or two at many comedy shows, you'd know that none of them have a bar as good this. And its great to have a nice place to mingle with people who you've just seen perform. It rests nicely in between a dive and a more upscale establishment, so you'd be comfortable there whatever your preference. With a different drink special every day, this bar is sure to please.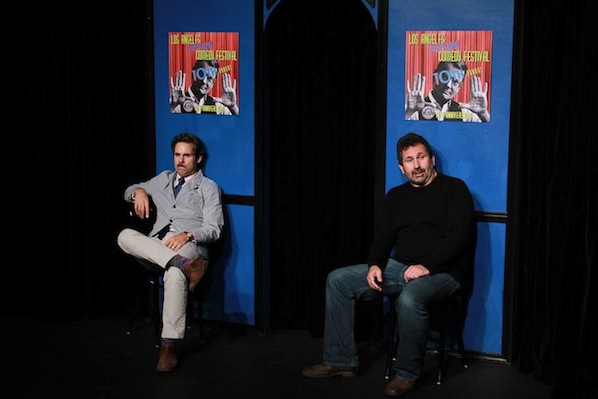 Paul F. Tompkins' (left) first time with Cacky (right). Copyright iO West.

Moving through the week, there were a variety of shows with different color and energy. One of the most interesting was First Time with Cacky. This is a show in which well-seasoned, well-respected performer, Craig Cakowski (Cacky), is joined onstage by somebody he has never performed with before. This particular episode his guest was Paul F. Tompkins. Not only had these two never improvised together, Tompkins had never improvised a scene in his entire career. I took the liberty of titling the experiment, "Waiting for... Ham and Cheese." (for its resemblance to Waiting for Godot and consistent reference to the pork and dairy laden meals). An absurd existential exploration of... of... nobody was quite sure what. Paul F. Tompkins was an absolute natural, and as always, he was brilliantly funny. Cakowski was an anchor, as well as providing some the biggest laughs of the night. It was highly entertaining and intriguing with themes of time, abandonment and purpose floating in the air. Philosophical concepts crept through the scene like a ghost. Overall, the whole thing was a fantastic, hysterical, crazy ride.
Then there was the absolutely incendiary Beer. Shark. Mice. This veteran team works so well together it is as if a master playwright wrote a script they spent months perfecting it in rehearsal. They were like a great volleyball team. Somebody would volley, another would volley, always keeping the ball alive, and then somebody would spike it. The most jaded, critical audience wouldn't stand a chance against this well-oiled comedy machine. I've sat in many, various theaters and clubs and watched many, various comedy acts, but the electricity coursing though the air that night is unparalleled. One of the key elements of comedy is the audience. If there's no audience or the audience has no energy, it makes a huge difference. The audience was packed past capacity and ready for something special. And Beer. Shark. Mice. rose to the occasion. They were funny. They were smart. They were perfect.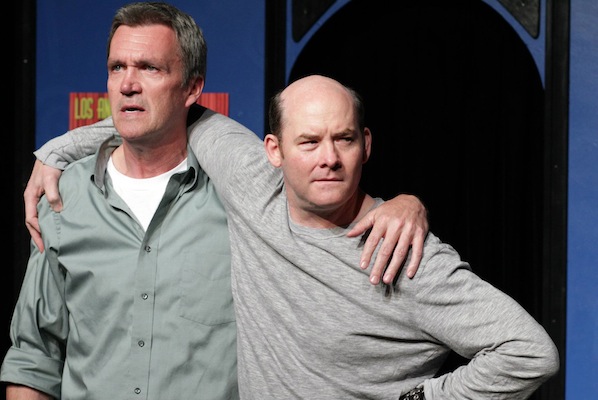 Neil Flynn and David Koechner of Beer. Shark. Mice. Copyright iO West.

One of the most anticipated show from improv aficionados was Weirdass. Husband and wife, Bob Dassie and Stephanie Weir, are two rare tresures in the world of improv. Both completely original, they share the qualities of subtlety and grace. And of course, they are extremely funny. One of the edgiest shows I've ever seen (and that's saying something), there was nothing offensive in it. While they did scenes involving porno, babies with AIDS and religion, through their unique voices the abrasive subject matter seemed almost quaint. The two actors were astoundingly giving to each other. And their performances seemed effortless (which is how comedy should seem). One particular scene stands out that illustrates their subtle attention to detail. Weir was playing three characters simultaneously. You could tell which character she was by the way she was standing. At one point, she became each character without talking, just showing each character's slight physical reaction to Dassie. And without even muttering a word, each character was complete and well-defined. This was a remarkable two person show.
Rounding out the festival was the fun frenzy that is known as King Ten. King Ten is one of iO West's strongest team, and they served up an insane show filled with spectacular moments not seen in every improv show. It was clear this wasn't just your average improv show when they started picking up their teammates and shoving them through a portal (the forth wall) where they would crowd surf (yes, actually crowd surf) their way to another dimension. The team was all energy and expertise. The show was loose yet not sloppy, silly yet not over the top, in your face yet not aggressive. Another night, another solid show.
It was an absolute privilege to see some of the greatest shows I will ever see. The staff was friendly and helpful, the environment was fun and informal and the shows were superb. All in all, iO West is the place to be for great improv comedy.
REAL LIFE. REAL NEWS. REAL VOICES.
Help us tell more of the stories that matter from voices that too often remain unheard.