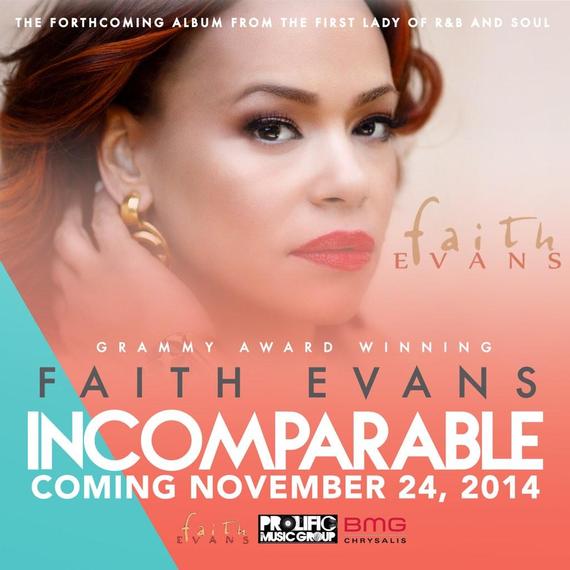 Faith Evans is on a high celebrating 20 years in R&B music. Yet, before executive producing the R&B Divas reality TV franchise or becoming a NY Times best-selling author, the soulful singer from Newark entered the music scene as the first female artist signed to Sean "Puff Daddy" Combs' Bad Boy label back in the early '90s. He signed her on the spot after her writing and arranging skills impressed the young hip-hop mogul. In 1995, Evans released her self-titled debut album that is often cited as her strongest body of work thanks to her angelic tone, lush harmonies and street vibe. The album produced the hit singles "You Used to Love Me," "Ain't Nobody" and "Soon As I Get Home" which helped make Faith Evans a '90s icon.
While recording her debut album she married the late rapper Notorious B.I.G and unfortunately became part of hip-hop tabloid drama that often involved other big names at the time such as Tupac and Lil' Kim. Nevertheless, Evans always proved in her music that she was much more than a media target. Like a true diva she turned negative energy into mesmerizing soul music that made audiences, as well as music peers from around the world relate to her story (especially if you saw her perform it live). Her albums are often mentioned by popular singers as inspiration. Think about it, until Faith Evans came around I don't think there were many singers layering their backing vocals quite like her. That crisp sound had everyone from Whitney Houston to DMX and Jay-Z wanting Faith Evans on their tracks.
Now, Faith Evans is busy promoting her new album rightfully titled, Incomparable due out on November 24. The lead single, "I Deserve It" features Sharaya J, the protégé of Missy Elliot who also makes a comeback in the track. While the single is certainly one for the nightclubs, it still maintains an R&B vibe that takes us millennials back to the days of listening to New York's Hot 97.1 after school. You know, back when top 40 R&B stations played songs with harmonies, strong vocals and arrangements.
In "I Deserve It" Evans gently samples "To Be Young, Gifted and Black," a song originally performed by Nina Simone and later covered by Aretha Franklin. The video directed by Derek Blanks shows the 41-year-old singer enjoying a fun night out alongside some of her famous friends. The high-energy scenes are reminiscent of her classic videos for the singles "Love Like This," "All Night Long" and "Burnin' Up."
Evans recently shared on her Instagram that she has shot the video for the next single; "Fragile" which some bloggers are saying will sample The Mamas & the Papas "California Dreaming." She has also proclaimed that "Incomparable" will be her best record. In a chat with Sway in the Morning she told the listeners that "Incomparable" is similar to her 2001 "Faithfully" release. Whatever it sounds like, we're just glad Faith Evans is still making the music we have always loved her for. Here's to another 20 years!
Let's take a look at a the collection of Faith Evans videos from over the years:
REAL LIFE. REAL NEWS. REAL VOICES.
Help us tell more of the stories that matter from voices that too often remain unheard.