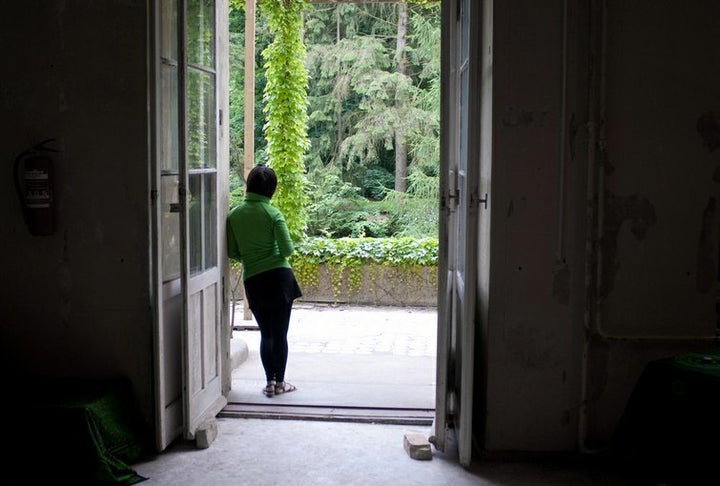 The bond between twins can be addictive. In the memoir, Her, Christa Pavarrani tells the story of an enmeshed identical twinship, of two sisters whose psychological merging spawns wrenching personal dependence and conflict. The children of an abusive father, a wounded mother, and a dysfunctional home, Christa and Cara were thrown together for their survival and solace. Their similarities, loyalty and interdependency were reinforced. And when they looked in the mirror, they saw each other.
Cara and Christa's relationship was both symbiotic and competitive. They constantly fought to assert a personal ego, at the same time that they reinforced their attachment; the two identical halves that made their essential whole. "We were best friends and enemies," says Christa. In her diary, Cara states, "what one twin gets, the other must have." When Christa marries, Cara announces to Christa's fiancé that he will be married to her as well. She crashes the honeymoon and invades the marriage, showing up at Christa's home at any time unannounced. Christa is helpless: "How can I tell my husband I wanted her with us? She had me like my husband never could."
Cara, the more dependent possessive twin, falls into alcohol dependency. In her diary, she recounts a recurrent dream in a familiar house, "We will be each other there just like we remember it. I could wrap myself around you tight as if we could be born together again, [as if] we never stopped holding each other, [as if] we were one."
When Cara is brutally raped, neither young woman can maintain her sense of a whole as identical twins. Where Cara was able to mirror Christa's marriage, Christa cannot mirror the physical and psychological wounding of Cara's rape. The gap becomes too wide to close.Cara's alcoholism increases to serious drug abuse, and finally, to a tragic overdose.
Christa lost her identical twin sister at 28 years old to a drug overdose in 2006. My twin brother disappeared at 23 years of age in 1961 off the southern coast of New Guinea.
Like all twins Christa Pavarrani and I each experienced nine months in the womb with our twin sibling. We grew from conception alongside another emerging human being. Womb studies show that as tiny fetuses, we reached out to our twin in intentional connection as early as 14 weeks of gestation. Our nascent sense of identity developed in relationship; the tiny "I" emerging in the frame of a "we." The indigenous twin bond that allows deep mutual understanding between paired twins was formed before we were born.
In losing our twin, Christa and I both had to face the severing of the twin bond. Consciously or subconsciously, we faced the daunting questions: Who are we without our twin? Will we or can we survive? For on the other side of the mutual understanding and deep knowing of the twinship gift lies its shadow: mutual dependence and the seminal fear of being alone. And, deeply embedded in the fear of separation can lie the fear of death.
Grieving and healing from any twin loss must begin with a search for an individual identity in order for the twinless one to feel safe enough to acknowledge and integrate the experience of the death of their twin and the severance of the twin bond. Who did Christa become without her twin? More important, what did survival mean to her?
In the throes of Cara's death, Christa, again, looks in the mirror and still sees her twin. Feeling she is more Cara than herself, she tries "to starve Cara away...to rid [herself] of her likeness, to travel back to [herself]." But, her primal need for her other half and her corrosive guilt for letting Cara "slip through [her] fingers" throws her back to her twin, to self-punishment, to becoming Cara.
In order to give Cara life, Christa must ruin her own. Drugs for pain and survival turn into serious abuse; suicidal thinking becomes an attempt. The primacy of the twin bond equals survival for the grieving twin. And if the life force is not strong enough, for more than a few twins, it means suicidal death. Christa chose life through the writing of this memoir.
Moving forward with new life from deep personal loss is a long, up and downhill path. For twins, the needs and habitual themes of primary twinship get replayed like old familiar tunes, each to be heard, addressed with kindness and released. At the same time Christa is claiming her individuality by writing her memoir, she makes room in it for Cara's voice. And, replaying an old theme, Christa says, "writing was the only way to be with Cara, to move in tandem."
I spent a good deal of my life looking for my twin in other relationships. Only slowly did I understand how unrealistic expectations were hurting my love relationships and preventing my opening to a non-twin form of intimacy. Christa ends her book with the birth of her first child and with the sense of her twin's great love and support for this new baby, and its sacred and individual life. She talks of her love for Cara as being the backdrop of the "boundless love" she feels for her daughter, Josephine. As a psychotherapist, and a twinless twin, I find myself wanting to tell her, don't forget, Christa, your beautiful and blossoming mother love is not a twin's love. It is an unconditional love whose final goal is releasing a developed life into its own individual freedom.
Popular in the Community