For months I, like many, have been repulsed by everything Trump has propagated -- racism, intolerance, xenophobia, misogyny, immorality, double standards -- just to name a few. I have been even more horrified by what his vitriolic message has unleashed amongst his supporters. Stephen King's simple but ingenious observation touched a nerve: "Trump has exposed the ugly underbelly of America". Little did I know that soon this sickening message would hit home and this poison released would start to trickle into my sheltered world, slap dab in the heart of liberal Massachusetts. This is what happened recently: A family member (whose name/relationship remains undisclosed due to legal proceedings), was recently punched in the face by a Trump crony who shamelessly began to yell "Get out of my country" during a routine shopping trip to Costco. His crime -- coming to the aid of a couple who was being taunted and mocked for "looking different" when everyone around was too appalled to step in. Of course it did not matter that the good Samaritan is a US citizen or that the man being heckled, a Harvard doctor. What mattered was the color of their skin and how different they looked from the vision of America that this tainted minority has come to uphold. I was angry but mostly saddened that this revolting incident played out in the presence of my little guy. When I tried to soothe an understandably shaken 8-year-old afterwards, he calmly told me that he was "doing okay but crying inside".
My heart was heavy too but I was mostly furious at the irresponsible, power-hungry tyrant who had capitalized on the fears of countless Americans who were prejudiced to begin with. He had opened the floodgates of hatred and given those who were already bigoted, permission to spew their venom openly. Fanaticism was slowly becoming the new normal, all in the name of making "America Great Again". This was not the America I believed in and had come to love dearly as a proud and productive immigrant.
Trump has brought out the worst in people and has done exactly what another crazed, dangerous and sorry excuse of a human being did in the last century. Humanity will continue to be numbed by what ensued because of the paranoia fanned by one man and his twisted attempts to blame the problems of an entire nation on a chosen few. Today we look back at history with our heads held low and declare collectively that there is nothing worse than what this extremism unleashed. Yet at the very same time that we mourn the complacency of a country that mostly stood silent when history's worst atrocities were being committed and proudly declare "Never Again", we let an ignorant, shallow fascist with hopes of becoming the ruler of the free world run amok in a country that is based on the principles of equality, freedom and tolerance. Yet today, after months of utter disbelief and unable to process what was happening, I am profoundly hopeful that Donald Trump is the best thing that could have happened to this great country of ours.
Today I do believe more than ever that Trump and his message of hate was necessary for on November 8 through fair, democratic and peaceful means this angry, misguided, entitled section of the society will be squashed by an overwhelmingly decent, fair and tolerant citizenry. Trump represents everything that is abhorrent in this world, and his loss will be a wake-up call to the hate-mongers who are just as detestable as their cult leader that there is no place for hate in America.
My wonderful friend and remarkable educator Dr. Jill Albanese, credits Trump with a crucial life lesson - "The man is a wonderful role model and example... of bad behavior. It's been so easy to point him out to my children and say, his behavior is inappropriate. So - Thank You, Trump!"
Like Jill, I too am grateful, for this necessary evil in the form of Trump for I have no doubt that on November 8, "the ugly underbelly" of this great nation will be thwarted once and for all. On that historic day, narrow-minded, ignorant, entitled bullies like the asshole at Costco, who have misused the sacred freedoms that they enjoy will be permanently put back into their servile place where they belong. On November 8 we will affirm once again that anyone, even Donald, can run for President, but in the end, an unintelligible, bragging, explosive fowl will remain what he is -- a cartoon character -- for entertainment purposes only.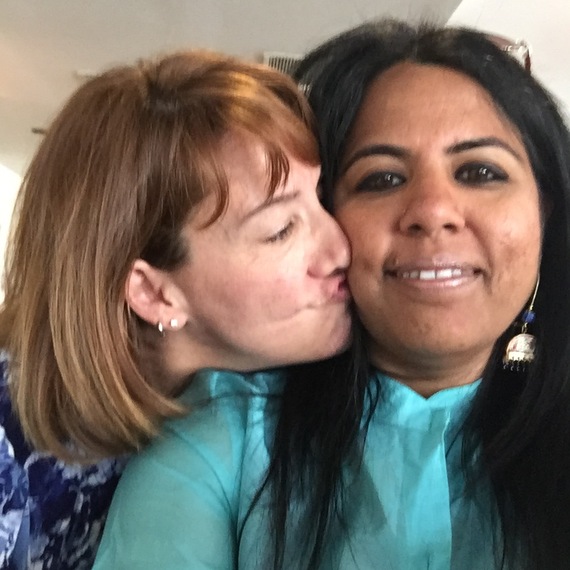 "I am not judging you based on the color of your skin, but on the color of your brain, which is gray, just like everyone else" ... Dr. Bernard Masterson
REAL LIFE. REAL NEWS. REAL VOICES.
Help us tell more of the stories that matter from voices that too often remain unheard.