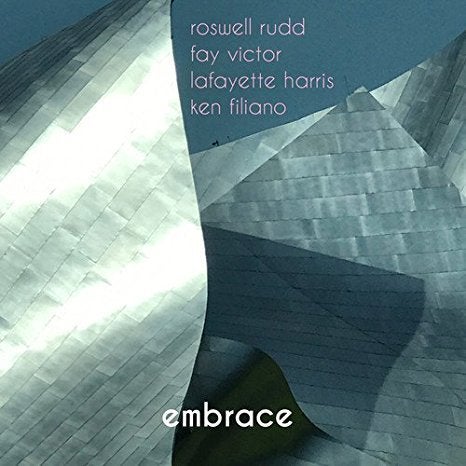 It may be hard to imagine that an eclectic trombonist like Roswell Rudd, whose is often associated with free and avant-garde jazz, comes from a very traditionalist background. His fascination with listening to his father's seventy-eight rpm recordings of Jelly Roll Morton, Louis Armstrong and Duke Ellington gave him the music bug at a very early age. As a youth, Rudd first started playing a mellophone, then switched to a French horn before finally landing on his instrument of choice, the trombone. Both his instrument and his temperament were well suited to the boisterous, razzle-dazzle of Dixieland music early in his career. Later, while attending Yale University, he befriended another like-minded spirit in the bassist Buell Neidlinger. Together they played what he has called "Chicago style" Dixieland jazz in a group called Eli's Chosen Six. Rudd has said that the group was modeled after Eddie Condon's band and that they played a popular revivalist jazz specifically aimed at partying college students. With the help of another Yale alumnus, the recently departed record producer George Avakian, the group recorded an album in 1955.
Coincidentally, there was a revolution going on in the jazz world with the arrival of bebop. Rudd didn't immediately take to this innovation, but there was a rising fascination with this technically challenging music, and it was to become the new wave. Rudd recognized that there was a genius going on in what Gillespie, Parker, Roach and Monk were doing, but the music didn't swing enough for the trombonist, whose tastes at the time ran more to the work of Roy Eldridge and Coleman Hawkins.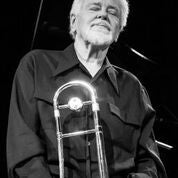 Roswell Rudd at the Falcon in Marlboro NY ( photo credit unknown)
After making his way to New York, Mr. Rudd credits a short stint with the pianist Herbie Nichols as a turning point in his career; transforming his sound and using a more modern approach to the instrument. By the early nineteen sixties, it was his association with Neidlinger and his friend the saxophonist Steve Lacy that led Rudd into an alternative musical direction. Rudd, Lacy and Neidlinger along with the pianist Cecil Taylor, the saxophonists Archie Shepp and John Tichai, the trumpeter Bill Dixon and the bandleader Sun Ra, among others, established what came to be known as the "free jazz" movement. Predictably, Rudd dislikes the label considering it redundant, as jazz is essentially itself "free" by its very nature. The music retained the concept of collective improvisation that Rudd readily identified with from his Dixieland roots. It eschewed structured chord form for free melodic improvisation and at times employed harsh dissonance. Consequently, the musicians who practiced it found it difficult to get work or develop anything but a niche following. Frustrated by being shut out of the established jazz venues, in 1964 the musicians, led principally by Taylor and Dixon, fearlessly decided to self-produce a series of concerts called the October Revolution in jazz. In this way, the music could be heard by the public who would ultimately decide its artistic value on its own merits.
No matter how "out" Rudd's music became, he always possessed a warm earthy tone, an innate sense of swing and a dedication to harmony. But it is his Chaplin-esque humor-an identity in his sound that retains an enthusiasm and a joyous humanity- that truly identifies the man and his music. He credits his listening to Spike Jones, and the bandleader's sense of musical parody, as a key influencing factor in the way he plays. There is always a sense of tongue-in-cheek slapstick in his playing as he skillfully employs deliberate slurs, plunger-wahs and growling effects that effectively make his horn an extension of the human voice. He is a serious musician who doesn't take himself too seriously.
Under the moniker "The Olders," he recently released a single "Awesome and Gruesome," which he co-wrote with his long-time partner Verna Gillis. It is a perfect example of Rudd's unfailing humor and irrepressible good nature even in the face of his own illness. On the video Rudd, who is now eighty-two, and Ms. Gillis rap about his personal battle with prostate cancer, a decidedly gruesome part of life. Instead of dwelling on the disabling aspects and his own mortality, Rudd and Gillis confront the disease head on, continue their fight with admirably frank openness and employ creativity to accentuate the awesomeness of life.
His most recent album Embrace with the pianist Lafayette Harris, the double bassist Ken Filiano and the vocalist Fay Victor is likewise a celebration. Mr. Rudd's joy at being alive comes through loud and clear through his horn and his spirit.
The selections all have something appropriate about their inclusion; the Ellington/Strayhorn composition "Something to Live For," the Mingus classic ode to Lester Young "Goodbye Pork Pie Hat," the 1929 song "Can't We Be Friends," Ray Noble's "I Hadn't Anyone Till You," the Burton Lane and Alan Jay Lerner song "Too Late Now," the traditional ballad "House of the Rising Sun," Gillis' "I Look in the Mirror" and Monk's Pannonica." While the drum-less ensemble is remarkably attuned to Mr. Rudd's musical sensibilities, it is the gorgeously resplendent piano of Mr. Harris that lays the groundwork for the magical interplay between Ms. Victor's voice, Mr. Filiano's bass and Mr. Rudd's trombone.
The rapturous sound of Rudd's blare on the opening track is emotionally powerful. Ms. Victor's soulful voice renders the lyrics with the pathos she has absorbed from Mr. Rudd's preceding solo and creates her own moaning retort. Harris and Filiano open the Mingus classic with Victor scatting over a repeating vamp. Rudd plays the melody line with his usual boisterous roar before Victor belts out the Rahsaan Roland Kirk penned lyrics in a facile athletic style. On the show-like "Can't We Be Friends" the Victor-Rudd combo trade licks. Rudd's muted bone honed to a sharp edginess responding to Victor's equally cutting call out. Harris and Filiano both provide buoyant solos that prance along to the beat.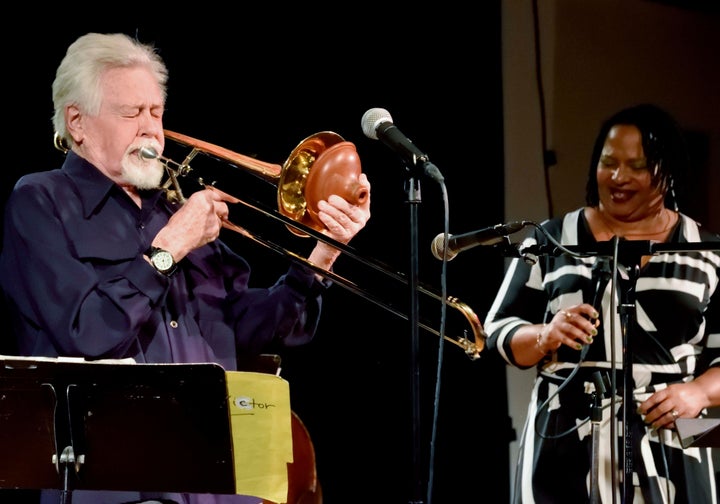 Roswell Rudd and Fay Victor at the Falcon in Marlboro NY ( photo credit unknown)
In the vocalist Victor, Rudd has found his equal in terms of stylistic approach to a lyric, harmony and melody. The two have an affinity that makes for a palpable rapport that is seldom seen between an instrumentalist and a vocalist. The music is easily transported along without a drummer as Harris and Filiano elastically keep the pace moving with skillful aplomb. On "Too Late Now," after double bassist Filiano opens with a beautiful two-minute arco introduction, Harris's piano shimmers with a crystalline quality, as he invites in the melody with his own creative invention. The two instrumentalists work together for a couple of measures before Rudd's blaring, but tender trombone enters with his own melodic statement. Rudd's is so adept at wringing out emotional content with every slide, slur and growl. Victor is the last voice to enter on this piece. She delivers her lyrical content with an emotional verve that equals Rudd's own, especially as the two mimic each other's voice at the coda.
The traditional ballad "House of the Rising Sun," is played in a bellowing arco-style by bassist Filiano as Victor sings the familiar lyrics over Harris' piano. Rudd's raspy trombone growls his own harmony with Victor vocalizing her own moans in response. Filiano switches to a frolicking pizzicato style that carries the tune forward jauntily, until Victor vocalizes a desperate cry at the end on a fading note by Rudd. On Verna Gillis' perky "I Look in the Mirror" Victor sings and scats the upbeat lyrics as Harris and Filiano carry the rhythm.
The finale is an endearing rendition of Monk's "Pannonica," an ode to the pianist's longtime patroness the Baroness Pannonica de Koenigswarter and a song that Rudd has long featured in his repertoire. The slow, deliberate pace allows Victor and Rudd the opportunity to express their own nuanced reading of the sentiment of the lyrics, which equates the Baroness to a butterfly. Rudd's solo is brimming, and Harris's piano solo is a highlight of expressiveness. Victor is at her most lyrical with this love letter to the Baroness from Monk.
As the album title implies, Embrace is just that, a musical embrace by a master instrumentalist and his intuitive group of equally talented musicians. With his own mortality staring at him in the face, I am sure he recorded this album with a certain sense of sublime resignation, but his indefatigable spirit shines through on every note. When I originally started this review, it was to accompany an interview with Mr. Rudd that I was very much looking forward to, unfortunately his press representative informed me that he has now entered hospice care and is not giving any more interviews. Our prayers and good wishes go out to Mr. Rudd and Ms. Gillis.
Related
Popular in the Community