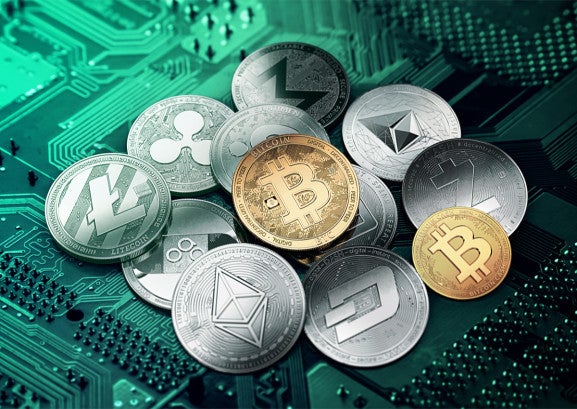 The crypto currency market continues to be controversial. Despite bitcoin having achieved a market cap greater than Morgan Stanley and Goldman Sachs combined, the brokerage arm of Bank of America, Merrill Lynch, has blocked financial advisers and clients from trading in bitcoin-related investments. Though Asian countries dominate trading activity the rules are contradictory. Japan has the highest trading volume in the world. Yet China, has banned exchanges from trading in bitcoin and South Korea has prohibited banks from participating in the market.
United States regulators are acting in contradictory ways. The CME and CBOE were recently permitted to trade futures on bitcoin but the SEC has asked financial companies to withdraw their plans to offer investors an ETF product based on bitcoin.
While bitcoin is the best known crypto currency there are literally hundreds of others. The top ten have market caps in excess of 10 billion dollars. While the name implies they are currencies suggesting they can be used like dollars in fact many of the so-called currencies are "tokens". Tokens that are meant to serve as a way to interact with a platform created by the issuers.
It is important to distinguish tokens from currencies in that while there may certainly be a generally accepted crypto currency that will be used by consumers to purchase goods there will also be tokens that are specific to a commercial use. For example, Kodak will issue a crypto token to allow photographers to exercise their ownership of their photos. The secure messenger application Telegram is raising $1.2 billion for a token that can be used for a variety of online services such as sharing files and anonymous online browsing.
This distinction seems to get lost even on even the most financial savvy. Warren Buffet 's partner Charlie Munger said today, "Bitcoin and the other crypto currencies are also bubbles…. Investors are excited because things are going up at the moment and it sounds vaguely modern. ... But I'm not excited… There are always bubbles ... that are going to end badly."
While there is no doubt there is a great deal of excitement and things are going up rapidly, and financial markets do get overheated; it is simply wrong to suggest that the excitement is misplaced. Crypto currencies are going to change the way we interact whether it is how we share files, how photographers protect their copyrights or what consumers use to pay for goods. The markets may be over valuing but the message they are sending is that there is inevitability to the incorporation of crypto currencies into everyday life.
Calling all HuffPost superfans!
Sign up for membership to become a founding member and help shape HuffPost's next chapter
This post was published on the now-closed HuffPost Contributor platform. Contributors control their own work and posted freely to our site. If you need to flag this entry as abusive,
send us an email
.