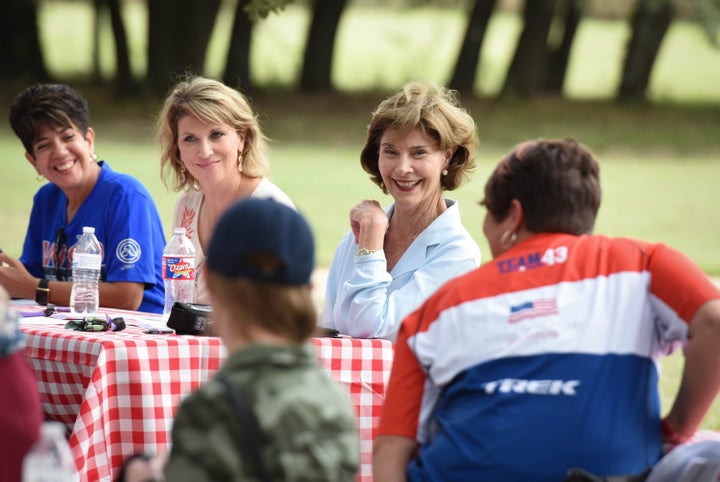 Across history, America's first ladies have leveraged their platform to support our military, veterans and their families, and caregivers. Since the age of Martha Washington, they have brought attention to critical issues affecting those fighting to protect the freedoms of the United States. Their advocacy has brought about tangible actions, many times without public recognition.
One day after the Japanese attacked Pearl Harbor, President Franklin Roosevelt addressed Congress with a stirring oratory. What is lesser known, is that the first words from the White House after the attack came that fateful Sunday night – from the first lady.
In a radio address, Eleanor Roosevelt informed the nation that the next day "members of Congress would have a full report and be ready for action." She also compassionately appealed to the mothers who had sons overseas or ones who wanted to enlist.
Throughout World War II, Mrs. Roosevelt pressed for the rights of active service members. She made three overseas trips to speak with those serving, providing "eyes and ears" for President Franklin Delano Roosevelt. Moreover, she engaged with generals and admirals and shared concerns directly with her husband. It. is estimated that she saw 10 percent of all enlisted service personnel during the war. She also continued her radio broadcasts and weekly newspaper columns.
Martha Washington's support of the Continental Army was crucial during the brutal winter months of the American Revolution when morale was low. She was highly regarded for visiting troops and providing financial assistance and food to veterans in need after the war. Abigail Adams' assistance to local militia organizations was so well known that a Massachusetts militia company was named in her honor. And Mary Lincoln's efforts to aid wounded soldiers in Washington, D.C. during the Civil War, including raising money for holiday meals, providing medicine, and writing soldiers notes to their families, is well-documented.
More recently, in the early 1990's, as soldiers were returning home from the Persian Gulf War, thousands had undiagnosed illnesses known as Gulf War Syndrome. First Lady Hillary Clinton advocated for further investigations into these health concerns. During her time as a U.S. Senator, she also served on the Arms Service Committee, further championing expanded benefits for services members and veterans impacted by Agent Orange contamination, traumatic brain injury, and post-traumatic stress.
We have also seen how first ladies draw inspiration from the past to continue pushing forward, even in the most difficult of times. Much like Mrs. Roosevelt, Laura Bush comforted the nation immediately following Sept. 11, 2001. She visited wounded troops, military families, and veterans and their families.
On National Teacher Day in 2001, Mrs. Bush promoted a veteran transition program - Troops to Teachers. She noted in her remarks that Mrs. Roosevelt had persuaded Congress to proclaim a National Teacher Day in 1953 to appeal to veterans and to help them find employment. They had served their country in the bravest way possible, and now they were needed as teachers. In 2001, 4,000 troops became teachers, and by 2008, more than 11,000 veterans had taken teaching positions.
A veteran's service impacts both the individual and the family. Michelle Obama toured U.S. bases and engaged with military families to assess their greatest problems from housing to cost of living. She successfully advocated for a three percent increase in the 2011 budget and campaigned for mental health coverage for returning military personnel and their families, military base childcare, and spousal career development.
On Sept. 16, 2016, Mrs. Obama and Mrs. Bush spoke about first ladies' military support at the American University Legacies of America's First Ladies conference. Mrs. Obama said: "With this platform, you can raise the bar high on this issue. So I would hope that this responsibility comes with the house, and that every administration will try to top the next one in what they do for these men and women. "
Each first lady stands on the shoulders of the women who came before her while also charting her own course. As history shows, their unique status as the nation's number one military spouse binds them together. And further work remains.
From supporting veteran and military spouse employment, to highlighting best practices in private sector hiring and the treatment of invisible wounds; to encouraging innovation across government agencies responsible for veteran care, our current first lady could do a lot to continue to move the needle forward. As Melania Trump looks to her podium, she has a distinct opportunity to continue the longstanding advocacy of America's first ladies in support of service members, veterans, their families, and care givers.