L.A. INFLUENTIAL -- a lively panel discussion on the influence of Southern California's subcultures, scenes, and scenery on contemporary art
Panelists: Chaz Bojorquez, Brad Howe, Dave Tourjé, John Van Hamersveld, Norton Wisdom, and Gary Wong, moderated by Mary Anna Pomonis.
Saturday, July 23, 2011 12:30-3:00 p.m.
GREGORY WAY GALLERY
245 S. Beverly Dr., Beverly Hills, 90212
T. 310.562.7879
www.gregorywaygallery.com
Christian@gregorywaygallery.com

L.A. Influential features a panel of native Los Angeles artists discussing the current interest in LA's diverse subcultures' impact on art as demonstrated in exhibitions such as MOCA's Art in the Streets and Street Cred: Graffiti Art from Concrete to Canvas at the Pasadena Museum of California Art. These exhibitions have raised myriad dialogues concerning art and the cultural influence of Los Angeles in the global art scene. Along with the discussion of L.A.'s varying subcultures, the panel will also address the significance of SoCal both in terms of its historical indigenous art movements in conjunction with its regional environmental changes -- light, color, space, heat, sprawl, and motion of a constantly shifting contemporary backdrop. Each artist on the panel draws on their distinct backgrounds and connection to now-thriving art scenes that were born in Southern California, including their varying mix of influences from the disparate but related worlds of music, street, surf, skate and high and low art.

Chaz Bojorquez, known as the godfather of graffiti art, is considered one of the first artists who successfully made the transition from street to gallery. Bojorquez studied at the Chouinard School of Art during the late 60s with abstractionist Matsumi Kanemitsu among others. His iconic street image , a stylized skull called "Senor Suerte" (Mister Luck), has become a seminal icon in graffiti art. His West Coast style is influenced by gang writing, and his impact on the street culture of L.A. and beyond is evident with the younger graffiti artists such as Retna and Saber. Bojorquez's paintings are in the permanent collection of the National Museum of American Art in Washington D.C., the National Hispanic Cultural Center in Albuquerque, NM, and the Orange County Museum of Art. Bojorquez is featured in the current Art in the Streets at MOCA.

Brad Howe's work builds on the tradition of geometric abstraction. His steel and aluminum pieces combine the dynamic planar relationships and solid coloration associated with post-cubist modernism. The work's rhythmic motion and playful exuberance, however, owes more to the artistic climates of twenty-first century L.A. and São Paolo, where Howe initiated his artistic career. Howe has exhibited in over eighteen countries worldwide, and his works have been placed in collections throughout 32 countries.

Dave Tourjé was raised in the culturally eclectic Northeast L.A. of the 1970s and his upbringing among the skaters, gangs, and the area's tribal friction play heavily in his work. He also took to the coastline and was an avid surfer. Tourjé was also a member of the influential L.A. band the Dissidents, playing shows with like Camper Van Beethoven, Saccharine Trust, and The Minutemen. Tourjé's artwork oscillates between low and high, punk, and institutional hegemony. His work was the subject of a one-man exhibition covering 15 years of paintings on acrylic glass at the Riverside Art Museum in 2002, and has been featured at the Oceanside Museum of Art, the Orange County Museum of Art, and Laguna Art Museum. In 1998, Tourjé helped to form the Chouinard Foundation in order to help restore the lost history of one of the great art schools in the world. Tourje's exhibition L.A. Aboriginal is currently on view at Gregory Way Gallery through August 27, 2011.

John Van Hamersveld is known for an enormous catalog of pop images. From his iconic poster for the movie The Endless Summer, which singularly summarizes surf culture, to his album cover work for The Beatles (Magical Mystery Tour), Blondie (Eat To The Beat), Jefferson Airplane (Crown of Creation) and the Rolling Stones (Exile On Main Street) to name but a few, Van Hamersveld's iconic images have had a tremendous impact on popular culture and fashion from the early 60s to the present. Shepard Fairey recently acknowledged that Van Hamersveld's iconic Hendrix concert poster influenced his Obama "Hope" image. Van Hamersveld's images incorporate a diverse mixture of sub-cultural design elements and formal academic training from both Chouinard and Art Center. His work is in the collections of numerous museums such as LACMA and the Museum of Modern Art, New York.

Since 1979 Norton Wisdom has collaborated with musical ensembles, spontaneously painting images in response to the energy of the music and moment. His live performances include collaborations with Big Black, Badal Roy India, Kuan Tet Orchestra Tibet, Nation Bambsuchibet, National Bamboo Orchestra of Bali, Bernard Fowler, Lili Haydn, Flea, George Clinton, Beck, Mike Watt, Rob Wasserman, John Mollo, Dave Navarro and Llyn Foulkes. Wisdom has also painted at museums, including the U.C. Santa Barbara Art Museum, Laguna Art Museum, Orange County Museum of Art, and the Milwaukee Museum of Art, as well as music festivals such as Coachella.

Gary Wong studied under Emerson Woelffer and Matsumi Kanemitsu at Chouinard along with some of its most renowned alumni including Al Ruppersberg, Doug Wheeler, Rick Griffin, Mary Corse and Terry Allen, and was a vital part of the shifting dialogue integral to the formation of West Coast postmodernism and surf/skate/rock culture as we know it today. He is also an influential musician, well known in the L.A. blues scene for decades with the Charlie Chan Blues Band. His visual language is a complex collage-based paint/draw process that often uses photography, and reflects his involvement in music as well as wider social and political concerns. Wong's work is featured in numerous public and private collections, and has been included in exhibitions at the Chouinard Foundation Gallery, Royal-T, and Oceanside Museum of Art.
Mary Anna Pomonis is a Los Angeles-based independent curator, artist, and art writer.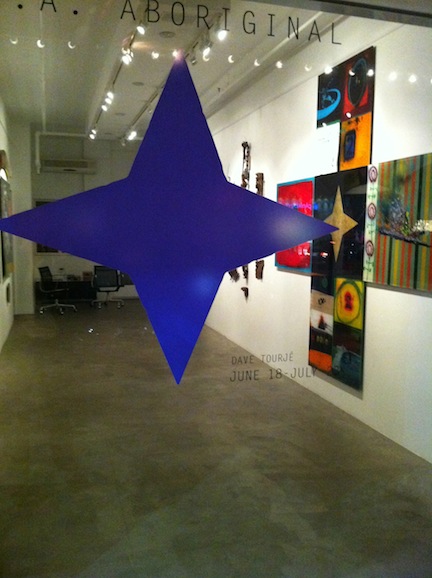 Related
Popular in the Community