This piece is part of a series of posts from the Founding Class at the Minerva Schools at KGI about their experience reimagining the traditional college experience. Minerva is a new university program that prepares students to solve complex global problems. Minerva's students live and learn in up to seven of the world's greatest cities throughout their time in college and study in small engaging seminars.
What does it take to make a university? A football team, large library, bearded professors, and ivy-covered bricks? Not so much. I can attest that it actually takes empanadas, beaver tails, chicken curry, cong you mian, pancakes, ice cream, chocolate, and tacos.
At the end of our first week, Minerva's first class of students worked elbow-to-elbow in the large industrial kitchen of our residence hall. Together, we made dishes from every continent. Minerva's staff pitched in as well, stirring pots and washing dishes. As I sat down to eat at our Founder's Feast, the symbolism was clear: we're not ordering in, because what we can make is better.
Minerva is a new university and I am part of its very first class. Minerva offers a bold and different kind of higher education so students are not confined to the rigidities of a traditional education.
Most universities are sit-down restaurants. You are free to choose a plate that excites you, so long as it's among those pre-selected menu options. But what if the fish on the menu wasn't sustainably caught? What if there are no vegetarian options? What if you have an idea for something more flavorful? Big changes aren't going to happen. Possibilities are limited.
If you are looking for endless possibility, it's best to start in an empty kitchen, with a whole host of ingredients and some courageous chefs. That's Minerva, in a nutshell. Minerva is trying to make a university experience that is both new and timeless, by substituting, adding and subtracting ingredients. We've removed lectures, but added active learning. We've swapped a brick-and-mortar campus for laptop-mediated classes and rotating residencies in seven global cities. Instead of a cafeteria, we have the restaurants and grocery stores of San Francisco, or Berlin, or Buenos Aires -- wherever we happen to be that term. Instead of honoring minorities on campus, we've done away with majorities. Minerva's students come from the world over. Thirteen nationalities are represented in our founding class. Only one-fifth is American. We are immersed in diversity and it's delicious.
Every Sunday at 10:01 pm (right after the deadline for our last assignment), a Founding Class member takes over our shared kitchen and shares an edible part of his or her culture. We've had fluffy American biscuits, tender Chinese dumplings, savory Argentinian empanadas, sweet Vietnamese Chè bà ba, and fried Canadian "Beaver Tails".
Minerva has some ideas for what it should serve, but they want us, the Founding Class, to work in their test kitchen. We're a class of twenty-eight in a school that aims to serve hundreds. We are the beta testers for the curriculum and the student experience. We are also the co-creators. We make, we try, we tweak, and we share. Whether it's extracurriculars or new traditions, we're bringing together old and new to make something entirely different.
Our position is strange: we are ingredients at Minerva but we are also its chefs. Our flavors need to be balanced but also distinct, faintly familiar and yet also exciting. We're the test batch. Sometimes our experiments don't work, and we're stuck with something that's too sweet, or too salty, or just plain bland. But, so long as we learn from our mistakes, nothing is wasted.
My months at Minerva have taught me about the pleasures and pitfalls of cooking up a university experience. How grateful I am to serve and be served, and to be made in the process of making.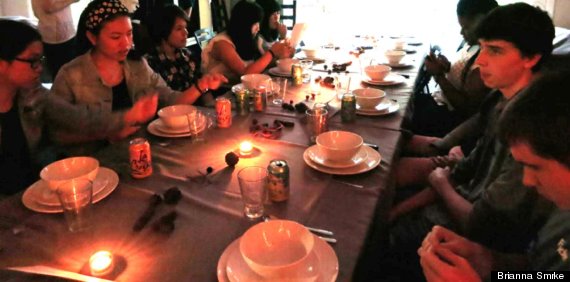 Popular in the Community