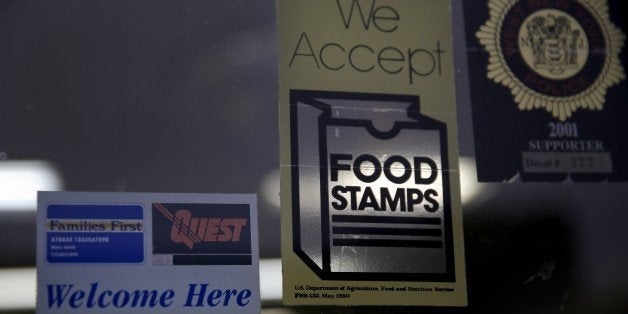 Five states still impose a lifetime ban on food stamps for people who have been convicted of a felony drug crime. Not only do these bans threaten individual and public health, but they incubate the very types of criminal behavior that law enforcement claims they want to eliminate.
The lifetime food stamp ban for people convicted of drug felonies is a shameful legacy of President Clinton's 1996 welfare reform law, the Personal Responsibility and Work Opportunity Reconciliation Act. Since Congress passed the law, individual states have had the option to opt out entirely, which eighteen states have done, or soften the ban while keeping some restrictions in place, which twenty seven have chosen to do. Earlier this summer, Georgia became the most recent state to abandon the policy of deprivation, when they modified their ban to allow people with drug convictions to access food stamps with the catch that they must be compliant with parole and drug treatment conditions. At this time, however, Arkansas, Georgia, Mississippi, South Carolina, West Virginia, and Wyoming continue to punish people with drug offenses for life.
Emily Wang, a physician and assistant professor at the Yale School of Medicine, came face to face with the cruel consequences of food stamp bans in her clinical practice when a woman admitted to her that she had turned to sex work, and gambled with HIV infection, because she was desperate for money for food. Wang, who has devoted her career to the care of people who are formerly incarcerated, knew that this wasn't an isolated case. In January 2006, Wang helped open Transitions Clinic in San Francisco, which provides primary care services to people who have been released from prison. Since its opening, the Transitions Clinic Network has expanded to 14 sites, which are community health centers that have treated thousands of people recently released from prison and given many jobs as community health care workers.
With other public health researchers and All of Us or None, an Oakland-based project of Legal Services for Prisoners with Children, Wang decided to study the impact of food stamp bans on food insecurity and HIV risk. They reached out to 110 people who had recently been released from prison for drug felonies in three states with either full or partial bans.
Their research question was simple. "In this study, we asked if you've gone twenty four hours without having food," Wang explained to me. The answers were deeply unsettling. "91% met the USDA definition of food insecurity and 37% were hungry," she said. When people had gone a full day without food, they were much more likely to exchange sex for money.
People who have been recently released from prison are especially vulnerable to the effects of food stamp bans. "How are they going to purchase food, if they do not have cash or family to turn to or can't work because they face incredible barriers to getting a job?" Wang asked.
Already, we know that the first two weeks after release from prison are especially deadly. In their landmark study, Ingrid A. Binswanger and colleagues reported on 30,237 people who had recently been released from prison. In the first two weeks after release from prison, people were 12.7 times more likely to die. "The risk persists throughout a year, but six months is where everyone would say, this is the highest risk for dying, the highest risk for going back in, the highest risk for being hospitalized," Wang said. "Holding out on something pretty fundamental for those first six months isn't very logical from a public health standpoint."
Nevertheless, holding out on food for those dangerous first six months is exactly what some modified state bans do. North Carolina, for example, bans people from accessing food stamps for six months after their release.
"It doesn't make public health sense," Wang said. "That transition home is really precarious from the public health standpoint and for their individual health. These are basic needs."
Some, such as Nebraska Senator Bill Kintner, have argued that food stamps only encourage criminal behavior. "By giving food stamps to drug dealers, we're just enabling them," he told the Lincoln Journal Star in defense of his state's ban, which has since been modified. "If you're dealing drugs and I'm paying for your food, we're subsidizing your operation."
But this defense doesn't make sense for two reasons. First, the singling out of drug felonies is completely arbitrary. "This policy just pertains to those who committed felonies related to illicit drug use," Wang explained. "If you committed murder, you still qualify."
Not only are drug felonies unreasonably singled out for endless punishment, but defenders of food stamp bans have it backwards if they believe that food stamps encourage criminal behavior. In reality, food stamp bans encourage people to engage in criminal activity, such as sex work, or else face starvation.
"When folks are not allowed to sustain themselves, they go back to what they know," explained Manuel La Fontaine, an organizer for All of Us or None. "If I'm being released from prison and I don't have a way to survive, a way to eat, I've got several options. I could go out with a sign and beg for food. Or go back to the informal economy."
In late June, I reached out to Steve Pickett, the chairman of the Mississippi Parole Board in order to ask him about Mississippi's food stamp ban for people with felony drug convictions. (The Mississippi Department of Corrections had no comment.) Soon after, Judge Keith Starrett of the Southern District of Mississippi wrote to me by email that he and Chairman Pickett intend to discuss the ban as part of their statewide Reentry Council, as they plan their proposed legislation for the upcoming January session.
Lifetime food stamp bans deprive some of the most vulnerable people of a fundamental need when they need it the most. They trap people into cycles of poverty and desperation, long after they have served their sentences.
"You've got to change this narrative that punishment goes beyond prison," said Erik Robert Fleming, the Director of Advocacy and Policy for the ACLU of Mississippi. Too often, though, that is the reality that people who have been incarcerated face when they try to seek employment, housing, student loans, or welfare. "We put people back into a situation where they can't escape."
Photo Credit: US Department of Agriculture, "Family Dinner." CC BY 2.0.
Calling all HuffPost superfans!
Sign up for membership to become a founding member and help shape HuffPost's next chapter