There's a bottomless well of churning thought and emotion that engulfs the very core of our being and is born of a silent inner strength. That strength unassumingly the very foundation of who we are and the life that courses through every breath. It is the beautiful dance that lives within the purest of inner joys, yet is the weight in which embraces our tears and makes them forcefully fall. It's always present -- alive in our most vulnerable of moments and within a deep tenacious hope.
A Piercing Presence
But there's a deep anxiety that dares to challenge that strength in which is woven through every honest part of who I am. It tirelessly tries to pull me into a consuming place of churning emotion and thought. It dares to prove my feared self-proclaimed inadequacies. It isn't easily perceivable to the unknowing eye, nor is it a part of my journey with Cystic Fibrosis I easily expose. It's not the barreled shape of my chest, my distinguishable cough, or the piercing pain found beneath my ribs. No. It's deeper- it's a gripping and relentless anxiety that dares to undermine the strength that I know sustains every beautiful breath I'm given.
I hide it deep within from the world in fear of exposing my true weakness. Reverberations of its laughter course through my body in a breathless silent panic. At times, its suffocating grip clenches my throat tighter and tighter until I feel I am gasping for air. Its piercing presence unassumingly woven within the simplest moments of my life and within every unwritten possibility. Its concealed restlessness stirs within every self-doubting thought that prides itself on highlighting the uncontrollable realities that accompany my life. It is made up of a constant worry of time, living life to its fullest, and the feeling I am not doing enough. Most of all, it's composed of the fear that I am causing those I love pain and disappointment created by the uncontrollable elements of my life with CF.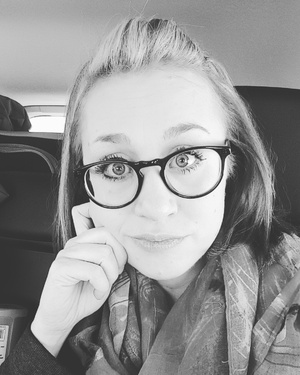 Inner Strength
I try and silence these anxieties and for the most part, I can keep a rational hold of them. But sometimes, it feels as if the mental weight of CF is suffocating me. I do my best to keep it tightly controlled within my grip, doing my best to never allow it to surface. But there are times my strength is no match for CF's anxiety, and I am reminded that there is much in life that I have no control over. I do my best to re-center myself and seek the beauty that surrounds me. I breathe deeply and find my inner strength - clinging to the gratitude for the goodness that fills my life. Within the most chaotic and anxiety ridden moments, I always find that unyielding seed of hope planted within the deepest part of my being. Most of all, I smile and remind myself that this is my life and this is my truth.
I share this with you not because it will make my anxiety disappear but because sometimes being strong comes in the form of the most humble honesty. This is my life and this is my truth -- it all makes me who I am. Difficulties are a part of our journey and manifest themselves differently in each one of us whether it is physical, mental, or emotional. It is in the sharing of my own life that I hope you feel a renewed sense of your own beautiful strength that is alive in every breath you take. But, most of all, I hope through the honesty of my own life that you find the strength to share your own incredible journey - the beautiful and the difficult. Strength is not measured by the amount of life we are able to withstand but is a reflection of how we react to the life we've been given and how we commit ourselves to the act of honestly living.