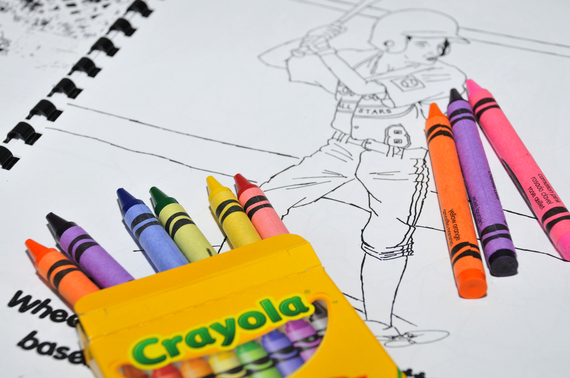 It makes me smile when I hear people say they look in the mirror and see their mother. The other day I heard a man wonder out loud how his dad's hands appeared out of the sleeves of his jacket. After 11 years of living in Chicago, we returned home to Tampa. This morning I asked my adorable husband if it seemed like we were there that long a time. "It went so fast!" he said. Fast is the word. Life goes by so fast but the one wonderful observation is that a great part of childhood can live forever.
My Mom and I loved to color together. Not long ago my son gave me a beautiful adult coloring book and a large box of colored pencils. I think of my mom as I create colorful pages. One day a friend shared that when she was young all she wanted was the large box of Crayola crayons with the sharpener. Her family struggled with money and all she received was the one-row box. Years later for a birthday I arrived with the "big box", pick up sticks and jacks and ball. We sat on the floor as adults playing like kids. I must admit that Chardonnay wine was involved.
My joy when my sons were small was watching them love "Star Wars" and all the toys associated with those iconic movies. Today I am filled with such happiness watching them introduce their sons to their past memories. Like their mom, they also have kept those past toys and purchase new replicas that they keep for themselves.
I will share a secret with you. In a corner of my closet, I do have a Raggedy Ann doll, a couple of small stuffed animals and the "Joy" doll from the movie "Inside Out." I preserve and treasure my inner child. For my birthday this year my wish for my youngest son was to take me to Comic Con. We went! I have to admit that I did not dress up but my inner child and my outer adult had a ball.
Email me at jax6014@aol.com and share some of your inner child activities as an adult with me.
PHOTO GALLERY
What Do You Miss About Your Children Now That They're Adults?
Calling all HuffPost superfans!
Sign up for membership to become a founding member and help shape HuffPost's next chapter