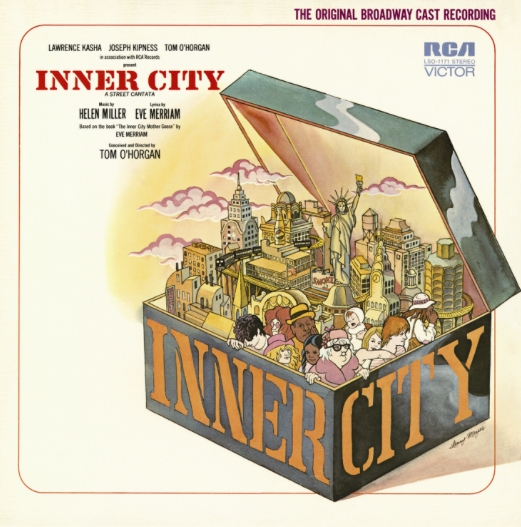 In the early 70's, Hal Prince was in his prime, de-constructing the traditional Broadway musical exemplified by his landmark productions of Company, Follies, and A Little Night Music. But at the same time, the sound of rock n' roll was beginning to rear its head on the Great White Way—fifteen years behind the times, but never mind.
On the other side of the traditional Broadway musical stood director Tom O'Horgan who had taken the street and the country by storm (think of a 60's version of Hamilton) with his culture-busting production of Hair. For a while O'Horgan was the other prince of Broadway, although he had long hair on his head instead of reading glasses. In fact at one point in time, O'Horgan had four productions running simultaneously, three of them on the same street! Forty-seventh Street might have well been named O'Horgan Boulevard because in addition to Hair at the then named Biltmore Theater, Lenny was running at the Brooks Atkinson, and a little show called Inner City opened at the Barrymore, plus Jesus Christ Superstar over at the Hellinger which prophetically has since become a church.
I was a Hal Prince fanatic; I loved the shows he directed as well as produced: Cabaret, Fiddler, Zorba. But the moment I saw Hair, my theatrical perceptions changed forever, and I became a Hair groupie seeing it at least once a month. Lenny was (and still is) the best-directed play I've ever seen on Broadway, Superstar was a bit of a mess, but what a cast, and then there was Inner City.
If the truth were known, when I bought my ticket for Inner City—a whopping $6.90 for the matinee—I actually thought I was buying a seat for Fun City, a new play by Joan Rivers. I got them mixed up, but the mistake was a blessing, for this little show blew the roof off the Barrymore Theater.
It was billed as "A Street Cantata," and it was a sung-through explosion of R & B funk that Broadway had never heard. As I mentioned, this was the early 70s, way before 42nd Street had been Disney-fied and walking on 8th Avenue was literally taking your life in your hands (unless you were interested in the 6 foot 4 black, transvestite hookers.) This was the time when people were fleeing Manhattan in droves, when President Ford said "Drop dead" to New York, and the inner cities were rat-infested powder kegs exploding almost daily.
All this urban angst was channeled into Inner City, a musical no less, and a powerful one at that. It was based on Eve Merriam's book of nursery rhymes for adults, "The Inner City Mother Goose," set to a blistering score by Brill Building writer Helen Miller.
But the power behind this show was clearly Tom O'Horgan. He worked his magic, and these nursery rhymes captured the heart, soul, and passion of the city—all of it, including the underbelly, the parts and people of the city that most attendees of Broadway shows would happily have swept under the rug. (Imagine the original cast of Inner City, coming back to Harlem and seeing the million dollar townhouses and a branch of Citerella on 125th Street.)
O'Horgan cast it with the most magnificent talent from his other musicals: Delores Hall, probably the greatest voice ever on a Broadway stage, Linda Hopkins (who one a Tony for this performance), the definitive Sportin' Life, Larry Marshall, Allan Nicholls who was my favorite Berger in Hair, and a host of O'Horgan regulars.
A cast CD was recorded and I've listened to it regular (especially at gym workouts) for 40 years.
Which brings me to last night.
Allan Nicholls who, after his performing career, worked with Robert Altman, writing, directing, editing, and more, organized this one-night only revival of Inner City, bringing it to 54 Below exactly four decades to the day it went into rehearsal for Broadway. Naturally, I was there.
Nicholls looks a bit older than he did in Inner City. Actually he looks a lot older! But who doesn't? Gone is his "long, beautiful hair," but the star presence is there in spades. Add to that his Joe Cocker-esque voice plus his powerful commitment to the lyrics, and forty years evaporated in an instant; I was back in the audience at the Barrymore.
I hadn't been interested in seeing revivals of hit musicals and flops that 54 Below has been programming for one night, but when this was announced I got my seat. I loved hearing the music that wasn't recorded on the CD; I loved hearing the original orchestrations, horns and all, blasting out in that little, wonderful club. I loved watching an amazing cast connect with a great show.
Although not in the original, Annie Golden, Jeannie in the film Hair, is finally a recognizable presence due to her performances in Orange Is the New Black; she quite simply is a national treasure. The New York cognoscenti have loved her for years, and she performed the songs from Inner City as is she were in the original cast. Golden has the kind of rare internal spark that demands an audience follow her down whatever road she chooses to take. She alone would have been reason to go to see this show.
As I don't go to Broadway much anymore, I wasn't aware of the rest of the cast but Yolanda Wyns and Dionne Carole did the score proud with their soulful renditions of "Deep in the Night," and "If Wishes Were Horses." A little lyrical aside: it was fun to hear the lyrics "I dim the lights and I think about you," from "Deep in the Night." Where have I heard them before? In any event, they were heard in the City first.
Ray Shell, C.E. Smith and especially Lauren Elder also contributed to the success of the evening, but the show belonged to Nicholls. And of course the marvelous score. Someone should write a musical (rock musical of course) of Falstaff for him. He would be sensational!
Could the show be revived now? Probably not. I'm not sure anyone really wants to hear about the urban horrors of New York in the 70s despite the score. But it sure brought back some great memories.
And speaking of Memories, these memories are lighting the corners of my mind. No, I'm not talking about a Barbra concert. Last night I saw the next best thing, Blake Ewing Salutes Barbra, the Concert.
This was a return engagement at the Laurie Beechman Cabaret where Blake explores his obsession with Barbra and specifically her first concert tour in 27 years. But it's much more than a fan's tribute. Similar to Ben Rimalower's magnificent Patti Issues where Rimalower uses his devotion to La LuPone to explore a funny if painful childhood, Ewing uses Barbra to talk about his career and of course sing some of the best songs ever written, as Barbra had impeccable taste in music.
I first became a fan of Ewing in 1994, when at 9 he not only won "Star Search," he booked two years on the sitcom "Full House," starred in the original production of Ragtime in LA, plus starred in the movie The Little Rascals. Not bad for a nine year old. But he was far from the typical kid star because Ewing could sing. And what a voice. When I first heard him I couldn't believe the control he had, the beautiful tone not to mention flawless pitch. He was a fully formed singer at nine!
Over the years he's become a producer, director, writer, but for me, he'll always be this amazing singer; it takes a certain amount of chutzpah, to not only sing Barbra material, but also sing her arrangements!
I was pretty sure Ewing could deliver these seminal arrangements of seminal songs, but honestly, nothing prepared me for depth of his mature voice and the fluidity of his phrasing. Yes, he was "doing" Barbra, but he was also out-doing Barbra. No small feat.
Plus the show was charming, self-effacing, funny, witty, and frankly a perfect evening in a cabaret.
He'll be back in October and I can't wait to see it again.
I remember one of the gossip columnists in the Daily News used to close her column with "only in New York, kids," and seeing Inner City, a flop show from the 70s revived with star-powered panache at a glorious supper club and then going to see Blake Ewing top Barbra is something that, well, only can happen in New York City. Glad I'm here.
REAL LIFE. REAL NEWS. REAL VOICES.
Help us tell more of the stories that matter from voices that too often remain unheard.
This post was published on the now-closed HuffPost Contributor platform. Contributors control their own work and posted freely to our site. If you need to flag this entry as abusive,
send us an email
.