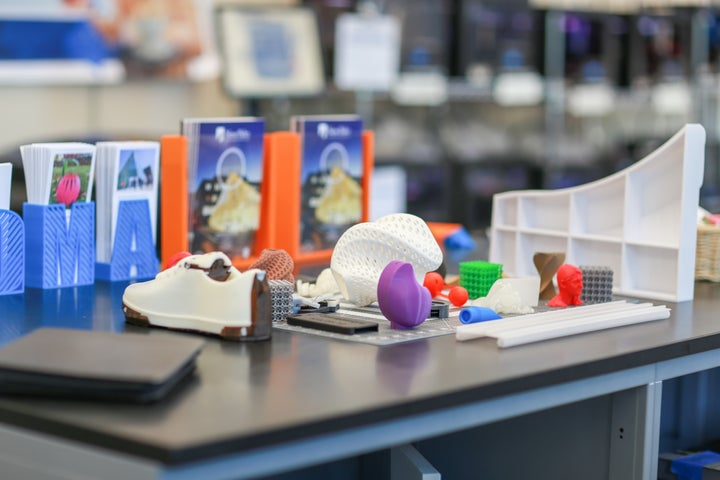 When most people think about Upstate New York, they think about beautiful vistas, wooded hikes, Woodstock, the state capital! One rarely thinks about a state of the art 3D printing center of excellence. It's time to add the Hudson Valley Advanced Manufacturing Center (HVAMC) to your "things to see" list on your next trip Upstate.
An integral part of SUNY New Paltz since 2013, the HVAMC has been quietly providing education, guidance and CAD design and printing services to students, educators, entrepreneurs and businesses.
"The Mid-Hudson Valley is where everything came together," noted Daniel Freedman, HVAMC Director and Dean of the School of Science & Engineering. "New Paltz brought our expertise in art and engineering and the interest in working at the interface of those fields. Larry Gottlieb, CEO of the Hudson Valley Economic Development Corporation, recognized the long-term importance of 3D printing and provided a vision of having a center at New Paltz and helped to secure funding from Central Hudson Inc. and Hudson River Ventures. Our success has definitely been spurred by the high concentration of artists, designers, inventors and innovative manufacturers willing to explore a really exciting new technology."
HVAMC has become the nation's leading academic center for 3D printing applications, the first academic lab to receive the Stratasys MakerBot Additive research and Teaching (SMART) designation and is home to the world's first MakerBot Innovation Lab. These accolades have prompted visits from large, global universities interested in observing HVAMC firsthand.
The HVAMC is open to all who want to use the service. Some out of the box participants: World War I Reenactors who needed the finishing touches for their uniforms, New York State Police Investigators who 3D printed a victim's skull to solve a 47 year old cold case and more than 150 other clients who have leveraged the innovation and deep expertise available for the mere cost of design and printing.
This year, HVAMC has expanded its service offering with the launch of Build Business Platform, a program geared toward helping to grow new business in the Hudson Valley.
Build Business Platform is the brainchild of Dan Freedman, Garnet S. Heraman, a seasoned investor, and Wallace Patterson, a 3D printing industry executive who met through the thriving innovator network in the Hudson Valley. Build Business Platform will offer clients prototyping services and nurture those clients by layering on business advice, strategy, planning and marketing support. It's no surprise that their model mimics the main principle of additive manufacturing itself: creating an object by adding successive layers of material.
"What's innovative about the Build Business Platform concept is that it encourages Makers to view their creations as building blocks of potential commercial opportunities," Heraman said. "The Business Build Platform allows clients of HVAMC- regional manufacturers, makers, artists, students- to access a diverse array of resources needed to transform prototypes into products, projects into ventures."
"The HVAMC knows how to solve real world problems fast. The lab is filled with experienced professionals who are there to help an entrepreneur solve their applications and help them reach their goal. They're accessible and experienced in how to do so," Patterson highlighted.
As part of the HVAMC's continuous evolution, the center will offer the 2017 Summer Additive Manufacturing Institute (SAMI).
"The SAM Institute is almost unique in that it provides an applications-oriented workshop to give professionals the understanding to apply the universe of 3D printing technologies/materials to an endless variety of uses. We believe there are truly innovative changes that can be made in manufacturing, medical applications, the food industry, jewelry, art, fashion and consumer products using 3D printing, but designers and engineers need the opportunity to learn about the many additive manufacturing technologies and the enormous range of functional materials available," added Freedman.
SAMI is an intensive, week-long course limited to 12 engineers or designers. Participants can expect to walk away with the working knowledge needed to apply 3D printing and additive manufacturing principles to prototyping and production.
Related
Popular in the Community