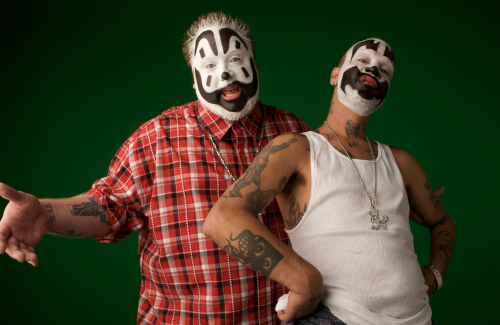 With a rap group so polarizing as the Insane Clown Posse, you're either going to understand what they are trying to do or not. Having a much storied past much of which I covered in the first part of this piece back in May, there's a simple foundation which ICP members Joseph Bruce (Violent J) and Joey Utsler (Shaggy 2 Dope) implore to keep their universe afloat; it's one of having faith.
Just like anything else in this society, we are constantly sold on what it means to have anything, and that includes faith. If anything, the idea of faith is a big commodity in our culture and is often abuse and exploited, but if you can experience real positive and constructive faith into something and most importantly yourself, the world is your playground.
With their latest release, The Marvelous Missing Link: Found, ICP renews its faith in a world flooded with all sorts of crazy acts and events, where understanding is constantly needed. "You can find faith in anything," explains Joseph Bruce in a recent phone interview. "Whatever your thing is. You got to have faith. To live a life without faith, you're lost. That's what this record is all about is those who are found, those who are on the right path, those who got it together that are following their dreams and aren't sitting around letting life happening to them."
Found is the companion to The Marvelous Missing Link: Lost album. It's an expression of what happens when you find that momentum in life and faith takes you on the right journey. "Lost is that you are just blowing around with the wind, let whatever happen to you happen to you," explains Bruce about the difference between the two records. "You are in no control of your life. Found is those in control. Lost is all ruthless and grim and negative, and it talks about wickedness and darkness and depression. The Found record has humor. It has positive songs. It has uplifting music. Those are the differences between people's lives who are lost and who are found."
A huge part of the idea of faith is based in religion, even though faith is available anywhere. Faith is strength, but when you feel that you don't have that strength, there are a lot of temptations in the world that might offer something masked as faith that truly isn't. True faith based in religion is there to help, not exploit, and that has always been a commonality within the ICP universe. "Most references, we are talking about religion, people that have something to believe in," explains Bruce. "That's what religion provides. I don't care what specific religion you are talking about; it gives people hope. It gives people something to believe in, something to aspire to. If you have faith, than you are in much better place in this world and that's what the Found record is about."
The Insane Clown Posse themselves have waded through the waters of the music industry based on their own faith, never taking "No" for an answer. They are not a band that has songs on the radio or are on some big arena tour, but what they do have is something much bigger to them, fans, the Juggalos, that have stuck with them over the past 20-plus years and new generations are spouting each year. "We play for our audience," says Bruce. "Our record speak to Juggalos, the only ones buying them are people that have been down with the clown or people that are discovering it. That's all that's paying any attention to us, so when we are speaking to those people we have a lot we want to say."
The Juggalo universe is one of a unique nature. If you're down to be a part of it, and want to bring a positive energy to it, then you're accepted. Violent J and Shaggy 2 Dope speak to the Juggalo nation in a way that could be a bit intimidating at first, but it's an environment that is truly based in tolerance. "We have a lot of important shit we want to say to the people that are meant to hear it," explains Bruce. "We speak in a language most people don't understand. Most people write off as fuckin' garbage and bullshit and trash, but there are messages there."
Though a lot of ICP's music is purely entertainment, there are a lot of stories and messages within it all that has had a profound effect on their lives of their listeners. The trust and faith that Juggalos have put in the duo is unlike any other fan base on the planet, and ICP feels more like a mere vessel to get the messages across to the people that need to hear whatever they need to say. "When we are talking to the people that are meant to hear it, we want to say the right thing, so that's why we deliver messages that we believe are being delivered to us through the form of the Dark Carnival," says Bruce. "We feel like we were born to do this, like we were meant to do this. We don't know where some of it comes from. It feels like it comes from a higher power. People have come up to us, not just some people or 10-15 people, but literally throughout our career hundreds of people have come up and said 'Man. You know your music saved me'. That wasn't ICP saving them. That wasn't Joe and Joey saving them. That was the music. That was the Dark Carnival. That was the higher power. We believe that. We believe we were meant to talk to these certain people."
Through their own faith and to deliver their own Juggalo word to the people that are meant to hear it, the Insane Clown Posse have been able to duck and dodge all sorts of near career-stalling situations and still come out in the end living the dream Along with the release of The Marvelous Missing Link: Found album, the two with being hitting the road soon for another tour and are readying the 20th anniversary edition of their seminal album Riddlebox with a deluxe reissue with skits, unreleased tracks, and variant versions of songs with a tour performing the album in its entirety.
Violent J and Shaggy 2 Dope would not have made it this far if they were not on the right track to begin with. Say what you want to say about ICP, they really don't care, and there's always going to be times when you have break a few eggs to make an omelette, but this duo has lead by example that having faith in something can get you through the crazy times in life and make you focus on what's important. They just want you to make it to Shangi-La, so step up and go through whatever positive journey you're meant to be on.
ICP will be back for their annual Hallowicked show on Halloween, Saturday, October 31st at the Fillmore in Detroit. For more information on the Insane Clown Posse, visit insaneclownposse.com.
Calling all HuffPost superfans!
Sign up for membership to become a founding member and help shape HuffPost's next chapter