Note: This post contains explicit language that may be offensive to some readers.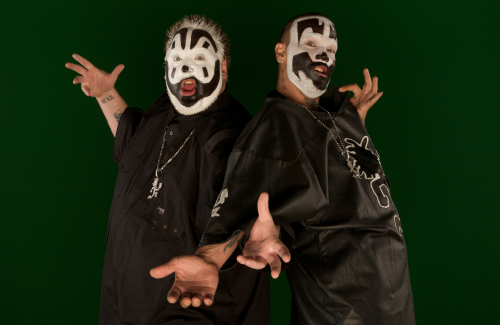 To wax poetic about such a weird subject like the Insane Clown Posse is easy for someone who became a fan of the Detroit rap group during my formative teenage years in the 1990s. For someone that at a young age paid immense attention to what was going on in pop culture, but feeling like it all seemed a million miles away, finding a connection with what ICP was doing was exciting for a kid and that was their winning ticket, even to this day with their new album The Marvelous Missing Link: Lost.
Stepping back to the early half of the 1990s, the Insane Clown Posse were a part of the "big three" of Detroit rap artists, along with Kid Rock and Esham, who stylistically had an off the wall sound that was not embraced by the city's hip hop sector. It didn't matter though. They all found regional success using similar tactics; they all had fantastic live shows, did great in-store appearances, had fan clubs/newsletters set up, and released new albums and EPs on a somewhat regular basis. The method of operation from these artists was that everything was an event.
The rise of ICP was something organically achieved. Going around town to the record stores, you slowly started seeing their products displayed in a different manner than their Detroit counterparts. Whether it was flyers for upcoming shows or just the tapes and CDs themselves, they just popped on the shelves; you couldn't help but be curious.
It was an exciting time for ICP group members Joseph Bruce (Violent J) and Joey Utsler (Shaggy 2 Dope). Still in their late teens, they had the same rap dreams as anyone else where they just wanted to get a record deal. It was their work ethic during those early years that would eventually start to pay off for them in the long run, learning and being excited about all the little steps along the way that it took to put out a record. "Just going to a store and them ordering more cassettes on consignment, realizing people were buying our shit, it was great," explains Utsler during a phone interview about his fondest memories of those early days of ICP. "Just being on stage in front of 200 people. Small shit you don't really think about. Everything was so new to us at that point. Being in a studio, in there with Mike E. Clark creating everything together. Just hearing the outcome of it. The day the record came out, the excitement behind it. Going to put it in the stores and all that, it was phenomenal. It was such a great feeling. Every step of the process was also new and fresh, it was all exciting."
Without even really knowing, even as just a fan, you always felt like their was a bit of a competition between ICP, Kid Rock, and Esham, and I'm not sure if they would all fess up to it; but they were all at least conscious of what each other were doing. ICP even had Kid Rock and Esham on their 1992 debut album on Psychopathic Records and the first Joker's Card, Carnival Of Carnage, which without any real statistics, sold well in the eyes of ICP. It wasn't until ICP's second full length project in 1994 and second Joker's Card, Ringmaster, that really felt that their popularly was legit. "When we put Ringmaster out, and this was unheard of to any local bands back in the day, was that we ordered 10,000 CDs and they just went," explains Utsler. "We blew through them with a quickness. We had a show at Saint Andrews and it sold out. We were like this is real shit. When that record came out, we knew we were a name, but we didn't know how much until we put Ringmaster out."
Joe and Joey knew that the fantastical notion of getting a record deal wasn't in the cards for them necessarily; that they had to take the bull by the horns and make their dreams happen by their damn selves. This is the time when those rap dreams would morph into another sort of monster; one in which a legion of fans that would call themselves "Juggalos" would be birthed from. "We realized we had to start doing everything for ourselves," says Utsler. "When you do everything yourself, you have control of every thing yourself. When you do it like that, you can pretty much do and say what you want. It just snowballed and picked up and as time progressed we realized 'Holy shit!' this is more than just a rap group. There's such a connection there that it just comes to together naturally. We didn't even coin the term Juggalo. To be honest, I don't know the exact time when actually Juggalo was Juggalo. It just happened. They started calling themselves Juggalos."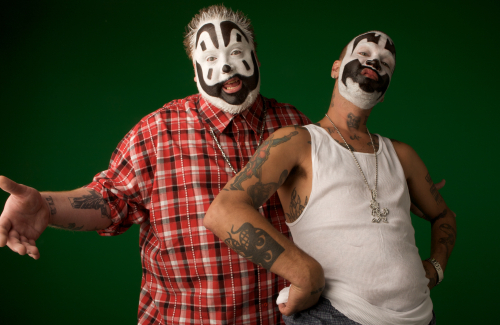 While ICP was starting to really hit their stride, their growing fan base of Juggalos started to don the face paint more and more at their shows. They started to become ubiquitous regionally with a younger tinge of the music buying community, and the record stores were the social media of that time. The stores respected ICP because their products sold well and brought another type of consumer into the shops. The in-store appearances were more like an event with kids lined up around the block. Record Time gleefully displayed ICP's product line on the shelves, and through their connections with their management, Hot Hits in Roseville, Michigan was the epicenter for exclusive ICP merchandise. There was an air of excitement from an actual rap artist at Detroit area record stores that would not be felt again until the ascendance of Hip Hop Shop alums like Proof, Jay Dee, Slum Village, and Eminem. While the rap scene in Detroit may have hated on ICP, they somehow stumbled onto company within it all that gave a fuck.
Even though Bruce and Utsler found that ICP has the power to be something more than just a rap group, the next chapters in their careers were a bit scary. This is when the major labels moved in on them and the rollercoaster began. It was with Riddle Box, the third in the Joker's Card series released in 1995 on Battery Records (a division of Jive), that ICP started on their journey through a slew of major label homes. Then next was the big controversy with their 1997 Hollywood Records released album and the fourth Joker's Card, The Great Milenko, when it got pulled off the shelves on its release date by their parent company Disney out of heat they were receiving by the Southern Baptists about various things Disney was involved in. Island Records ended up grabbing up ICP and re-released The Great Milenko properly, and while ICP continued to enjoyed great creative freedom on through to the fifth Joker's Card The Amazing Jeckel Brothers in 1999 along with their Bizzar Bizaar double album in 2000, the eventual merger of Island with Def Jam would pretty much cut the wicked clowns off at the knees and they no longer were any sort of a priority. They would eventually land at E3 for the release of the sixth and final Joker's Card The Wraith: Shangi-La, but that company would eventually fold.
After their constant ups and downs with the major label system, ICP just pretty much said fuck it and felt like they could do it on their own from now on. Their story in regards to their time on major labels is that of a resiliency and to some degree pure luck. You have to remember that with the release of Riddle Box, they are only a few years removed from their debut album Carnival Of Carnage. At any point, whether it was the controversy with Disney or the merger of Island Def Jam, there was a real fear within the group that this is it, that their careers are over, and that they are going to be shelved with no way out of it. "Man, its the scariest thing ever," explains Utsler. "We don't have a backup plan. We're not high school and college graduates. If we were not doing this, we wouldn't know what the fuck to do? Failure is not an option. By the grace of fuckin' I don't know who, we always find a way out of it. It's the biggest weight off our your shoulder. Holy fuck! We can keep going. Fuck yeah. It's the story of our career. It's been like that since we started."
Through all of the deathblows that ICP were able to recover from in their career, they made it out and the Juggalos were there along with them. They burned a lot of bridges in the music industry because in their words, "they didn't want to suck the corporate dick." They are independent to the fullest and it's not just a business to them. Yes, they do make a nice living off of it, but they do put a lot of what they earn back into the ICP product to keep it alive, not just because "failure is not an option" as their own mantra goes, but because they feel like they have a duty to these fans of there's that stuck by them for so long. "We put everything we make back into us," describes Utsler. "We just don't make money and sit on it. For example, doing the Gathering, we fuckin' lose are our ass every year on that. Like hundreds of thousands of dollars that could be just in our pockets if we didn't do that, but we have such a good close connection with our fans, we owe them."
During a lengthy period of ICP's career, they were deemed the most hated band in the world. It was pretty much a big "fuck you" to them and everybody associated with them. There was a nasty stigma attached to ICP along with their Juggalo fan base. Then as time when on, the hatred was replaced with a sense of reverence and the industry finally got over themselves and treated ICP like a regular musical entity. "It's couple different things," explains Utsler. "I think because we've been in the game for so long, it's undeniable. We're no flash in the pan. ICP is a household name. Whether you know our music or not, you've heard of ICP, whether it's good or bad. The other thing is a lot of people that may have used to listen to our music are now grown, in their 30s, early 40s, and they're in positions where they can do stuff for whatever company they work for. We've been name dropped in I don't know how many fuckin' sitcoms and movies because people that are involved in it were rocking our shit back in the day or they might still be. We've noticed it because we've always got shit on. Shit on to the full like nobody else, but now we're actually getting respect. It feels good because we busted our ass for so fucking long and finally to get recognition for it feels fuckin' awesome."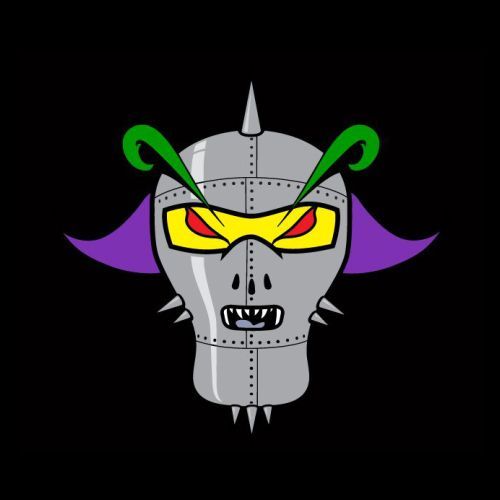 The constant mythology behind the Insane Clown Posse and their Dark Carnival Joker's Cards is always a culmination of their experiences and their beliefs. With the newest Joker's Card of the second deck The Marvelous Missing Link, following 2009's Bang! Pow! Boom! and 2012's The Mighty Death Pop, Joe and Joey dialed it back a little bit, going back to some of their original roots with this one. Utsler describes it as "old school ICP with a new school twist".
The Marvelous Missing Link is a two-part album, with Lost just released this past week representing the dark side of this journey while the Found part set for a July 28th release will have a more upbeat tone. Lost goes back to classic ICP subject matter such as crooked political systems, domestic violence, and racism, but its basis is more about finding that hope and faith to have a fulfilling life. "Every Joker's Card we come out with has you step back and take a look at yourself like a mirror up to you," says Utsler. "What the Missing Link is what's the void in your life? What's that missing gap? What's that missing piece in your life that you need that you're looking for to make your life complete, to make it to Shangri-La? It could be anything. It's nothing particular. You have to step back and look at yourself and see what that gap in your life is missing that needs to be filled, which would be the missing link."
Sometimes, music just doesn't get its due during its initial life. With the questionable content and lack of meaningful foundation that has long existed in rap music, it makes the hatred for the Insane Clown Posse just unwarranted. It always seemed more like a lack of understanding, like it was unconscionable to make a faith-based music that says the word "fuck" constantly in it. It was always hard to pin down what exactly the Insane Clown Posse was; it wasn't the easiest thing to market, but only they knew how to do it. When it comes down to it, guys like Violent J and Shaggy 2 Dope are lucky to have been making something that people from certain walks of life have been able to attach themselves to and find an important connection. That's what the missing link is in all of us.
The Insane Clown Posse are currently on the Marvelous Missing Link's Traveling In-Store Insanity Tour. For more information, visit insaneclownposse.com.
Calling all HuffPost superfans!
Sign up for membership to become a founding member and help shape HuffPost's next chapter