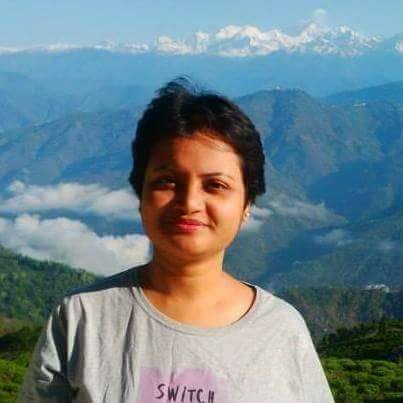 "I won't stop writing under any circumstances," says Promita.
A die hard follower of Shakti Chattopadhyay, Promita Bhowmik is essentially a private person. She has been widely anthologized both in commercial and non-commercial Bengali magazines; an award-winning poet, and author of three full-length poetry collections. A woman of few words, Promita, was a bit reluctant to say on her future projects as she met me in my office about two weeks back — a meeting she was planning on for quite some time.
Promita offered me a few of her published poems; she was genuinely eager to get them translated into English. I read all the twelve poems she gave and I picked five for my desk. I found her poems extremely intriguing, rich in imageries and moderately feministic. I'm sure the translated poems will appeal to many readers and critics across the globe. Let's take a look:
We, finally, met at the crossroad.
The laid-back winter heightened as we talked
under the frozen light of the coffee shop,
The evening stood firmly keeping its arm
on my shoulder; you too kept your hands in mine
You looked like my ex-lover from one side,
while the other remained unseen even now.
I wanted to say something but I fail to remember;
my eyes lack vision and my hands...
The navel and the breasts have become numb.
Make sure you leave the secret malady with me
Ignoring much of my preferences
I've arrived to the understanding that
we do not doubt one another anymore.
Well, we might fail to recognize each other
no one would try to find us out...
Nobody would want to call us either!
You might move ahead leaving behind
the used towel in the bathroom; you might also
become a bit innocent considering my
But then, I might fall asleep.
The body-fluid might bathe me
unconditionally; and without further query,
expression, or protest I might start believing
that we don't have much to do except for
I wish a few gusty nights could emerge
from the shattered gloom. I wish the vast sky
could unroll across the runway. And I wish
an acute illness could adhere to the triangular island.
For once at-least, let the want of food and love
speak together in the minds while thinking of
the probable death of our cherished dreams.
Let the door obliterate the known separation
as it opens wide. Let the days, months and the years
merge with the crowd prior to knowing
I wish a few turbulent days could alter
And then, if I return all of a sudden one afternoon,
the unkempt dust will move along the walk;
my wide smile vanishes, and so does the ambiguous time.
And then, if you touch the face,
my love-soaked chin, especially; the vigil would collapse
Leaving the twilight behind I'll ask for a
long-talk while extending my palms forward.
The deep-seated malaise embraces you,
traveling across your stomach, liver, lungs,
You experience a black out as you are short of breath.
The flesh is now loosely-attached to your bones, and a few
men approach to savor the woman-meat. They will now
scratch and tear your waist, breasts, back, and lips.
Watery are their mouths, and your blood continues to pale.
Keeping aside your teeth, nails and the fire
you keep advising them the tenets of human care.
Related
Popular in the Community