Beauty fascinates me. Modeling fascinates me. And I am blessed to have many beautiful girlfriends -- including a couple who are professional models. One is Cecilia Singley (you can read her interview here); another is Kate Michael, who is based in DC. While we usually get together to discuss things other than work, I had to ask her about her modeling career, and the reality of that lifestyle. And about her diet...
AP: What kind of model are you?
KM: I do a lot of different types of modeling which fall into a couple of categories... Here is a short form tutorial of some of the different types of modeling: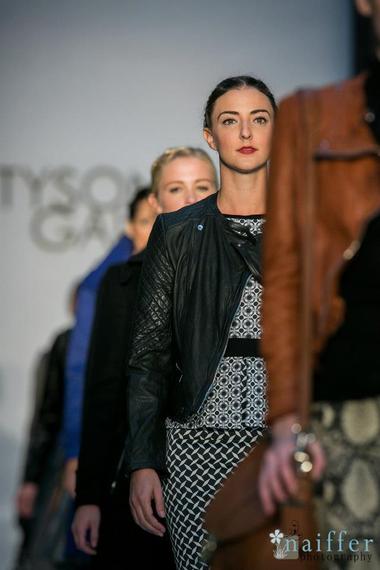 Runway: models that walk the catwalk/runway in a designer's clothing. The requirement is usually that they be 5'9" or taller, slender... and can walk in heels!
Editorial/Print: modeling for publications like magazines, billboards, calendars
Informal: modeling fashion in an informal setting, like a department store or other off-runway location. Responsibilities are usually the same, though you're also expected to talk with customers to encourage the product
Fit: modeling for a fashion designer or manufacturer to check the fit of a design on a real human form
The pay rate for each of these differs. I consider myself mostly a runway model, but I definitely take informal work to pay the mortgage and love to do photo shoots when they come my way!
AP: Tell me more about the modeling "industry" in DC. Why don't people think that there is any?
KM: I'm always amazed when people are surprised that many of us work, either full-time or part-time, as fashion models in DC. DC is a stylish city and has its fair share of local designers and fashion and lifestyle publications that need models for lookbooks, editorial shoots and other purposes. And a lot of your favorite retail stores are headquartered in "smaller markets" and have their promotional collateral made closer to home. And don't get me started on HSN and QVC -- great work for career models located in suburban spots!
AP: OK, tell me the truth. What do you do for diet and exercise?
KM: As a former ballerina, I'm blessed to have great muscle memory for long, lean limbs -- which are perfect for modeling! Every so often, I try to get back in a dance class, but I have to admit I'm not as diligent about exercise as I should be, and I'm even worse with my diet! It may not be what people want to hear, but I don't work terribly hard at maintaining my weight. I realize that beauty comes in all shapes and sizes (and, aside from runway, there likely is a modeling category for just about all of them!), and while I'm a small size 2, I am real.
AP: What are your favorite things about modeling?
KM: It's glamorous! It's exciting! It's fun! Not always, of course, but it certainly can be. And why not spend some of the best years of my life wearing beautiful things, showing off in front of a crowd (I used to be a dancer, so performance art is one of my very favorite things), and making a good living at it? It's work, of course, but this means of supporting myself also allows for creativity, and a little something different every day, and I love it!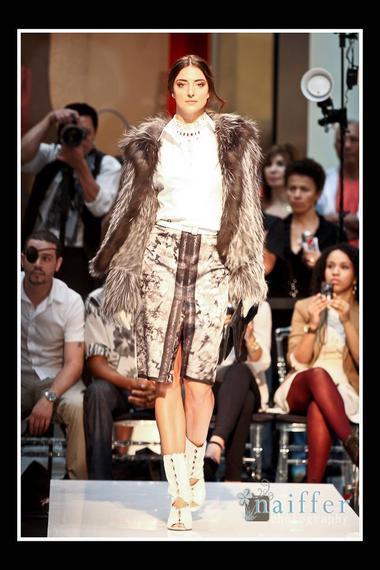 AP: Are there any aspects of the job that you hate?
KM: It's a competitive business, and I'm not just talking about the other girls or the agents. I'm in competition with myself! It's frustrating to try to live off your looks because you'll always be too small, too big, too muscular, too tall (or have a nose too big) for someone. Thankfully, everyone sees beauty differently!

AP: Do you get keep the clothes and other modeling myths?
KM: This question makes me laugh. No. I've gotten to keep the clothes exactly ONCE. I was simulating a gym workout with Stella McCartney activewear and they let me keep the running shorts after I had perspired in them for a few hours! With gowns and most designer pieces, they are traveling the country to many different markets, to be worn by many different models. Besides, a sample is a sample... and sometimes not even finished or completed exactly as it will be in production.
AP: What is the model's retirement plan?
KM: We call fashion an industry because it is a multi-trillion dollar business, and serious models treat themselves as a business as well. Of course that financial planning and retirement saving can be difficult when work isn't as steady as a 9 to 5 and you're keeping your fingers crossed for every gig.
I've completed my MA/MBA so I know I have options. I run my own local online business and I keep a few other irons in the fire. But my best retirement plan is to treat the modeling work like work and make sure I always give the job my best so I can be doing it for as long as possible.
KM: While there is some benefit to the public notion that modeling is fascinating and romantic, I think it might be more accurate to consider us a community of artists.
Popular in the Community