 Who isn't interested in the secrets to success? From Juan Ponce de Léon's search for the fabled Fountain of Youth in the early 16th century to day traders seeking inside information on stock tips, lots of people hope to get rich quick. If they could only win the lottery, discover oil on their property, or figure out how to ace an upcoming audition, things would be so much easier.
There are basically two paths to success: betting on luck versus betting on talent. The odds makers who prefer to bet on luck will go to outlandish extremes to prove their theories correct. Those who prefer to bet on their talent have frequently been warned that the best way to get to Carnegie Hall is to "practice, practice, practice."
During the run-up to Super Bowl Sunday it was bizarre to see the media turning to puppies, orangutans, and other dubious oracles for predictions about which team would win the big game between the Baltimore Ravens and the San Francisco 49ers. The folly and frenzy of this type of approach to competitive sports is best captured in a hilarious new documentary entitled The Life and Times of Paul the Psychic Octopus.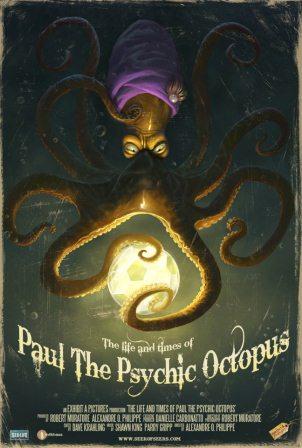 Poster art for The Life and Times of Paul the Psychic Octopus
For those who don't remember, Paul was the supposedly psychic cephalopod from Weymouth, England, whose ability to predict the outcome of several soccer games during the competition for the 2010 FIFA World Cup transformed him into an international superstar. Housed at the Sea Life Centre in Oberhausen, Germany, Paul became a cultural icon after correctly predicting the winners of four consecutive games in which Germany's national football team was competing.
Paul soon acquired a booking agent, opportunities for marketing endorsements, and ended up having a lavish funeral which can be seen at the beginning of Alexandre O. Phillipe's outrageous documentary (which is billed as "a biopic of tentacular proportions"). A Russian businessman wanted to buy Paul, lots of people had their pictures taken with Paul and, following his death, Paul's cousin -- Paddy the octopus -- briefly tried to fill his suction cups.
While Phillipe's film is filled with interesting information about mollusca, much of it is devoted to celebrating a style of show-biz hokum that would have made P.T. Barnum proud. From psychics who claim to be communicating with the soul of the dead octopus to hucksters trying to establish whether Paul is an English or German citizen, The Life and Times of Paul the Psychic Octopus gives new meaning to Barnum's famous claim that "There's a sucker born every minute." Here's the trailer:
What happens when a child prodigy peaks too soon and loses his spark? How can he succeed when he's lost his confidence and artistic fire? These questions -- and many, many more -- are addressed in Old Wicked Songs, a beautiful and poignant drama by Jon Marans which was recently staged by Center Rep at the Lesher Center for the Arts in Walnut Creek, California.
As the play begins (and during its numerous scene changes), the audience hears the mellifluous voices of Dietrich Fischer-Dieskau and Thomas Quasthoff singing excerpts from Robert Schumann's famous Dichterliebe, a song cycle based on poems by Heinrich Heine that capture the hot-headed passions of a young man. The setting is the studio of Professor Josef Mashkan (Dan Hiatt).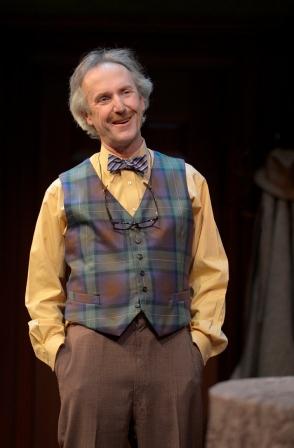 Dan Hiatt as Professor Josef Mashkan in
Old Wicked Songs (Photo by: Kevin Berne)
It's the spring of 1986 and Austrians are preparing to elect Kurt Waldheim as their ninth president. As Mashkan sits at the piano, reviewing the score for Schumann's Dichterliebe, one senses deep-seated emotions in his phrasing of the text. This is a man whose life experience has balanced ecstasy with agony, regrets with resuscitation, love with loss. He is older, sadder, and much wiser than the young man whose passions inspired the composer.
Enter Stephen Hoffman (Patrick Russell), a tightly-wound 25-year-old American concert pianist whose petulance, pomposity, overweening sense of entitlement (as well as his smug air of self-importance and near pathological lack of patience) are contributing to his artistic stagnation. Hoffman (who had expected to study with the great Professor Schiller) is less than pleased to learn that Schiller, who is on business in Munich, has deputized Mashkan to spend three months working with the young pianist.
Hoffman has arrived with the notion that, with his career as a concert soloist on the rocks, the next step is to become an accompanist because, after all, a vocalist's responsibility is to follow an accompanist's cues. While he may once have been strong in keyboard technique, Hoffman is totally lacking in any sense of teamwork or interpretative style. Like many child prodigies, his lack of life experience is a key factor in his artistic sterility.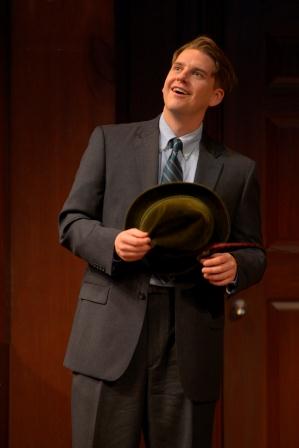 Patrick Russell as Stephen Hoffman in
Old Wicked Songs (Photo by: Kevin Berne)
As someone who has always been told that he is a great pianist, Hoffman takes umbrage at the idea that he must learn how to sing in order to become a professional accompanist. That's not his "fach," nor was it ever intended to be. When asked to interpret Heine's text, his English translations are about as soulful and introspective as Google's online translation software.
For the young American pianist, who is visiting Vienna for the first time, this trip is strictly business. But for Mashkan, Vienna and the Dichterliebe are about life, with all its inherent sadness and joy.
Not only is there an obvious clash of personalities, Hoffman is extremely judgmental (often downright snotty), a behavioral pattern which masks his terror of emotional vulnerability. Only after he succumbs to Mashkan's suggestion that he attend a performance at the Vienna Staatsoper does Hoffman's passion for music start to boil up again and his artistic instincts reach the surface.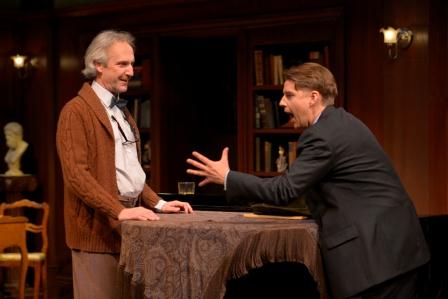 Dan Hiatt and Patrick Russell in Old Wicked Songs
Photo by: Kevin Berne
Whether making him pay for pastries or tricking him into singing, Mashkan keeps chipping away at his student's arrogance and emotional armor. But when Hoffman travels to Munich for a weekend to meet Professor Schiller and visit Dachau, he undergoes a deeply emotional transformation. Returning to Vienna with a yarmulke, he is caustic and condescending to Mashkan about the older man's frequent anti-Semitic remarks.
After listening to Stephen's unbridled criticism, Mashkan rolls up his sleeve and displays the numbers that were tattooed on his arm in a Nazi concentration camp.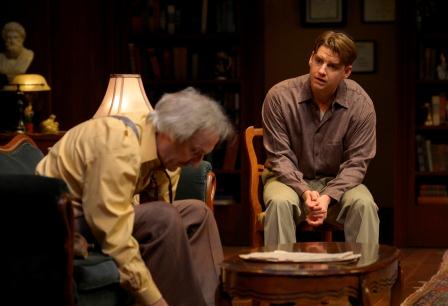 Dan Hiatt and Patrick Russell in Old Wicked Songs
Photo by: Kevin Berne
Nina Ball's cozy, warm set provides a seductive atmosphere in which these two men can slowly peel away the scabs covering their emotional wounds as they work to understand the layers of Heine's poems, grasp what Schumann was trying to say in his music, and learn what insights the Dichterliebe can offer them about their own lives.
It's easy to see why Old Wicked Songs was nominated for the 1996 Pulitzer Prize for Drama. By contrasting Hoffman's metronome-obsessed, often soul-less renditions of songs from the Dichterliebe with Mashkan's more expansive interpretations -- as well as Russell's sweet, but untrained voice with the artistry of great lieder singers like Dietrich Fischer-Dieskau and Thomas Quasthoff -- this play demonstrates how art enriches our lives while deepening our appreciation for love, loss, joy, and sorrow.
Center Rep's production was beautifully directed by Jessica Heidt (especially in the moment when Hoffman's defenses crumble). Heidt's staging benefits immensely from the fact that both actors are as adept at the keyboard as they are on their feet.
Related
Popular in the Community