The woman who was supposed to take Donald Trump's coat wasn't hot enough.
It was March 8, 2011, and Comedy Central's "Roast of Donald Trump" was set to film the next day.
The plan called for Trump to be driven onto the stage in a gilded golf cart flanked by beautiful women. There, he'd hand his coat to another woman before taking his seat on the roastee's throne. But during the dress rehearsal, Trump grabbed Robert Ferkle, who served as the production's stage manager.
The proposed woman, Trump said, was "not somebody he wanted to be associated with at that moment," Ferkle recalled. "In other words, she was not pretty enough."
To appease Trump, Comedy Central moved the actress elsewhere on the stage, Ferkle said. The show went on.
And what a show it would be.
The Huffington Post interviewed most key figures in planning the roast, and obtained copies of draft jokes marked up by Trump's trademark black Sharpie.
Just months before Trump would decide not to run in the 2012 presidential race, he was doing battle with roast producers over whether they could make fun of his hair. One of the most remarkable things about Trump is his seeming inability to laugh ― not just at himself, but period. Think about it. Have you ever seen Trump laugh?
For historians, the great unanswered question about Trump is likely to be whether he was in on the joke. To get to an answer, Comedy Central executives had long considered Trump one of their white whales. And they soon learned that whether he's in on it or not, even a man incapable of self-deprecation is willing to volunteer for a public humiliation ― as long as it's public enough.
"So many people are initially intrigued by the idea and then it starts to cook in the brain and then they pass," said Rick Austin, who served as producer for the Trump roast. "The more that we learned about Donald Trump along the way, the more it became obvious that Donald Trump is up for anything, so long as you are talking about him."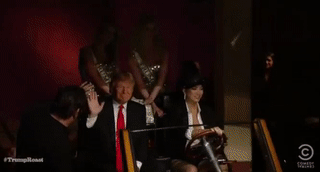 The genesis of Comedy Central's roast of Trump was in 2004, when the Friars Club, the exclusive New York private conclave famous for roasting celebrities, feted the mogul. A New York Times story chronicling that event described Trump as smiling and laughing as he was mocked relentlessly for his business bankruptcies, among other things.
During the Friars Club roast, comedian Jeff Ross suggested Trump participate in a televised roast on Comedy Central. Ross declined to speak for this story — colleagues said he wants to remain on friendly terms with Trump — but his manager, Amy Zvi, confirmed to The Huffington Post that he was instrumental in planting the idea in Trump's head.
Andy Dean, a former contestant on "The Apprentice" later hired by Trump to run his production company, was instrumental in convincing Trump to actually participate in the roast. Dean, who later became a radio host and now moonlights as a Trump surrogate on CNN, declined to comment for this story. Jonas Larsen, Comedy Central's senior vice president, who served as executive producer for the event, said Dean was Trump's point person in the lead-up to the roast.
"He was basically there to ensure that Trump looked good," Larsen said. "I am sure he spent three agonizing months making sure he did the right thing."
In late 2010, Trump committed to the event, and logistical planning began in earnest. "Family Guy" creator Seth MacFarlane, who had served as roastmaster for the Comedy Central "Roast of David Hasselfhoff," was asked to serve as emcee for the Trump roast. But the rest of the stage was difficult to fill.
"Their all losers and I like associating with loser because it makes me feel even better about myself."
"The dais is probably the hardest to book in show business, because everybody is initially up for doing it, and then their friends talk them out of it," said Austin. "It takes a brave soul to sit on that dais."
The network reached out to an assortment of Trump celebrity pals, including pro wrestling impresario Vince McMahon, Regis Philbin (who had been the emcee of Trump's Friars Club roast), and boxer Mike Tyson. All declined. The network also asked singer Bret Michaels, a past "Celebrity Apprentice" victor, to appear, according to Joel Gallen, executive producer of the Comedy Central Trump roast.
"We had to talk to Bret at least 10 times," said Gallen. "He really wanted to do it for Donald, but was too nervous about being roasted himself." (Michaels did not respond to a request for comment through his agent.)
Trump's camp suggested inviting Brady and TV host Larry King, Gallen said. Brady declined, but King agreed to join. (King, who interviewed Trump last month on his Ora Media show, "PoliticKING," did not respond to requests for comment.)
"I know Larry was one of the people that were important for [Trump] to have, because he had known him for a long time," Larsen said. "And Larry wanted to do it because he was starting to do some comedy at the time."
The rapper Snoop Dogg and actress Marlee Matlin, who appeared on "Celebrity Apprentice," rounded out the small bloc of Trump-friendly roasters. They were joined by a phalanx of roast regulars, including Ross, Lisa Lampanelli, and Gilbert Gottfried; as well as comedians Anthony Jeselnik and Whitney Cummings, and notorious reality-TV star Mike "The Situation" Sorrentino. (Even Snoop turned in a prescient performance. "Donald say he want to run for president and move on into the White House. Why not? It wouldn't be the first time you pushed a black family out of they house," he deadpanned.)
About three weeks before the roast, the team of writers, led by Ray James, gathered in a bungalow on the lot of CBS's Radford studios in Los Angeles. They taped a picture of Trump's face on the wall and got to work.
"This was one of those roasts where you feel like you are punching the clock," James said.
Trump Tower made it known that two subjects were off-limits: Trump's past bankruptcies, and any suggestion that he was not as wealthy as he claimed to be. "I don't think we ever got that in writing, but that was definitely conveyed verbally," Larsen said. In August, Aaron Lee, another roast writer, posted a note on the app Li.st that referenced Trump's prohibition on, "any joke that suggests Trump is not actually as wealthy as he claims to be." Bankruptcy jokes are the "one thing [Trump's] super sensitive about," Ross told Jimmy Kimmel in July.
"We don't do any of these roasts with idea that the roastee gets to approve the jokes, but they do get to cite a couple of things that they would say are just off limits," Austin told The Huffington Post. For example, Austin said, actor William Shatner, who was roasted in 2006, requested that no jokes be made about his third wife Nerine, who drowned at the couple's home.
Trump's executive assistant, Rhona Graff, was the primary conduit of communications between Trump Tower and Comedy Central, and revealed herself to be something of a Trump whisperer.
"She was great," Alterman said. "She was very smart and direct and we just had very direct conversations with her. And she would let us know what the parameters were."
Graff made known that roasters should address Trump only as "Mr. Trump," according to Larsen.
"I always thought that was weird," Larsen said. "That was sort of the mandate, you call him 'Mr. Trump,' so when he shows up, in this day in age, it's a strange thing to do. Even having been around a lot of different celebrities, I can't remember a single other time I have had to call someone 'mister.'"
As he prepared for the roast, Trump also was mulling a run for president. Gallen spoke with Trump by phone three or four times during the lead-up to the production, he said, and recalls Trump repeatedly asking about entering the presidential race.
It was "like I was his confidant," Gallen recalled. "'What do you think, Joel? Should I run?' It was the most important decision of this guy's life."
Gallen didn't know why Trump was confiding in him, but encouraged the real estate mogul to run.
"I never took the guy that seriously and never thought there would be any shot in the world" he would run, Gallen said. "I certainly didn't want to discourage him and I would say this to anybody ... 'If this is something you want to do, give it a shot.'"
"Nobody blacks out punchlines ... a classic lack of an understanding of how a joke works."
The redemptive moment of any roast is what's called the rebuttal, when the roastee, having just weathered an hour-and-a-half of barbs, takes to the podium to respond. With Trump not a natural comedian, it was up to the writers to give him ammunition.
After the writers went through numerous drafts of Trump's rebuttal, they forwarded a version to him in early March. He responded a week later with his first set of edits, handwritten in black Sharpie.
"I have done this a long time and nobody blacks out punchlines," said Jesse Joyce, one of the writers. Scrapping punchlines represents "a classic lack of an understanding of how a joke works," he added.
Trump's edits were all over the place. He crossed out an entire riff on condoms in the first draft, scribbling "No" in the margin. Elsewhere, he seemed to revel at opportunities to be crass. He complained a line suggesting Lisa Lampanelli should "shut the fuck up" didn't end with an exclamation point. But in a later revision, he wanted to switch the line to "get off the stage."
Trump even suggested changing a line about him being the "smartest man in the world" to being "perhaps the smartest man in the world."
Trump made a few lackluster attempts at cracking wise. He changed a joke meant to slam MacFarlane from: "The only way you'll ever draw a crowd is with a pencil." Trump's revision: "The only crowd you'll attract is flies."
After a joke that cited climate change, Trump suggested a parenthetical: "(Which obviously doesn't exist)."
Elsewhere, Trump suggested a broadside against the entire dais: "Their all losers and I like associating with loser because it makes me feel even better about myself." (The grammar mistakes are Trump's.)
Even in a script designed to be self-effacing, Trump couldn't resist boosting himself. At the conclusion of the rebuttal, in an exaggerated (even by Trumpian standards) riff about how he lives in a "25,000 square-foot penthouse atop my solid-gold space station," Trump ordered that the square footage be goosed to 50,000. He changed a line that read, "I'm sorry, I must go now and make a million dollars somewhere else," to a "billion" dollars.
"If you have a great hair joke, you will be impervious to hair jokes."
The biggest challenge, according to roast participants, was to get Trump to make fun of his hair.
"I had to explain to him why he needed to have some jokes about his own hair," James said. "I said, 'You have to own it. If you have a great hair joke, you will be impervious to hair jokes.'"
But Trump resisted. In the first draft, he crossed out a joke about needing to feed his squirrel-like bouffant. When the writers kept the joke in for the second draft, he crossed it out again, offering instead this about his hair: "Look how great it looks."
The writers eventually convinced Trump to "own" his hair by wrapping follicular self-deprecation into a boast about his wealth. The joke, not in the rebuttal drafts obtained by HuffPost, originally went: "What's the difference between a wet raccoon and Donald Trump's hair? A wet raccoon doesn't have $2 billion." Trump eventually agreed to use the joke, according to several people involved in the show, so long as the $2 billion was changed to $7 billion. Ross told Kimmel that settling on the amount was like a "business negotiation," with Trump initially wanting the number to be $10 billion.
While Trump was trying to protect his hair, James had been desperately trying to attack another part of Trump's body. The head joke writer described it as his one-man "mission" to turn the roast into a referendum on The Donald's manhood. Ultimately, he failed.
"I begged any writer to get on board," James said. "'Let's write jokes about this guy having a small cock.' ... I wanted to destroy this man and expose him as having a tiny penis because that will hurt him more than any jokes about his family or orange skin."
James couldn't convince anyone, so the dick jokes stayed out.
"It is impossible to not see how absurd the whole thing is," said Comedy Central President Kent Alterman, who was the network's programming chief at the time. "If you go back and watch the roast, there're probably a lot of oddly prophetic things being said that are relevant today. But just the idea that someone who did a Comedy Central Roast [is] a major party [nominee] for president is pretty shocking."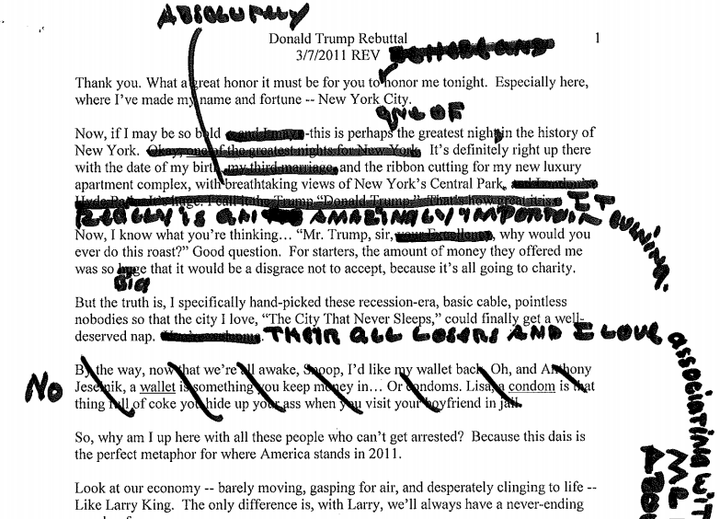 When the scripts were nearly complete, the producers asked Trump to spend a half-day filming promotional spots and the show's introductory clip. Trump allowed the filming at Trump Tower, but gave producers only 20 minutes of his time. Graff, Trump's assistant, explained to Larsen that Trump was "very efficient" and "great at reading a teleprompter," Larsen said.
(The Trump campaign did not respond to requests for comment for this article.)
"He was very pleasant," Larsen recalled of Trump. "He wasn't rude or condescending. He just walks in, sits down, says, 'What are we doing?' We had cue cards … he read the copy of the cue cards and he then said, 'Okay, that's good.'"
But Trump didn't take well to creative direction.
"Was it because he was not interested or closed to it?" Alterman said. "Or was it he didn't have facility to take it in? He had certain ways of doing things, and no matter what he was told, the next take came out exactly the same way."
"He never really seemed to have a grasp on what was funny and why it was funny. He was always looking at others to validate if it was funny."
When it came to the actual comedy of the production, roast staffers said, Trump seemed to be far less sure of himself.
"One thing that stuck out to me during rehearsal," Larsen said, "is he would always poll the people around him if they thought it was funny. He never really seemed to have a grasp on what was funny and why it was funny. He was always looking at others to validate if it was funny."
Trump polled people during the rehearsal about whether he should run for president, Alterman said.
"I was shocked to the degree that it mattered to him what people said," said Alterman. "I think I kind of laughed it off in a way of saying, 'Absolutely, you should.'"
The roast staff, less concerned then about the future of the presidency, was merely hoping that Trump would be a good sport on stage.
Whereas the previous Comedy Central roasts had been produced on soundstages in Los Angeles, Trump's was set at New York City's Hammerstein Ballroom, a larger-than-typical venue.
"There was a certain element of that roast that evaporated into the cavernous nature of that ballroom," Austin said. "It was not the best space for comedy."
Austin added: "You could see the comedians were struggling to get jokes out."
The problems of the room were heightened by the crowd that Trump brought along with him, Joyce said.
"He packed the room with his kind of people," Joyce said. Trump was himself a difficult participant, according to roast staffers, evincing a palpable resistance throughout the show, wearing a tight smile and avoiding eye contact with the others on the stage. James described his look as "the scowling curled lip of discontent."
"It became very obvious during the first act of show that Trump's reactions were not what you want on a roast," Austin said. "These roasts are best when you feel the roastee is having second thoughts, wincing, laughing despite themselves.
"A roast can be a pretty blue and brutal affair," Austin added, "But it is also validated by someone laughing. If they aren't laughing, it makes the audience uncomfortable."
"Trump did say it was for charity, he said it in the press, and he said it his rebuttal in the roast himself. But he never said what charity it was for."
During one break, Ferkle went on stage to encourage Trump to lighten up, he said. Ross even began his set with an impromptu line: "This is exciting, Trump. Are you having a good time? Then tell your face."
Trump began his rebuttal explaining that he was doing this all for charity, a claim that has since turned into a campaign controversy.
"Now I know what you're thinking," Trump had told the crowd, "Mr. Trump, Sir, why would you ever do this roast? Honestly, it was worth it, because it's all going to charity."
But when he said the word, "charity," he pointed at himself.
"I noticed it the minute he did it," James said.
"You can really tell there is something going on with this guy, something behind the mask," said Kevin Schini, who was on the writing staff.
"Yes, Trump did say it was for charity, he said it in the press, and he said it his rebuttal in the roast himself," Alterman said. "But he never said what charity it was for."
Two months after the roast, Trump announced he would not run for the White House in 2012. Four years later, he accepted the Republican nomination. But the roast writers did the best they could, Joyce argued.
"The amount of shit we knew ― how awful he was ― was the just-above-the surface part of the iceberg," Joyce said. "It has been since then that it really has come out what a diabolical bag of dicks he is. We hit him as hard as we could with what we knew at the time."
CORRECTION: A previous version of this story incorrectly identified Amy Zvi as Jeff Ross' publicist. She is his manager.
Support HuffPost
The Stakes Have Never Been Higher
Popular in the Community