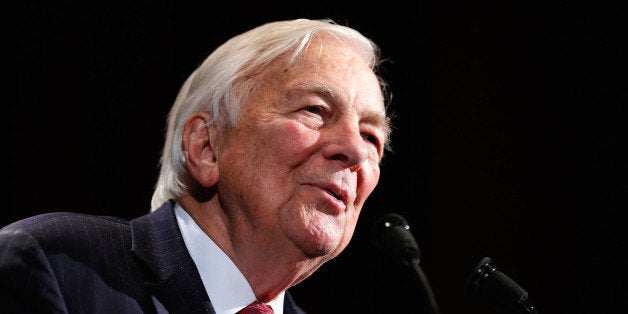 The country lost a remarkable leader last week. The tributes for John C. Whitehead -- business man and civic leader -- are ringing in from all quarters. Whitehead served at Omaha Beach as well as in the State Department, and he made his mark on New York City on occasions too numerous to count -- notably on the brink of bankruptcy in 1978 and again in the wake of 9/11. He lived long and well, and deserves all the accolades we can offer up.
Whitehead's early training came from the Navy, and he was visible in numerous public roles. But many of us think of him, first and foremost, as a business leader at the helm of Goldman Sachs. He worked up the ladder at Goldman and led the firm from 1976 to 1984 when it was still a private partnership. He reminded everyone he worked with that the key to the firm's success was trust -- both among the partners and in serving customers. It made sense back then to move seamlessly between a big job at the firm and a leadership position in Washington -- as Mr. Whitehead did when he moved to the State Department after his retirement from Goldman.
In fact stepping from Wall Street into a role in government was once viewed as the natural course for great men, much like water flowing from a narrow channel into a wider gulf. Once you proved your mettle in commerce, it was only proper for We-the-People to tap your considerable management and political skills.
Today, trust in Wall Street is frayed -- and the public is more likely to challenge, than welcome, the appointment of another Wall Street executive for a big position in the Administration. Goldman, like its brethren, is now a publicly traded company and Goldman's statement of business principles, introduced by Whitehead in an early attempt to put the values of his company in writing, has been updated to reflect the give and take of a public corporation. "Our clients' interests always come first" balances uneasily with "Our goal is to provide superior returns to our shareholders."
REAL LIFE. REAL NEWS. REAL VOICES.
Help us tell more of the stories that matter from voices that too often remain unheard.