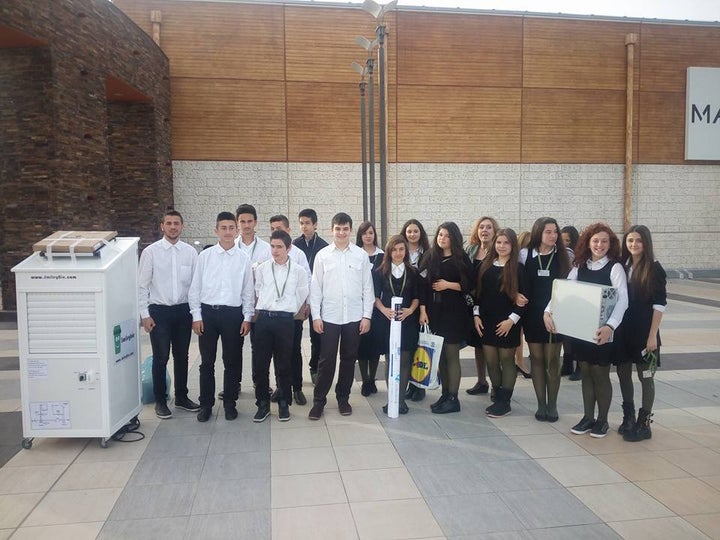 When a group of 10 high school students from the village Alonia in the prefecture of Pieria in Nothern Greece decided in September to participate at the educational Company Program of SEN/Junior Achievement Greece, they never imagined that it could completely change their lives.
Βut it did. Their clever idea to create a bin that could reward the users for recycling was the beginning of a thrilling trip on the roads of entrepreneurship that led them to actually create such a state of the art bin – "Smileybin"- draw the attention of the mayor of Thessaloniki, Mr. Yannis Boutaris, at the Trade Fair in April and win first prize at the final competition among 100 schools from all over Greece. When it was announced that Smileybin was the winner of the «Best Student Company 2016 Award», the students burst into tears from joy.
"This is a huge success for us, we never thought we could reach this high," says Maria Kokkala, director of Public Relations of Smileybin. Our school at Alonia has just 50 kids. "At the beginning of the school year, we had no idea about entrepreneurship but we were very eager to learn. And here we are, a few months later, winners from all over Greece. All dreams can really come true."
"Last year our life was very simple, going to school, hanging out with our friends and going back home. This year we are entrepreneurs," says her colleague, Eleni Georgi. "We have met and worked with very successful professionals, we have been sponsored by small and big businesses, we have travelled to Thessaloniki, to Athens. Especially after winning the Best Company of the Year Award, people admire us, respect us. Οur lives have completely changed, the future seems much brighter for us."
Now, the talented students from Alonia, have the unique opportunity to represent Greece and compete in Lucerne at Junior Achievement Europe's "Company of the Year" Competition, July 25-28, aiming for a distinction even the first prize. A European award would give the Smileybin team great opportunities, while giving hope to youngsters not only in Greece, but all over Europe. If a group of young students from a Greek village can do it, anybody can. What it takes is a fresh idea, passion, hard team work and entrepreneurial skills, obtained by the "Company Program" of Junior Achievement.
What it also takes is love and encouragement. And these young students had plenty from the two teachers that guided them through the Company Program this year, Tania Pandelidou and Iro Zioudrou. "We all feel like family by now," says Ms. Pandelidou, "we can't distinguish these children from our own children». «We started guiding them through entrepreneurship but they took over and now the students are guiding us," says Ms. Zioudrou. "We are so proud of them."
A great part of their success is also owed to volunteer-entrepreneur Mr. Panagiotis Tzellos, founder of Conferience.com. Mr. Tzellos was consulting and helping the students with the business plan and the high-tech operations of Smileybin. "Ι told the students that all ideas can be realized if you are passionate about them," says Mr. Tzellos. "They were passionate about Smileybin and they succeeded."
Smileybin is a innovative product that could enhance recycling in many countries around the world and lead the path towards solving a serious environmental problem. It encourages people to recycle by rewarding them with points that are used for discounts from city taxes and from stores. The recycled material is weighed inside the bin and the more the user recycles the more points he collects in his smartphone. The scale works with photovoltaic energy supply.
The Smileybin project has great support by the leaderhip and the team of SEN/JA Greece: President Ms. Litsa Panayotopoulou, CEO Mr. Argiris Tzikopoulos, Company of the Υear Manager Ms. Eliza Pavlidi, Educational Program Managers Ms. Georgia Gleoudi and Μs. Eleni Chelioti and Communications Manager Ms. Maria Yannetos.
The Company of the Year program is materialized in Greece with the support of foundations, companies and businesses. Donor: The Stavros Niarchos Foundation. Major Sponsors: MetLife, The Hellenic Initiative, Citi, The National Bank of Greece, SAP, Accenture, Aegean Airlines, Foundation of the Hellenic World.
SEN/JA Greece was established in 2005 as a non-profit organization offering educational programs on entrepreneurship, financial literacy and skills building in both private and public schools in Greece. SEN/JA Greece is a member of JA Europe and JA Worldwide. Junior Achievement Worldwide was established in 1919, and is the largest non–profit organization in the world in the field of entrepreneurial education with a presence in 122 countries, serving more than 10.000.000 students on an annual basis.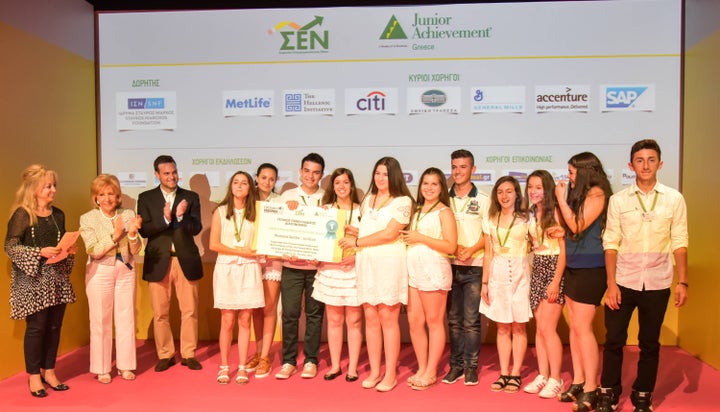 Support HuffPost
The Stakes Have Never Been Higher
Related
Popular in the Community