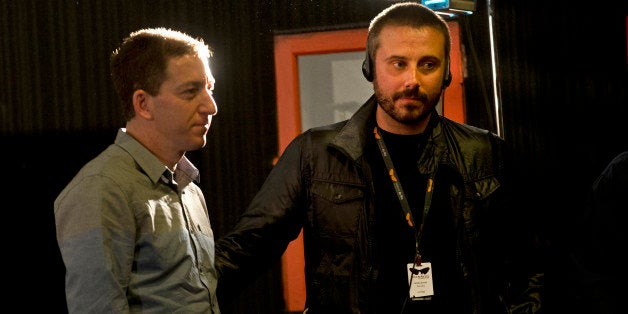 The first digital venture co-led by Glenn Greenwald is now live.
The Intercept, an online magazine edited by Greenwald and fellow journalists Laura Poitras and Jeremy Scahill and backed by billionaire Pierre Omidyar, made its much-anticipated debut early Monday morning. Its first article was written by Greenwald and Scahill, and looked at the NSA's role in the U.S. drone strike program.
The piece was, of course, based on documents leaked by Edward Snowden. The magazine is just one of the multiple sites being created by First Look Media, the Omidyar-funded organization providing the cash for Greenwald and his colleagues.
In a blog post on the site, Greenwald, Scahill and Poitras said that The Intercept was "the first of what will be numerous digital magazines published by FLM."
Speaking to "Democracy Now" on Monday, Greenwald said that the site had launched as quickly as it did because "we feel a serious obligation to get up and running," given the many documents from Snowden that are yet to be released. He added that First Look Media was "slowly and inexorably expanding the range of topics we cover."
Scahill, who was also appearing on the program, added that recent comments by intelligence officials suggesting journalists could be "accomplices" in criminal activity for publishing classified material had also pushed the site to speed up its activities.
Note: Omidyar is CEO of Honolulu Civil Beat, which partnered with The Huffington Post to create HuffPost Hawaii. He is also on the editorial board of HuffPost's new international venture, WorldPost.
Popular in the Community