Have you heard that print media is having a hard time these days? Too bad -- I'm really going to miss it. I'm particularly going to miss the way in which one person's tossed off newspaper could be your travel companion or dinner date, encouraging you to tip your toe into ponds of information you'd never thought about.
Case in point: up until recently, I knew nothing about Jennifer Love Hewitt. If I ever saw anything about her online, I'd never think to click on it. Why strain my finger muscles?
But, last night at a bar where I was having dinner, there was a newspaper on my seat and I started to read it. Why? Because reading is better than not reading? And therefore, when faced with text, I feel the need to consume? I don't know. It was in French -- I'm visiting friends in Brussels at the moment. Maybe I just felt like reading what the Belgian press has to say about Jon and Kate Plus Eight. Indeed, the entertainment section seemed to be the only one that was fully intact.
My point: Had I been spending that time on the Internet, I never would've learned anything about Jennifer Love Hewitt! As if The New York Times homepage doesn't have enough for me to read? So ... much ... information. It's so great, right? Really, I just open up that tab on my browser in the morning and then run and hide in my closet in fear. But one isn't supposed to admit such things.
The text about Hewitt was just staring me down at this cafe table. I had to do it.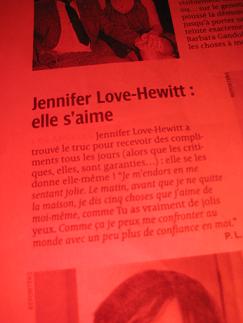 Don't pay attention to the red color. I couldn't figure out how to turn the flash off so I just held my scarf up in front of it. Shut up.
Do pay attention to the following line, which I will translate for you using my vocabulary-of-a-tipsy-
16-year-old-American-exchange-student French skills.
"Le matin, avant que je quitte la maison, je dis cinq chose que j'aime de moi-même..."
"In the morning before I leave home, I say five things that I like about myself..."
Already, I have so many questions. Is there anyone else there when she is announcing these five things? Does she do it in her home, as opposed to outside of her home, because she doesn't want anyone else to hear her? If so, then why is she about to say these things to a reporter?
Now, she gives an example:
"Comme tu as vraiment des jolis yeux."
Or, as we say in America: "Like, you have such pretty eyes."
Dear readers, Jennifer Love Hewitt is trying to pick herself up at a bar. She has just done her bit to combat women's right to anything. You know how many guys are out there right now saying, with heavy Belgian-French accents, "Dude! Girls really do dig that line! They're even saying it to themselves!"
Or should I say: Thanks, Love? After I got home, I did use the Internet. And here is my problem with "news" on the internet: I learned so much more than I ever wanted to know. You see, I never before would've clicked on the news story about Jennifer Love Hewitt (not that this really constitutes a "news story," but these are trying times for papers). However, that doesn't mean that on my own I might not necessarily devote too many minutes of my life to some kind of scavenging-in-the-wilds-
of-the-web Indiana Jones-style adventure. My crazy journey took me to ... IMDB. According to IMDB:
"Jennifer Love Hewitt got her first name from her older brother Todd Daniel Hewitt (b. November 8, 1970), who picked the name after a little blonde girl he then had a crush on."
Okay, that's fine enough. I mean, I'd be a little weirded out if a guy told me that he was so into me that he had his mother name his baby sister after me. But, you know, that's me.
But then we get the rest of the story:
"Her mother selected her middle name, Love which she goes by offstage from her best friend at college."
Juicy stuff, right?! I'm so glad we have the Internet to feed us so, so much well-edited, well-culled information. First of all, there are a couple of commas missing in this sentence. I'm sure the IMDB editing person is chewing his pencil in fear that his boss is going to read this. I think that what we are supposed to understand here is that Jennifer's mother's middle name is Love. Oh, no wait. Jennifer's mother's friend's name was Love, and therefore Jennifer's mother, whose middle name isn't Love, gave her daughter, Todd's sister, the middle name of her friend. Okay?
Thing is, I just don't buy it. Have you ever seen a more Jennifer-looking person in your life?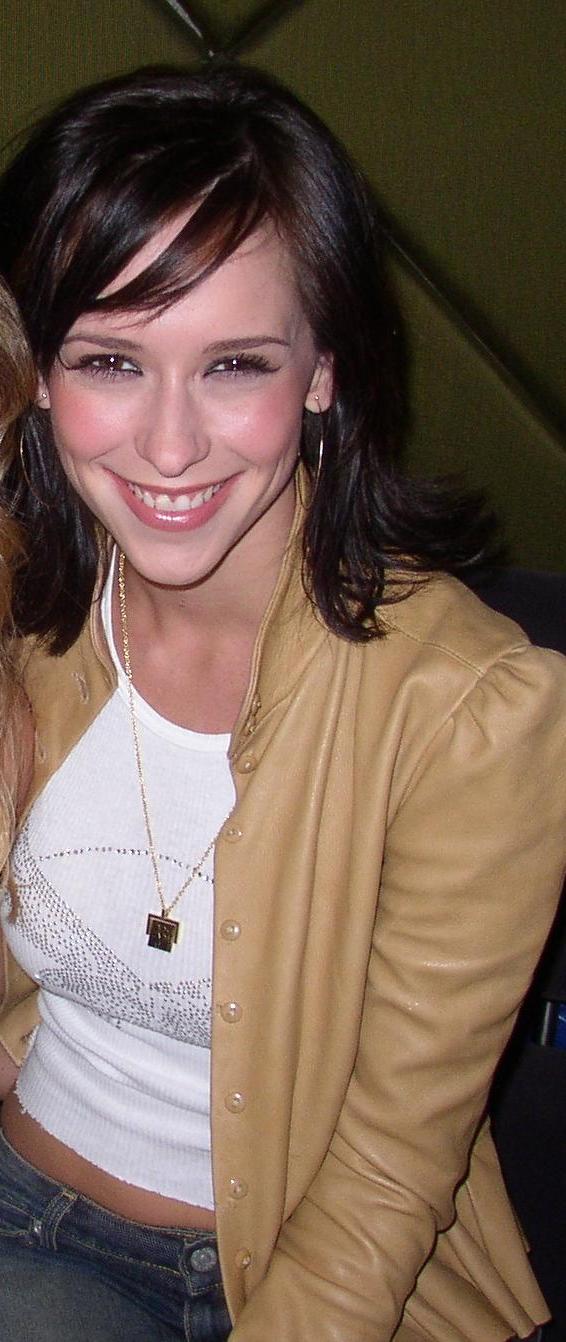 I got kind of uncomfortable when I read the following a little lower down the page:
Trivia:
Sent 3 dozen pink roses to Gwyneth Paltrow the night before Paltrow won the Oscar in 1999. Hewitt also wrote her a two page letter praising her as a role model and admiring her work. Paltrow sent a reply a week later, and Hewitt framed it -- "it's my favorite thing." When the two actresses met for the first time at the 2000 Golden Globes, "she came up to me and gave me a hug for the flowers. I thought I was going to pass out. I was absolutely going to have a heart attack."
After this, I had to waste more of these precious last days of my twenties learning even more about Love. Jennifer. Whatever. Like, the following Wikipedia nuggets:
In 1991, Meldac funded the recording of Hewitt's first album Love Songs, when she was just 12.
Of course, I needed to lengthen my journey by looking up who Meldac is. Guess which: a) My uncle's canasta buddy or b) Japanese record company whose only other album was by Bob Marley. Take your time ...
Next?

The album was only released in Japan in 1992 where Hewitt became a pop star. Her explanation for her success in Japan is that the Japanese "Love perky music. The poppier the music, the better."
Huh. Okay. I mean, I guess this means her music is perky? I would've thought she was more of the Yoko Ono type. Why do I feel like I need to know? Please God, let me have the strength to not go onto Pandora. Oh, phew: it doesn't work in Belgium. Who knew.
But wait! There's more!

After she joined the cast of Party of Five in 1995, she signed to Atlantic Records, who rushed her first single and second album, Let's Go Bang, out in October.
Again, we have some grammatical issues here. Roll over, William Safire: I think an infinitive has beens split. But the main thing of note here is the album name. If my math is correct, she was 16! "Let's go bang?" Really?

Juggling her music career with her acting career, she recorded her follow-up in 1996. The first single,
"No Ordinary Love," failed to chart and led to the album doing the same.
But wait! Isn't that a Sade song? No wait! That's bad! I didn't realize this story was going to have a sad ending! Then again, we're only up to 1996...An ocean of information awaits.
Pehaps everything I needed to know about this woman can be summed up in one statement: She tells herself she has pretty eyes.
One day when I'm old and gray, I'm going to look back with such fondness at all the time I spent learning new things on the Internet. Won't you?
Related