It was almost inevitable.
A San Diego organization that's hoping to bring Major League Soccer to the city asked fans to vote on a possible team name ― and Footy McFooty Face emerged as the overwhelming favorite.
As of Wednesday morning, more than 8,000 people supported the name ― that's 6,000 more votes than for the second place name, San Diego Surf.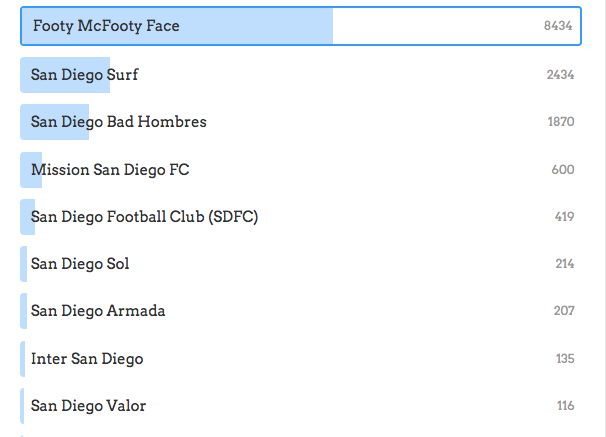 The effort is part of FS Investors' bid to turn San Diego's Qualcomm Stadium into a future home of an MLS expansion team, the San Diego Union-Tribune reports. The project, known around town as SoccerCity, would also be a place for offices, retail and entertainment.
The contest for a future soccer team name first sought submissions from fans, and then let vote people vote online. Judging from the 2016 incident in which internet users voted to name the United Kingdom's new polar research ship "Boaty McBoatface," it's not that surprising that "Footy McFooty Face" is the fan favorite.
U.K. officials decided to name the ship after world-renowned naturalist Sir David Attenborough, though they named one of its sub-sea remotely operated vehicles in honor of the people's choice.
While it's entirely possible that Footy McFooty Face will miss out on soccer team name honors, NPR suggested incorporating the name into the potential side's mascot.
Related
Popular in the Community