Pigeons Playing Ping Pong brings end-of-the-world enthusiasm to their high-energy psychedelic funk. Their infectious electro-funk grooves, undeniable live energy and contagious smiles have their rabid fanbase "the Flock" growing exponentially. Based out of Baltimore, MD, this animated quartet has been scorching up the country with their explosive performances and danceable peaks... and they're loving every minute of it!
I'm loving every minute of it too which is why I'm so excited to give you a little glimpse into the brains of lead guitarist and backup vocalist Jeremy Schon and lead vocalist and rhythm guitarist Greg Ormont. Put on a pair of reading glasses, sit back and surrender into the magic of these two geniuses.
Taraleigh: If two celebrities had a baby and it equaled your sound, who would it be and why?
Greg: That's a great question. I guess I'd say Jack Black and David Byrne cuz we're all up in your melted face. The runners up would be: Method Man and John Quincy Adams, Alex Trebeck and Yao Ming, or Herbie Hancock and Alf.
Taraleigh: I love the pictures in my head of every single one of those potential celebrity babies almost as much as I love your band. I wonder what they would be like as they grew up? Your band has grown and evolved so much since it's inception. What was the gig that had you take a couple of breaths on stage and think, "I've made it"?
Jeremy: Our sold out Halloween show at 9:30 Club in DC. We've seen so many of our favorite bands play there before, and it was incredible to see our fans fill the room!
Greg: I'd say selling out the 9:30 Club for our "Dead Zeppelin" set
last Halloween would also be my choice if I had to pick one, although playing All Good Music Festival last summer has to be a close second. All Good was the first major festival I attended and the experience was life-changing. I had the classic "a-ha, the jam scene rules" epiphany, which is a feeling of euphoria that has only grown over time. When we finally got booked for All Good, it was my chance to give back to my jam origins. We had an unbelievable crowd for our set and our energy was through the roof. It was a real full-circle moment and felt pretty surreal.
Taraleigh: I can feel that feeling you guys experienced in my bones from you talking about it and it must have been amazing. When I'm having moments like that I like to stop for a moment and breathe it all in and really feel it in all my cells. That way when I'm having a bad day I can access that feeling. I feel like I would also feel that way if I witnessed an actual pigeon playing ping pong. Have YOU ever SEEN a pigeon PLAY ping pong?
Jeremy: Only on YouTube and in nightly dreams.
Greg: One day we will surpass the views of B.F. Skinner's YouTube video
of pigeons playing ping pong. One day... :::strokes pigeon in lap:::
Taraleigh: I have faith in you! When you are super tired or having a bad show, how do you psych yourself up to perform?
Greg: We love RUNA Clean Energy drink. RUNA blasts us from 0 to 11 every
time. We call it "crack in a can," not that any of us actually know what the sensation of crack is like... but we're pretty sure it's like drinking a can of RUNA and then playing a raging set.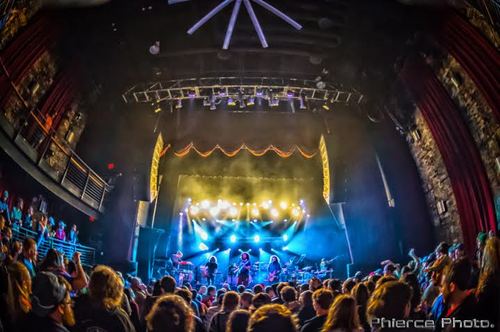 Photo credit Keith G at Phierce Photo
Taraleigh: You should get RUNA to sponsor your tour, but when you're pitching it to them maybe leave the crack part out haha. In the music scene there are always a lot of collaborations. Do you have any favorites that you've been a part of?
Jeremy: We always love having guests up with us onstage. Some of our
favorite sit ins would have to be Karl Denson, Aron Magner, Tom Hamilton, Brock Butler and Steve Molitz...among many many others!
Greg: We just had an unexpected sit-in by Batman at our CD release party at Fox Theatre in Boulder on April 1st that was surprisingly solid.... And we
recently sat in as a full band with our friends BIG Something on "Disco Inferno" which was a real hoot.
Taraleigh: Besides Batman making another appearance, are there any musicians you would love to have sit in with you?
Jeremy: Page McConnell, Keller Williams and Reggie Watts.
Greg: Definitely what Jeremy said, plus Stevie Wonder, Trey Anastasio,
Kyle Hollingsworth, Tim Palmieri and Animal from the Muppet Babies,
for starters.
Taraleigh: Solid choices. Any you would love to sit on with?
Jeremy: I love sitting in with other bands, so almost anyone who has room
for open improv. But if I had to pick one it would probably have to be Phish. My dad already beat me to the Foo Fighters.

Taraleigh: For the story on how Jeremy's dad did in fact sit in with the Foo Fighters check out this link.
Greg: I'd love to play with the Red Hot Chili Peppers, Lotus or Phish.
But since we're talking about miracles now, I'd also like to revive Amy Winehouse and write 100 songs with her and Mark Ronson at breakfast, swing over to Jimi Hendrix's house for a jam and lobster lunch, then head to the beach for filet mignon, mahi-mahi and sing-alongs with Sting, Stevie, Amy, Billy Joel and Elton John. For dessert, a guitar lesson from Tommy Emmanuel and Trey. Maybe John Mayer, although he'd probably be too busy, even in this hypothetical.
Taraleigh: I honestly can't think of anything in the entire universe that could possibly be a better answer than that. What makes your band stand out amongst others?
Jeremy: The live energy and vibe of the show. We love playing and always
have a blast on stage, and our show is a huge interchange of energy between us and the crowd.
Greg: You've never seen a band have more fun on stage and it's
contagious as funk.
Taraleigh: Yeah it is! What was the best piece of advice you've received?
Jeremy: Do what you love and the money will follow.
Taraleigh: Great advice and so true. What about you Greg?
Greg: A friend once told me that I should "tone it down a bit" during
our cover of 'Psycho Killer' and I couldn't have disagreed more. I've been pushing myself to the limit ever since.
Taraleigh: Never listen to anyone who tells you to not be the fullest expression of who you are. Let that light shine for all to see and to be inspired by. Expressing gratitude for all things awesome in your life is one of the best ways to keep your light shining bright. What are you most grateful for right now?
Jeremy: The ability to be able to do what we love full time and spread
smiles across the country.
Greg: The fact that I got to do laundry yesterday.

Taraleigh: Both of those things are something to be extremely grateful for. If you're in Burlington and you need to do some laundry, let me know and I'll hook it up. What are you looking forward to? (Plug all your stuff)
Greg: We have some really big shows coming up in prestigious venues that
we've never performed at before but have been working toward for the last few years. Particularly, our debuts at Higher Ground in Burlington on 4/14, Gramercy Theatre in NYC on 4/16 and Jefferson Theater in Charlottesville, VA on 4/20. We've been touring relentlessly in those towns and surrounding areas for the past few years and we're finally jumping to the bigger rooms there, feeling pumped and prepared as ever to throw it down like it's nobody's
business. Being from NY, I'm especially excited to leave our mark on the Gramercy this Saturday, plus my best friend from home who I've known since I was six was booked to open in Animal Reporters, who I've yet to see but hear great things about.
Then, we throw the Flock Party of the Year, our annual music and camping festival Domefest, which features three nights of Pigeons plus many more fantastic rising acts on May 19-21, 2016 at Fort Royale Farm in Bedford, PA. Anyone who likes our vibe will absolutely spill their
beans at Domefest!! The Flock's beans are going to be everywhere... I'm actually a little concerned about the bean cleanup this year... In fact, we still accepting bean cleanup volunteers at www.domefestival.com,
which you can also visit for the full lineup, info and tickets for
only $70!
Taraleigh: So much to be excited about!!!
Pigeons Playing Ping Pong just released a new album on April 1 titled 'Pleasure' The album is available on Spotify.
For more info like tour dates go to pigeonsplayingpingpong.com

Festival season ends in the fall, so let's keep the magic rolling until it begins again. Find out about music legend Oteil Burbridge (Allman Brothers and Dead & Company) and my Rock Your Life Virtual Retreat. Get on the FREE VIP wait list now to get backstage exclusives, sweet bonuses, guaranteed seats to virtual house concerts and early retreat registration to the retreat happening this September.
The awesome in me sees and bows to the awesome in you,