Nargus is a fine artist, whose rare compassion for the world around her and her fervor for high education, has brought new meaning to the mixed media work she creates.
With an Iranian background and a family who has experienced the effects of losing a country after the Islamic Regime and the '79 Iranian Revolution, Nargus has extracted the beautiful, the ugly, the formidable and the speculative aspects of a complex culture and turned them into inspiring art, each with it's own message. The majority of Nargus's subjects are women. There is no hidden agenda behind the title of her series, WomenByNargus. These woman, intricately dressed with gold leaf, bold magnificent outfits and dark, somber eyes all tell their own tale of hardship and inspiration. The pieces are fierce, to say the least, and hold an element of entropy, intentional on Nargus's part. While many of these painted faces can come off like there are deep secrets tucked behind that ethereal veil, the forces of Nargus are quite the opposite, living a life of disclosure.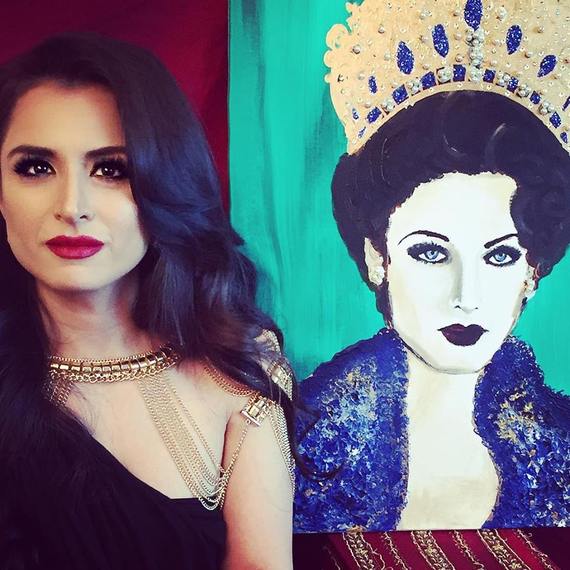 The work of Nargus is alluring and ornate, but it's the mind and experience of the artist that scores higher than any piece could on the scale of breathtaking properties. With a bachelor's in English and Philosophy, Politics and Economics (PPE), the intelligent and driven artist is working towards her Doctorate (or to be more accurate, a DNP) in Psychiatry at Columbia University. She cites her education as a major influence of her work, especially the writings of her favorite authors and philosophers such as Camus, Italo Calvino, Heidegger and T.S. Eliot. Nargus works as a Sexual Assault Forensic Examiner, issuing rape kits and attending court cases when a survivor has reported a case. No, I'm not finished yet. Interning in a well known Department of Corrections with sex offenders and the mentally ill, Nargus is also dealing with the convicted side of the story. She has starting to teach yoga to inmates at the corrections facility as well.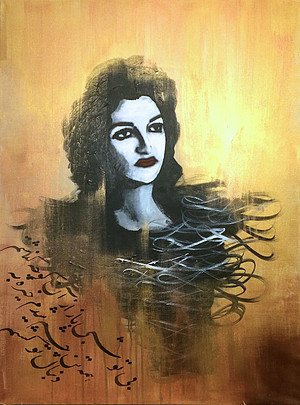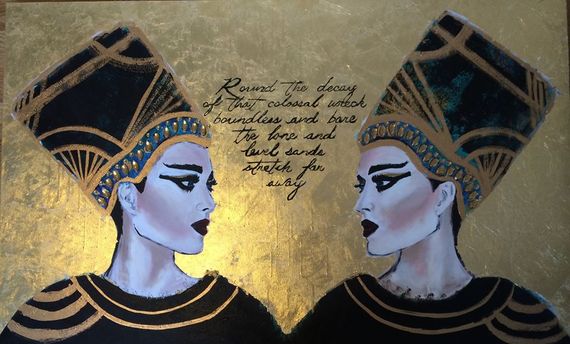 "In order to work with patients comprehensively, I have to work on myself. Accessing the self can open a reservoir of emotions, which I then turn into art. When you are vulnerable, I believe that's when you make good art. When it comes to literary inspirations, I feel my education has influenced everything I do. I see writing in a different way than I used to. Often, my brain will connect to a phrase, or stanza or lyric and create art based on my interpretation. I recently created a piece titled "Fire in Cairo" which is based off The Cure's song, and although we're not positive what Robert Smith exactly meant, I matched it with a stanza from Shelley's Ozymandias and translated it as a painting of a two women, transient of empire and power, in a gorgeous, historic city in flames. I am reclaiming the words of authors I love and making it about women."

While the medium Nargus turns to is usually acrylic paint, she has taken to mixed media, adding ethereal elements of gold leaf to many of her pieces. Sometimes, when precisely inspired, she will even use dead bees to create an atmosphere for her women. "It was inspired by a poem I wrote in college, that I remembered in the middle of the night. It was called "Coughing Up Insects", Nargus explains. "And I knew I was going to make something inspired by this."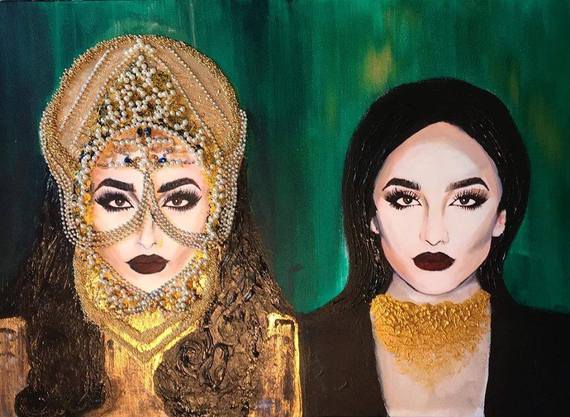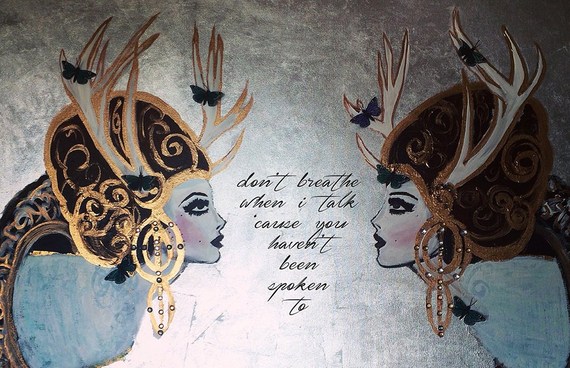 WomenByNargus is not just a series that explores the political and social burdens women have endured in history, it is a collection of work aimed at empowering the disenfranchised, whether it be men, women, or both. But there is an obvious "historic handicap" women have undergone in order to get on and maintain an equal level to men. Sometimes the female subjects are specific, like those of Nargus's series "Royal Blood" that portrays the 3 sequential Iranian monarch queens, prior to the revolution. Each woman holds her own authentic, diverse tale of power and although the stories are true and the piece may not outwardly display a narrative, the painting is still controversial.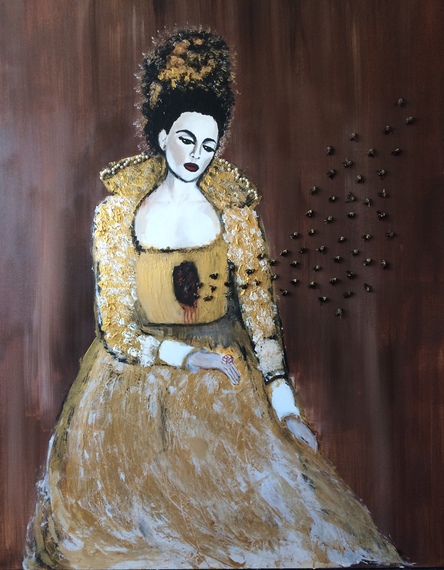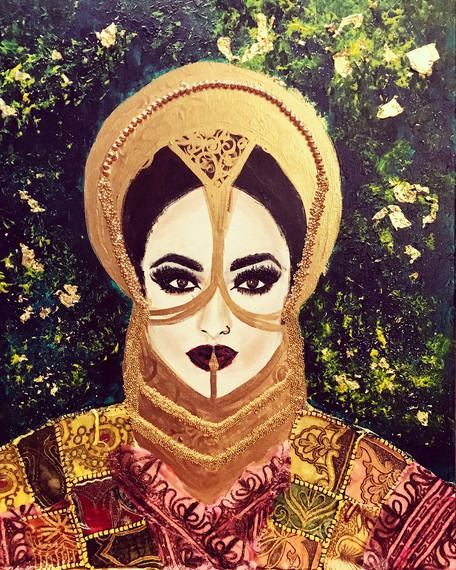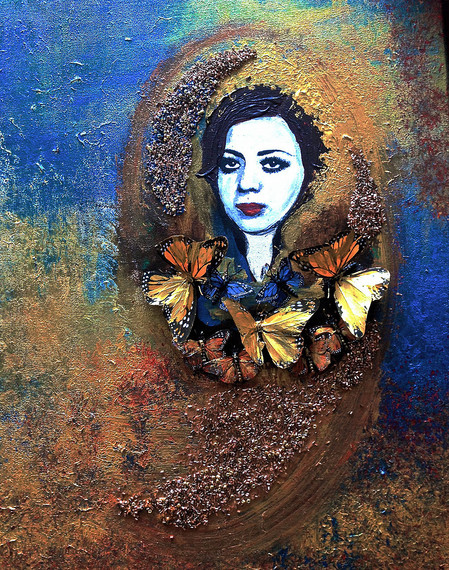 "If I was painting my pieces in Iran, I wouldn't be able to openly display them. There is no freedom of speech still, especially for women. Although I didn't experience exactly what my mother and grandmother did in Iran, it's still an intergenerational transmission of loss. It resonates me. I try to take the beautiful features, like the ornate rugs and architecture, and make that a positive influence in my pieces, while remaining honest in the subject matter of my art."

Nargus will be having a solo exhibition, titled ROYAL BLOOD ON 5th Thursday, June 23rd 7-9:30 pm at 138 5th Avenue. You can RSVP at womenbynargus@gmail.com.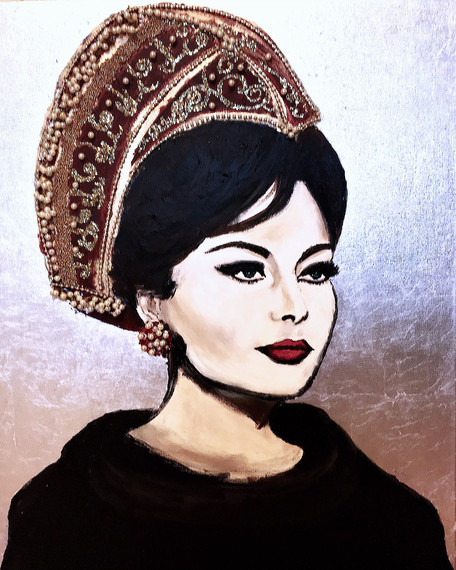 All images courtesy of Vitagraphy

Calling all HuffPost superfans!
Sign up for membership to become a founding member and help shape HuffPost's next chapter