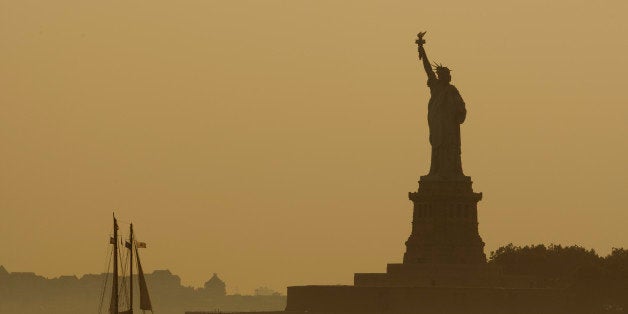 One of the most popular films of the recent Oscar season was Brooklyn by screenwriter Nick Hornby and director John Crowley which featured a love story between a young woman from Ireland memorably played by Saoirse Ronan and a handsome young Italian-American plumber in Brooklyn portrayed by the gifted Emory Cohen. My parents had just such a love story. My mother was a beautiful young nurse, and while not newly arrived from Ireland, Lucy Agatha Rogan and her nine brothers and sisters felt their Irish roots very strongly. And my father, Peter Anthony Carlesimo whose father Bernardino Carlesimo had come over with a number of his ten children on the boat into Ellis Island, was equally attached to his Italian heritage. Like the young couple in Brooklyn, my parents met, fell in love, and married. There are, in fact, many such love stories. The Irish and the Italians were both large Catholic immigrant groups. And in my parents' case, they also had ten children of their own! Pete called Lucy "Red" which never made sense to us kids since our mother was a blonde. Ah, but Lucy had been a stunning redhead when Pete met her! Lucy called Pete "Barney." Something to do with Barney Google apparently.
My father, Pete Carlesimo, was a beloved figure in the world of college athletics. My brother, college and pro basketball coach and ESPN analyst, P.J. Carlesimo, started out his career as Pete's son. We lost my Dad thirteen years ago but my feisty 93-year-old Mom is still with us, although very frail. As Saint Patrick's Day comes around, always coinciding with the frenzy of NCAA March Madness, I am always reminded of these two important strands running through our family life. We had epic Saint Patrick's Day celebrations where the leprechaun visited our home with gifts each year but we were also obsessed by the Big East and March Madness particularly in the years when P.J coached at Seton Hall. With Seton Hall in the NCAA Tournament again this year, the papers remind us of the saga of the 1989 Seton Hall team that P.J. took to the Final Four where they lost the championship in overtime to Michigan on a foul shot. Pain.
Of course, food to an Irish-Italian family was of crucial importance. We enjoyed the classic Corned Beef and Cabbage on Saint Patrick's Day. Lucy Rogan made it the traditional way with carrots, large onions stuck with cloves, two cabbages, and sprigs of parsley and thyme. My mother would generously make green spaghetti for Dad but it really wasn't necessary. My father enjoyed the corned beef and cabbage. He particularly loved the cabbage, and ate vast quantities of it. Here is a tip from our old Irish cookbook for the best corned beef: Use I teasp. dry mustard powder:
I am indebted to Mrs. Sarah Kenny for telling me of the dry mustard powder. It has a magical effect: the beef is always tender and moist after using it.
I would like to share a lesser known dish that comes in many versions all over Ireland. This recipe for Colcannon comes from Sligo in County Mayo where my mother's family lived. Colcannon was traditionally eaten in Ireland on Halloween, October 31st or All Saints' Day, November 1st. Halloween is thought to have originally come from a thanksgiving festival in the ancient Druidic tradition. Bonfires were lit to thank the Sun-God for the harvest, and this was the one night in the year when it was possible for spirits, ghosts, and witches to roam. In the past, charms were mixed in with the colcannon. Depending on which charm you found, you would know your future. A button meant you would remain a bachelor and a thimble meant you would remain a spinster for the following year. A ring meant you would get married, and a coin meant you would come into great wealth. There are those that say Colcannon should properly be made with kale, but in County Mayo they prefer cabbage. Colcannon comes from the Gaelic cal caennann - white-headed cabbage. I like both cabbage and kale, and I personally think that colcannon is tasty any day of the year!
COLCANNON
by Lucy Rogan Carlesimo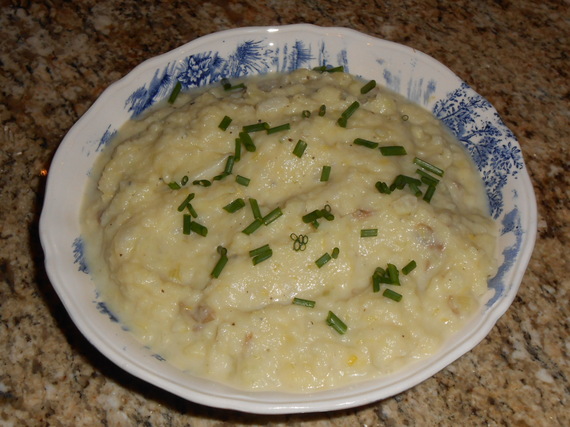 Ingredients:
1 lb cabbage or kale
1 lb potatoes
2 leeks
1 cup milk
4 oz of melted butter
Salt and pepper to taste
1 pinch of ground mace
Preparation:
In a large saucepan, boil the cabbage or kale until tender. Drain and chop well. Keep warm. Boil the potatoes until tender. Remove from heat and drain.

Chop the leeks: both the green and white parts. Simmer them in just enough milk to cover them until are tender.
Season with salt, pepper, and mace and mash the potatoes well. Stir in the cooked leeks and milk. Blend in the kale or cabbage and blend until the mixture is fluffy. Make a well in the center and pour in the melted butter. Mix well.
Slainte 'gus Saol agat!
Health and long life to you!
This recipe and many other family favorites are available on DishandDine.com. Stop by and become part of this grass roots global food community!
DishandDine - It's All About Food
http://www.dishanddine.com
http://www.facebook.com/DishandDine
http://www.twitter.com/DishandDine