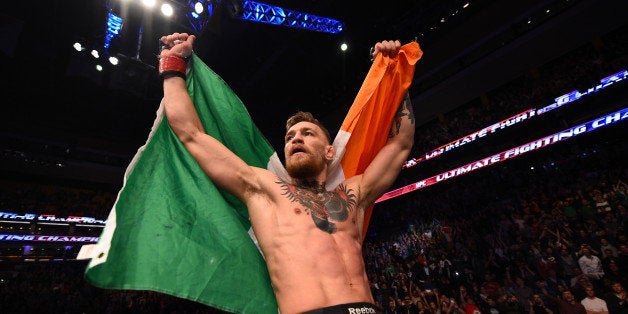 He's either the Irish Muhammad Ali, or the Irish Ric Flair, either way he is a legit money-making opportunity for the UFC.
Conor McGregor made UFC veteran Dennis Siver look like he didn't even belong in the same sport as him on Sunday night, which is pretty much what has happened to every one of McGregor's five UFC opponents thus far. If that wasn't enough of a show for the Boston crowd already, a split second after the fight ended Conor jumped the cage and started getting in the face of UFC Featherweight Champion Jose Aldo, who flinched exactly zero times throughout the encounter.
McGregor is already a star, already someone who sells tickets, but if he wants to reach Anderson Silva, GSP, or Brock Lesnar levels in terms of paydays, he will have to win the title, which requires beating Jose Aldo.
Let's take a stroll down Conor McGregor's UFC memory lane to see if we think he is able to do that:
Conor McGregor UFC Career:
Win vs. Dennis Siver By TKO -- 18-Jan-15 (round 2, 1:54)
Win vs. Dustin Poirier By TKO -- 27-Sep-14 (round 1, 1:46)
Win vs. Diego Brandão By TKO -- 19-Jul-14 (round 1, 4:05)
Win vs. Max Holloway By Decision -- 17-Aug-13 (round 3, 5:00)
Win vs. Marcus Brimage By TKO -- 06-Apr-13 (round 1, 1:07)
McGregor started boxing at an early age, even becoming an amateur National Champion in Ireland. He made his amateur MMA debut at only 18 years of age, defeating his opponent via TKO in under two minutes.
Early on, McGregor developed a reputation for ending fights early. Even now with 19 pro fights under his belt McGregor has only seen a 2nd round in five of those fights, and only once has one of his fights gone to the judges.
The only two losses McGregor has were both early in his career and both submissions that occurred inside the first minute of the fight. His first loss was to Artemij Sitenkov, a flyweight from Lituania who has lost five of his last six and has yet to fight in a major promotion, and his second loss was to Joe Duffy, another Irish fighter who is set to make his UFC debut shortly.
After the loss to Duffy, McGregor regrouped and won eight straight, with only one of those fights making it to the second round. After moving significantly up the European rankings McGregor was signed by the UFC, where he made an impactful debut knocking out Marcus Brimage in just over a minute.
The next fight McGregor had was held in Boston, where he received a superstar's reaction from the crowd. Anything the least bit Irish is usually appreciated in Boston but even still it was a little surprising that a prospect with only one UFC fight under his belt would receive such an overwhelmingly positive reaction. That night, McGregor would win a decision victory over Hawaiian Max Holloway, the only fight in his career that has gone to the judges.
Next fight for McGregor would be held in Dublin, Ireland, and the hero's welcome that McGregor received this night rivals any hometown reaction in the history of the UFC, even GSP in Montreal. McGregor wouldn't disappoint his rowdy Irish brethren when he convincingly defeated Diego Brandao in the first round.
Next up was a fight in Las Vegas against a top ranked opponent in Dustin Poierer, who was again made to look like a much lesser opponent in comparison to McGregor when Conor knocked him out in the first round.
That takes us to Sunday night, in a title eliminator fight in Boston against UFC veteran Denis Siver. Once again McGregor's striking was just too accurate, and too hard to defend as he came in on weird angles and found a home for his right cross on Siver's face. McGregor won easily and then made a B-line for his potential next opponent in Aldo.
Conor McGregor is a contender, and he's really really good, but the reason he is receiving Super-hero like reactions in Ireland and Boston may have just as much to do with his performances outside of the Octagon. Only Youtube can do justice to the Madhatter's Tea Party that is constantly surrounding anything Conor McGregor says or does:
Conor McGregor decides it's a good idea to travel to Brazil and tell the whole country he is going to beat Jose Aldo.
King Jose Aldo of the Featherweights
The issue for McGregor, and UFC executives who would like McGregor to spike pay-per-view purchases in any bar that stocks Guiness, is that as good as McGregor is, he's not as good as Jose Aldo.
Jose Aldo has dominated the Featherweight Division since before UFC even had a Featherweight division, beating Mike Brown for the WEC Featherweight title in 2009, then continuing to defend the title when it became the UFC Featherweight title in 2011. If Aldo beats McGregor in his next fight it will be the 10th straight time Aldo has successfully defended the top belt in the 145 lbs division.
Jose Aldo's Featherweight Title Rein
Win vs. Chad Mendes By Decision -- 25-Oct-14 (round 5, 5:00)
Win vs. Ricardo Lamas By Decision -- 01-Feb-14 (round 5, 5:00)
Win vs. Chan Sung Jung By TKO -- 03-Aug-13 (round 4, 2:00)
Win vs. Frankie Edgar By Decision -- 02-Feb-13 (round 5, 5:00)
Win vs. Chad Mendes By KO -- 14-Jan-12 (round 1, 4:59)
Win vs. Kenny Florian By Decision -- 08-Oct-11 (round 5, 5:00)
Win vs. Mark Hominick By Decision -- 30-Apr-11 (round 5, 5:00)
Win vs. Manny Gamburyan By KO -- 30-Sep-10 (round 2, 1:32)
Win vs. Urijah Faber By Decision -- 24-Apr-10 (round 5, 5:00)
Win vs. Mike Brown By TKO -- 18-Nov-09 (round 2, 1:20)
Jose Aldo has been successfully defending his title against the best 145 lbs fighters in the world for over five years, and there is just not enough evidence to suggest that McGregor will fare any better than any of the nine challengers that have come before him.
Aldo vs McGregor for the Featherweight Championship unofficially being scheduled for Las Vegas in May, but the original plan had been to hold the fight in Croke Parke in Dublin. Unfortunately the city curfew of 11pm would prevent the fight from airing live on pay-per-view in the U.S and the UFC would not let that happen for a fight of this magnitude.
Conor McGregor is selling tickets now, he will increase Pay-per-view purchases anytime he's on pay-per-view, and spike ratings any time he is on TV. But will that continue if he loses to Aldo? Barring an injury, we should find that out in a few months.