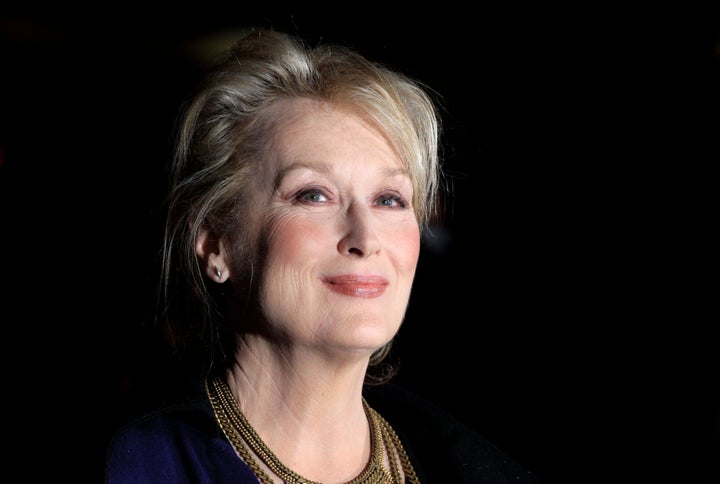 Nobody seems in any doubt that Meryl Streep's performance as Margaret Thatcher in her prime in The Iron Lady is tailor-made for an Oscar. Even that Bullingdon film critic, David Cameron, called it 'a staggering piece of acting."
But then he added: "You can't help wondering why do we have to have this film now? It's really a film about aging, dementia, rather than a wonderful Prime Minister."
Maybe this is a question that can be best answered with a question: how many films were made about Ronald Reagan during the decade when he was suffering from Alzheimer's disease?
It has been known in Westminster and media circles for the the past nine years that Mrs. T was battling with dementia. But here's the interesting fact: the British press, evil as they are with other people's cell phones, chose not to intrude on her private life. It is only since the release of the film that The London Sunday Times saw fit to reveal that, when Carol Thatcher filmed an interview with her mother in March 2003, she 'fumbled and stumbled' over simple questions such as trying to recall meeting Denis for the first time -- footage that fell to the cutting room-floor.
So why would the British film industry choose to enter territory where Fleet Street feared to tread? The truth is: they didn't set out to.
On Tuesday 20 March 2007, BBC News announced:
A movie about former UK Prime Minister Margaret Thatcher in the run-up to the Falklands War is being planned. Pathe and BBC Films are developing a script for a drama- documentary about the tense political period before the conflict between the UK and Argentina. "The proposed film will be a revealing and intimate portrait as she battles to save her career in the 17 days immediately preceding the war," Pathe said in a statement. "The 17-day period is relevant because it was the duration of the British fleet's voyage to the Falklands."
Was it Pathe's belated apology on behalf of their fellow-countrymen, Aerospatiale, for selling all those Exocets to Argentina that nearly sunk the British navy? Or did they just want to capitalize on the Oscar that Helen Mirren won for their film, The Queen, the previous month?
Either way, they ceded creative control to Damian Jones, who had produced Thunderpants for them in 2002 -- the story of a boy who could fart at will -- and he devised the concept with Brian Fillis who, the previous year, had written a BBC biopic about Fanny Craddock, an early television cook who was, if anything, even more bizarre than her name.
And then. Nothing. Nichts. Rien. Not even the sight of the special effects crew testing Exocets. Until June 30th, 2010 when The Hollywood Reporter announced that Phyllida Lloyd was going to direct this movie about 'the 17 days preceding the Falklands War.' To some this seemed a slightly unusual choice as Miss Lloyd was better known for directing Verdi's MacBeth at the Opera Bastille or that film about people singing Abba songs on a Greek Island rather than the machinations of the British Cabinet and the Ministry of Defence.
And who was going to play the unshakeable warrior queen. Fifteen actresses had already done so in UK productions ranging from Anna Massey in Pinochet in Suburbia to Greta Scacchi in Jeffrey Archer The Truth to Maggie mimic Janet Brown in the Bond, For Your Eyes Only.
Another surprise. It was to be an American -- Meryl Streep. There was no doubt of her ability to do so -- she could have played General Galtieri convincingly, if asked -- and in a way Thatcher had pretty well played Thatcher MP, a very different woman from the self-effacing science student at Sommerville College, Oxford.
This much is factual but from here I must venture into the realm of speculation, very much in keeping with the ethic of the movie which begins with a frail Thatcher going round to the corner store to buy a pint of milk which is as likely as Pope Gregory XVI nipping down to Dino e Toni's on the via Leone for a slice of pizza since she has more carers, minders and security than he has Swiss Guards.
The plot deepened. It was revealed that the film was to be called Thatcher, a bit generic for Fillis' 17 Falkland days. And then Fillis was no more and neither was the BBC. In came a new writer, Abi Morgan, and out went the Falklands (except for a small section -- the best bit of the film) and in came a new story which was an amnesic biopic which would include a child Margaret and a dead Denis.
What really happened? Was Phyllida a sprat to catch a mackerel or did someone breathe in Meryl's ear "if we ditch the Falklands idea and beef this up with that doddery bit you do so well, you could cop that third Oscar which you richly deserve."
As it is, the film is pretty patchy and the film makers haven't just used artistic license -- they've committed artistic larceny. When those who do not know the truth see this film, they will be in the position proposed by G.K Chesterton: "When people cease to believe in God, they don't believe in nothing; they believe in anything."
Calling all HuffPost superfans!
Sign up for membership to become a founding member and help shape HuffPost's next chapter