Clinton's US colleagues are supporting neo-Nazis in Ukraine
When Hillary Clinton compared Russian President Vladimir Putin's actions to Adolf Hitler in remarks this week, you wonder if she was aware that the US government is supporting a government with ties to neo-Nazis in Ukraine today.
Claiming that Putin is acting like the former Nazi leader is unsophisticated and preposterous, particularly for a seasoned official like Clinton. But did she really not know that the US is openly supporting the anti-Semitic Svoboda party in Ukraine and that any mention of Hitler could bring attention to America's ties to the neo-Nazi movement in the former Soviet Republic?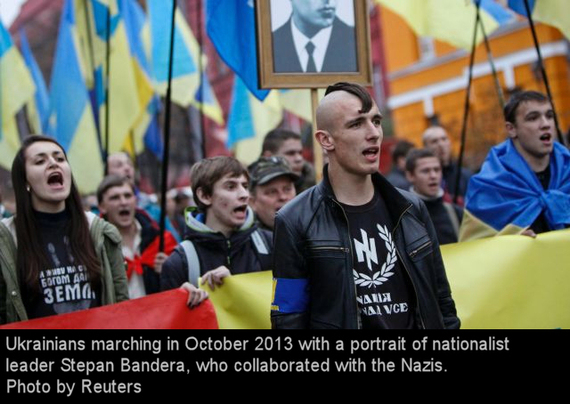 It could be that Clinton is simply uninformed, like some others, as described by Seumas Milne of the British Guardian, "You'd never know from most of the reporting that far-right nationalists and fascists have been at the heart of the protests and attacks on government buildings."

But Clinton had to have known that a 2012 European Parliament resolution condemned the Svoboda party for its racist, anti-Semitic and xenophobic views, and that the US is today supporting that same party. "The [Svoboda] party traces its roots to the Ukrainian partisan army of World War II, which was loosely allied with Nazi Germany, and its debut in Parliament [in 2012] elicited objections from Israel and groups that monitor hate speech," according to a recent New York Times article by Andrew E. Kramer. Kramer continued, "Until 2004, Svoboda had been called the Social-Nationalist Party, which critics said was just a word flip away from its true ambitions and a deliberate reference to the National Socialism of the Nazis. Unabashed neo-Nazis still populate its ranks, organizations that study hate groups in Europe say."
It's clear that people like Hillary Clinton are pushing for more US influence in Ukraine, and attempting to make Russia look bad is one tactic to achieve this goal. But by ridiculously comparing Putin to Hitler, Clinton unwittingly brought to the surface the ironic fact that it is her own country's government -- not Russia's -- that is supporting forces in Ukraine who embrace the Nazi philosophy.
Popular in the Community